Swab samples of Covid victims to be sent for genome sequencing
3,920 Jharkhand residents have died between April 1 and June 4, random samlpes will also be sent to ILS Bhubaneswar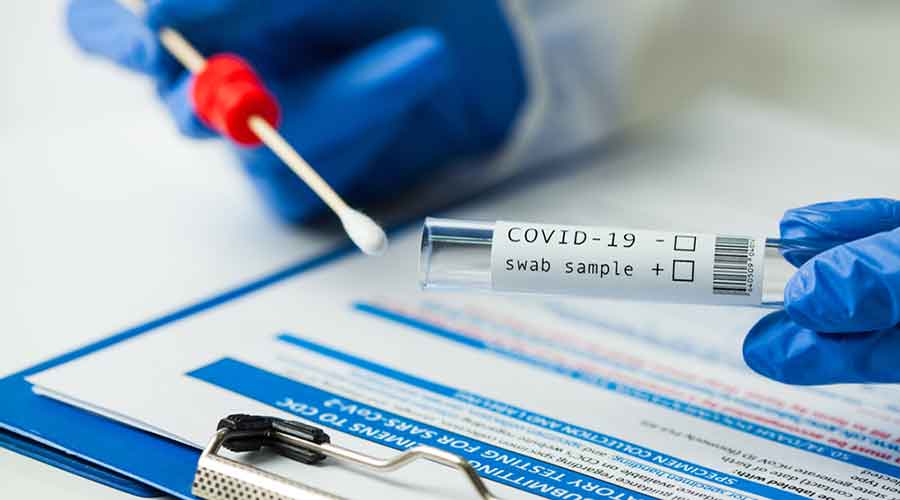 ---
|
Ranchi
|
Published 05.06.21, 08:03 PM
---
The Jharkhand government on Saturday asked medical colleges and state-run RT-PCR testing centres to send swab samples of all Covid patients who died on or after April 1 for genome sequencing to the Institute of Life Sciences (ILS) in Bhubaneswar at the earliest.
"It is emphasized that whole genome sequencing of all the Covid death cases shall be done at the earliest to understand the mortality rate of various variants," a letter from state health secretary Arun Kumar Singh to various medical colleges in Jharkhand stated.
As per government data, as many as 3,920 Jharkhand residents have died due to Covid-19 from April 1 to June 4. The state has reported 5,034 Covid deaths since March 2020.
Besides the swab samples of Covid victims, randomly picked samples of at least 15 patients from areas that saw an outbreak will also be sent for genome sequencing every two weeks in order to identify mutated variants of virus and take necessary preventive measures, officials said on Saturday.
Dr Siddharth Tripathi, the nodal officer of health department's IEC wing, said that all virus undergoes mutation in a bid to survive and some mutated variants are more dangerous than others. Variants that have already been found in other parts of the world and are considered more dangerous will qualify as "variants of concern", while such variants that have not been found before will be "variants of interest" as their mutation and effect will be studied, he added.
As per data with the state health department, at least 537 swab samples from various medical colleges in Jharkhand have been sent to ILS Bhubaneswar for genome sequencing from March to April and 363 of them have been processed. Of the 363 samples processed so far, at least 301 showed mutated variants of the virus. As many as 272 samples showed presence of double mutant virus which was first reported in India, while 29 showed mutation that was first reported in the UK.
Genome sequencing is important in order to study the pattern of transmission and take necessary action for combating the virus, the health secretary's letter to the directors and superintendents of medical colleges stated.
"All medical colleges in Jharkhand, including Rajendra Institute of Medical Sciences (RIMS) and IRL-Itki, have been identified as Sentinel Surveillance Sites under special surveillance mechanism for whole genome sequencing," the letter further stated.
The nodal officers of all medical colleges and RT-PCR labs may coordinate with district surveillance officers and epidemiologists to get appropriate number of samples from affected areas for genome sequencing, the health secretary said in his letter, asking all government labs to get SRF ID of Covid victims from the concerned district administration and send the samples within the next 48 hours.