School bus should get same priority as ambulance: Hemant Soren
The heat is intense and in such a situation the vehicles carrying children should be given the right of way so that they can reach home early: Chief minister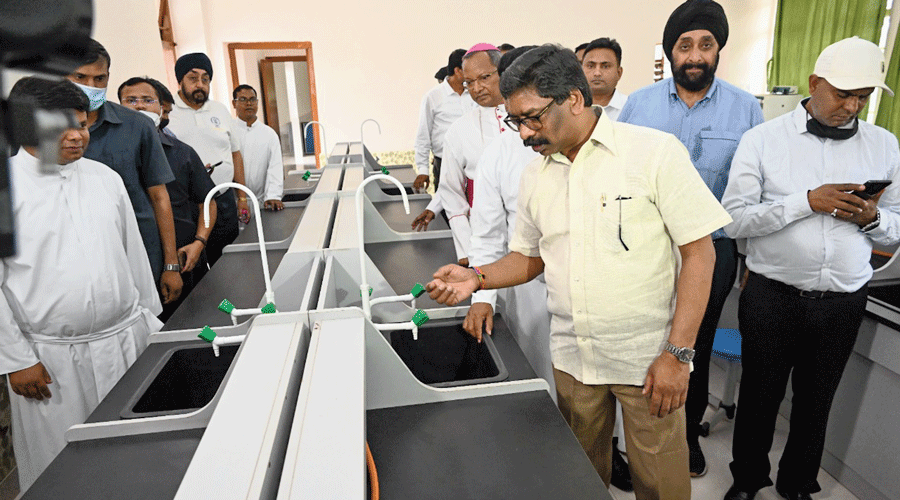 Soren inspects the facilities at St Xavier's School in Ranchi.
Manob Chowdhury
---
Jamshedpur
|
Published 23.04.22, 12:21 AM
|
---
Jharkhand chief minister Hemant Soren has said the state government is considering a proposal to make right of way mandatory for school buses during summer.
Hemant, who was the chief guest at an event to mark the completion of 62 years of St Xavier's School in Ranchi, said school buses carrying children should get right of way like ambulances.
"During the pandemic we have seen difficult times for children, especially due to school closure. Currently, the focus is on bridging the academic gap of these two years. However, the heat is intense and in such a situation the school buses carrying children should be given the right of way so that they can reach home early. Although no final decision has been taken, our government will take a decision soon," he said.
The chief minister appealed to the common people to be sensitive to this issue when they are on the road.
On April 13, following a heat wave alert in several districts, the state education and literacy department changed the school timings from 7am to 1pm to between 6am and noon.
Parents' association president Ajay Rai welcomed Hemant's announcement.
"We welcome the announcement of the chief minister and hope that the government issues a circular soon to the traffic department as has been done for ambulances. We have seen several cases of children suffering from heatstroke," Rai said.
Under Section 194(E) of the amended Motor Vehicles Act, any motorist failing to provide free passage to emergency service vehicles such as fire brigade or ambulance can be fined Rs 10,000. Police as well as assistant inspectors of the motor vehicles department can impose and collect fines from violators.
Hemant also inaugurated St Xavier's diamond jubilee block and released the school booklet Endeavour.
During his speech, he said education was the focus of the government.
"I am both a parent and a chief minister and am worried about the educational status. Education is one of the very important subjects for Jharkhand. If the state makes a special place in the field of education, good institutions like St Xavier's would have a big contribution in it. The school has seen many ups and downs in its journey. Even today the school is setting the direction with the same enthusiasm, strength and ability. The school has a distinct identity in the country," Hemant said.