State government allows opening of religious places from October 8
It has also issued Durga puja specific guidelines on Thursday, and extended the lockdown in containment zones till the end of this month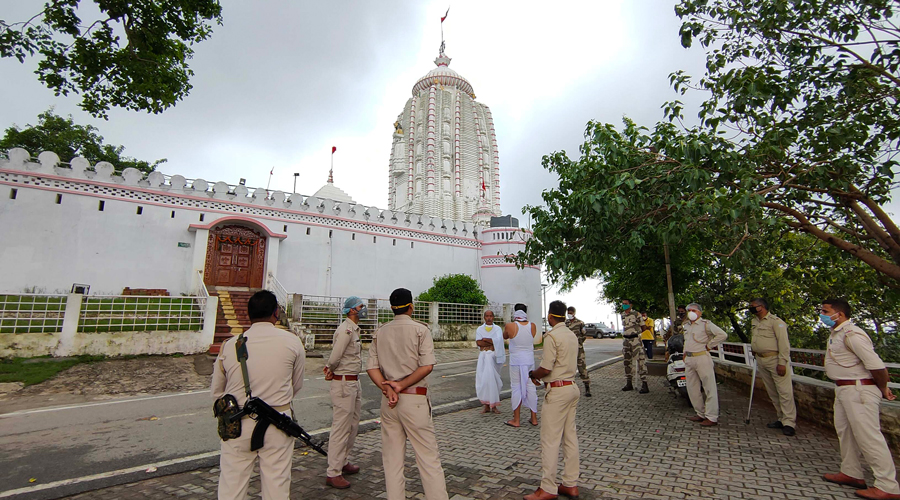 The Jagannath temple at Dhurwa in Ranchi.
Telegraph file picture
---
Ranchi
|
Published 02.10.20, 12:05 AM
|
---
The state government has allowed opening of all religious places outside containment zones from October 8.
It has also issued Durga puja specific guidelines on Thursday, and extended the lockdown in containment zones till the end of this month.
According to the notification issued by the state chief secretary Sukhdev Singh, all Durga puja organizers are mandated to keep the conduct of the puja as low-key as possible. The 24-point notification bans erecting theme based pandal/mandaps, lighting decorations in and around its vicinity, setting up of food stalls, hosting any cultural programmes, distribution of bhog, or hosting community feasts among others.
"Durga puja may generally be performed at temples or privately at home as far as possible. Pujas may also be performed in specially erected small pandal/mandaps, where it has been done traditionally, only with the objective of performance of ritual, without public participation," the order read, adding that no pandal/mandap should be based on any specific themes.
"The pandal/mandap shall be covered from all sides in a way to prevent any public view of the idol, pandals/mandaps shouldn't be based on any theme, no decoration by lighting in the area allowed, or toran dwars or welcome gates be erected," it noted.
Size of the idol too have been fixed maximum at 4 ft while total ban has been imposed on hosting any fairs, exhibitions, food stalls, use of public address system or any ceremony other than the ritualistic puja by the organizers at the venue.
To regulate visitor turnout at the pandal/mandap, the order read, "No more than 7 persons including organizers, support staff, priests will be allowed at any given point of time in pandal/mandap. All are mandated to use masks and follow all the safety norms to curb spread of the virus specified by central, state government and local district administration in letter and spirit."
Burning effigies of Ravan has also been banned while idol immersion must be done without any fanfare and procession. "Immersion will be done only at places specified by the administration," read the guidelines failing which punitive actions will be taken against respective puja organizers under the provisions of the state epidemic act.
Puja organizers have initially welcomed the move. Munchun Roy, an office-bearer of Ranchi Durga Puja Samiti, who was part of a delegation which met with chief minister Hemant Soren earlier in the day to demand detailed guidelines, said, "We are yet to go through the guidelines but we had already proposed to only allow us to do puja to continue with the tradition. We are happy that guidelines have come and temples are allowed to open," he said.