Smoother ride between Dhanbad and Bokaro
Broadening and strengthening of the 33.89km Govindpur-Mahuda road being carried out by State Highway Authority of Jharkhand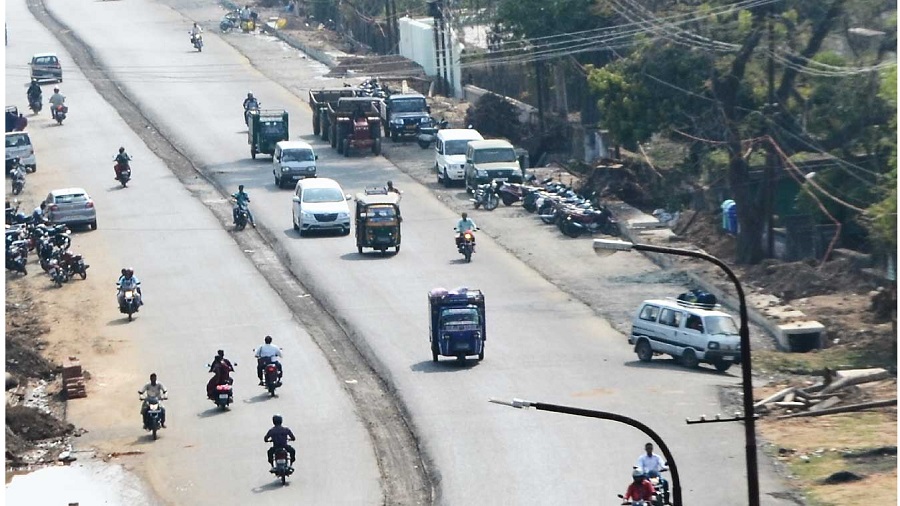 ---
|
Dhanbad
|
Published 14.08.20, 06:02 PM
---
Travelling between the twin towns of Dhanbad and Bokaro will be a smoother and faster experience within two months with the broadening and strengthening of the 33.89km Govindpur-Mahuda road being carried out by State Highway Authority of Jharkhand (SHAJ).
The ongoing work, part of a Rs 179 crore project, is inching towards completion.
The laying of bridges and culverts at three different places is pending for which work is in progress at a fast pace, done by Ranchi-based contractor, Ms Ram Kripal Construction.
The roadwork is divided into two separate projects including one from Govindpur to Sharmik Chowk in Dhanbad and another from Birsa Chowk in Bank More to Mahuda near Bokaro.
"Around 80% work of the road has already been completed and only some structural work related to construction of culverts near Matkuria in Dhanbad, Giljoria in Kusunda and on Katri river near Mahuda, is going on full swing as the laying of slabs has already been completed," said Highway Engineer of SHAJ, Satyendra Narayan.
"If everything goes as expected, we will be completing the project by next month's end or maximum within two months" said Narayan.
When asked about the crucial stretch lying between Shramik Chowk near Dhanbad Railway station and Birsa Chowk at Bank More not being included in the project, Narayan said, "As the area belongs to the railways, we didn't include it."
Earlier, the 52km Govindur-Mahuda road project, for which construction began way back in November 2017, was expected to be completed during May 2019. The work had been further extended for 16 months due to land hurdles.
Land acquisition hurdles spread over different places at Gaydahra, Amaghata, Bhuiphore, Kolakusma, Steel Gate, Saraidhela, Police line, Hirapur, Naya Bazar, Bank More, Matkuria, Godhar, Kendua, Karkend, Putki, Kapuria and Mahuda, led to a delay in completion of the project.
Delayed shifting of water supply pipelines of the Mineral Area Development Authority as well as the electric cables of Jharkhand Bijli Vitran Nigam Limited (JBVNL), also led to the delay in the completion of the project.