Singh Mansion feud spills over to trade union legitimacy
Siddharth Singh, Jharia MLA declares the faction of Janta Mazdoor Sangh led by his mother as genuine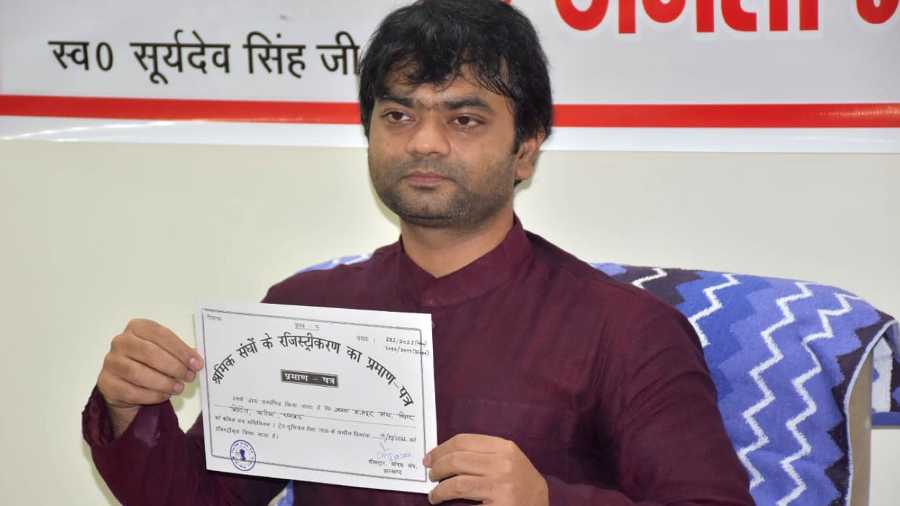 ---
Dhanbad
|
Published 20.07.21, 06:59 PM
|
---
The ongoing war of attrition between the descendants of the Singh mansion has shifted from the political front to trade unionism.
Siddharth Singh alias Manish Singh, youngest son of former MLA of Jharia, Late Suryadeo Singh today staked claim in the property claiming to be the genuine representative of trade union Janta Mazdoor Sangh, established by his father. He also ruled off his uncle Bachcha Singh's claim over Janta Mazdoor Sangh, clubbing it as a false claim.
He even cited the recent grant of registration to Janta Mazoor Sangh, headquartered at Bihar Building Jharia given by the registrar, Labour Union of Jharkhand Government, Ranchi as a proof for his claim as the genuine representative of Janta Mazoor Sangh, which is affiliated on Central Trade Union, Hind Mazdoor Sabha.
Notably, at present two different factions of Janta Mazdoor Sangh are operating in every colliery of Dhanbad. One faction - Janta Mazoor Sangh (Kunti faction) led by his mother Kunti Singh and another called Janta Mazoor Sangh (Bachcha Singh faction) led by his uncle.
To validate his point, he elaborated on the history. He mentioned about the Bihar government in 2017 having cancelled the registration of 980 labour unions of Jharkhand registered in Bihar. Sustained talks between the labour unions and Jharkhand government, eventually led to these labour unions being allowed an opportunity to apply for fresh registration as trade union with the Jharkhand Government.
"While we had applied for the registration within the allotted time for (October 2019), Bachcha Singh didn't even apply and has instead challenged our application," Said Singh.
"Following the protracted two-year long fight over the objection of Bachcha Singh, our union has finally been provided registration on July 16, 2021, proving the Bachcha Singh led Union is fake," claimed Singh.
Showing the certificate of registration provided by the registrar labour union, Singh claimed the registration of his faction will end the debate of which union is genuine.
"Now we will not allow any other person to use our trade union letter pads or documents by putting a bracket of any faction and take legal recourse against any misuse of the name of our trade union," said Singh. Being the joint-secretary of Janta Mazdoor Sangh (Kunti faction) he added that there is only one Union, which is led by his mother.
Notably, war of supremacy between the family members began 15 years after the death of Suryadeo Singh (1991). Bachcha Singh who joined politics in 1991 and lost two consecutive elections in 1991 and 1995 from Jharia Assembly and finally won in 2000 to become first Urban Development Minister.
Relationship between Bachcha Singh and Kunti Singh, wife of Late Suryadeo Singh soured when Kunti won from Jharia in 2005 on a BJP ticket against the wishes of her brother in law.