Shot at, robbed of lakhs
28-year-old trader shot at, injured and looted of Rs 2 lakh by two bike-borne criminals near Kandra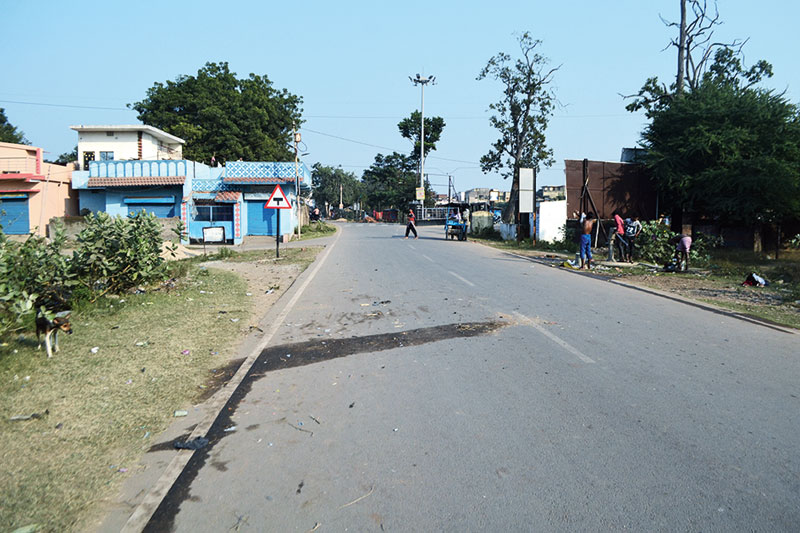 The spot near Kandra in Adityapur on Monday where the trader was shot at.
Picture by Animesh Sengupta
---
Jamshedpur
|
Published 27.01.20, 06:33 PM
|
---
A 28-year-old trader was shot at and injured by two bike-borne criminals in Kandra on Monday around 1pm, the incident coming on the heels of the murder of a 29-year-old builder in Adityapur on January 24 night.
In Monday's incident, the criminals also looted Rs 2 lakh from Mohammed Jamal a.k.a. Kalim near Chadri railway bridge in Kandra, some 20km from the steel city.
The duo first intercepted Kalim on his motorcycle at a lonely stretch and asked him for the money.
When Kalim, a spare-parts dealer and a resident of Kolabira in Gamharia, refused, he got a bullet on his left shoulder. As he fell to the ground, the duo took his bag of cash and sped off on their bike.
Admitted to the MGM Medical College Hospital, he is now out of danger.
Police, who have not yet identified the criminals, said they must have followed Kalim when he was returning home after collecting money from retailers at Chowka in Seraikela-Kharsawan district.
Bystanders found Kalim lying in a a pool of blood.
Officer in charge of Kandra police station, Shailendra Kumar said the trader was lying along the Kandra-Gamharia Road. "We rushed him to MGM Medical College Hospital for treatment. We have started investigating into the matter after having taken a statement from him, though he is not in a proper condition to speak," Kumar said.
He added that the area where the shooting had taken place had no CCTV camera monitoring.
"The victim also did not know those who shot at him and snatched his cash. But it seems to be a planned attack as the assailants seemed to have followed him closely to know his regular routes and also his collection routine. He was attacked at a lonely place without CCTV monitoring on a day he had a hefty sum on him. That's why it doesn't seem like a random attack."
He said the police would try to scan the CCTV footage of the other places where Kalim had gone to collect his money to check who had followed the trader.
The police are still clueless about the murder of builder Ranjit Baij who was shot dead by unidentified assailants in Adityapur's Satbohani on January 24 night.
"We are taking out the call detail records (CDRs) of the murder victim and interrogating some suspects. But as of now we have not found any clue to the assailants involved in the Ranjit Baij murder case," said the Adityapur OC, Sushma Kumar.