Sand suppliers on indefinite strike in Ranchi
Transporters cry harassment by multiple agencies, administration blames suppliers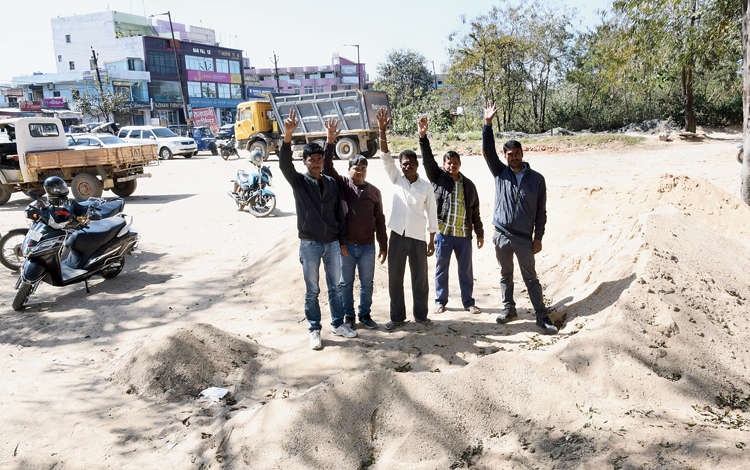 Sand truck owners protest at Birsa Chowk in Ranchi on Tuesday.
Picture by Prashant Mitra
---
Ranchi
|
Published 18.02.20, 06:46 PM
|
---
Sand, an important component of civil work, did not reach the Jharkhand capital on Tuesday as 500 truck and tractor owners engaged in the business of its supply went on an indefinite strike.
Harmu resident Bablu Kumar, who had ordered a tractor-load of sand for home renovation, said his work was affected due to the strike.
"I needed fine sand for plaster work but it was not supplied. When I called the supplier he expressed his inability saying he will take some time as his union, Ranchi District Sand Truck Owners Association, decided to go on strike to protest against administrative action against them," Kumar said.
Kanke resident Manoj Singh echoed Kumar.
"As sand was not supplied today (Tuesday) at my worksite, I have decided not to continue construction of my house as without sand the work cannot happen. The 10 labourers who were getting a job at my construction site will become jobless from tomorrow (Wednesday)," he said.
Ranchi District Sand Truck Owners Association president Dilip Sahu outlined their grouses against the administration.
"Mining department officials, police and district transport officials all have started harassing us. Mining department officials do no issue proper challans at the riverbanks from where we bring sand. They charge for 500 cubic square feet of sand but issue challan of only 250 square feet. Due to this on the road transport department officials catch us saying that the truck is overloaded. Police catch us saying we indulged in illegal mining. With the joint effort of police, district transport department and mining department officials, more than 200 trucks have been seized during the last 20 days and fines worth lakhs have been imposed. We are facing problems," Sahu said.
Another transporter echoed Sahu.
"Sand banks in many districts have not been auctioned and we are facing problem in getting sand. When we manage it from other districts we are harassed on one pretext or another. There is only one stockist of sand in Ranchi while the requirement is much," the transporter said, requesting anonymity.
A mason, Govind Kumar, said he did not get a job due to non-supply of sand. "Me and several like me did not get job today as we are useless without sand," Kumar said.
District mining officer (DMO) Satyajit Singh blamed suppliers.
"During the past three months we took several actions against illegal mining and illegal stockyards in the district. This put several suppliers in trouble and they resorted to this strike to mount pressure on the administration. However, steps are being taken to sort out the issue. Very soon work of auctioning sand banks will be done," the DMO said.