Rs 1 lakh fine for not wearing mask draconian, says Marandi
Penalties should be practical, not intended to harass the public, says BJP leader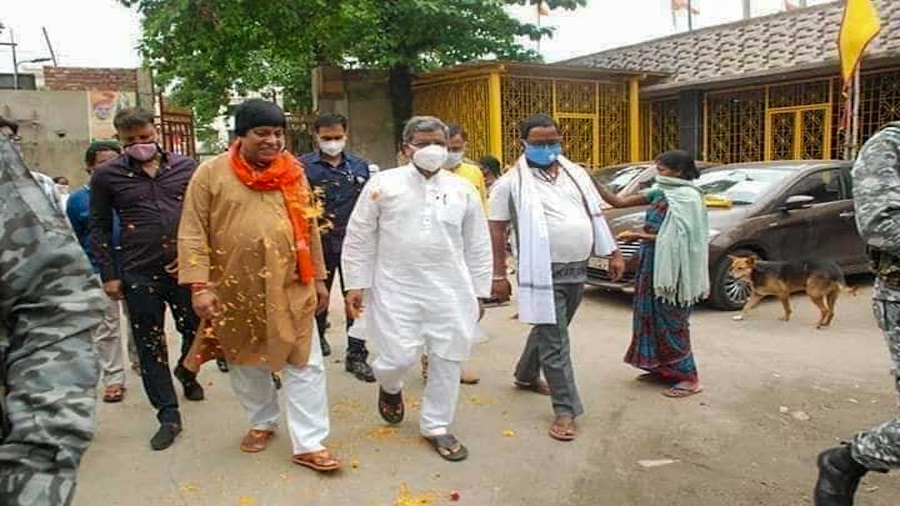 Former Chief Minister and BJP leader Babulal Marandi in Ranchi
Manob Chowdhury
---
Ranchi
|
Published 23.07.20, 08:48 PM
|
---
BJP leader and Jharkhand's first chief minister Babulal Marandi described as draconian and short-sighted the Hemant Soren government's decision to slap a fine of Rs 1 lakh and jail terms of up to 2 years to enforce the use of masks and social distancing norms in public places.
In a letter to Hemant on Thursday, a day after the state cabinet endorsed the move, Marandi said that although he and his party, the BJP, supported the government in combating Covid-19, the proposed penalties as prescribed in the Jharkhand Epidemic Disease Ordinance were impractical for a state like Jharkhand where majority of the people were living below the poverty line.
 "The fines should be practical and not intended to harass the general public," read the letter. He added that many developed states had imposed a meagre fine of Rs 50 but laid enough stress on mass campaigns to encourage the use of masks and adherence to other Covid safety norms.
Marandi believed that the punitive provisions in the ordinance would backfire and lead to unrest among the masses at a time when people were facing livelihood issues. He also apprehended that law enforcing agencies would tend to use these provisions to harass people.
"There are several instances when the agencies responsible for enforcing rules are themselves violating distancing norms. With such hefty provision of fines, many may tend to harass poor people, mainly those living in rural areas, by slapping false cases," his letter said.
The focus, he added, should be on innovative and effective ways to encourage the masses to follow norms than just sounding out fines that weren't in the interest of the state.
State BJP president Deepak Prakash also called the state government's measures anti-people. "I see these decisions as anti-poor and anti-people. The key to preventing the spread of Covid-19 is to cover the maximum part of the face, mainly the mouth and nose region, as much as possible. It can be done through using face shield, cloth, or mask. But this ordinance only talks of masks. In rural areas, more than the masks, people prefer covering the face by gamcha (cloth). The government should broaden the definition of mask first," he said.