River-cleaning drive at steel city for Chhath
100 workers deployed to sanitise Subernarekha, Kharkai ahead of festival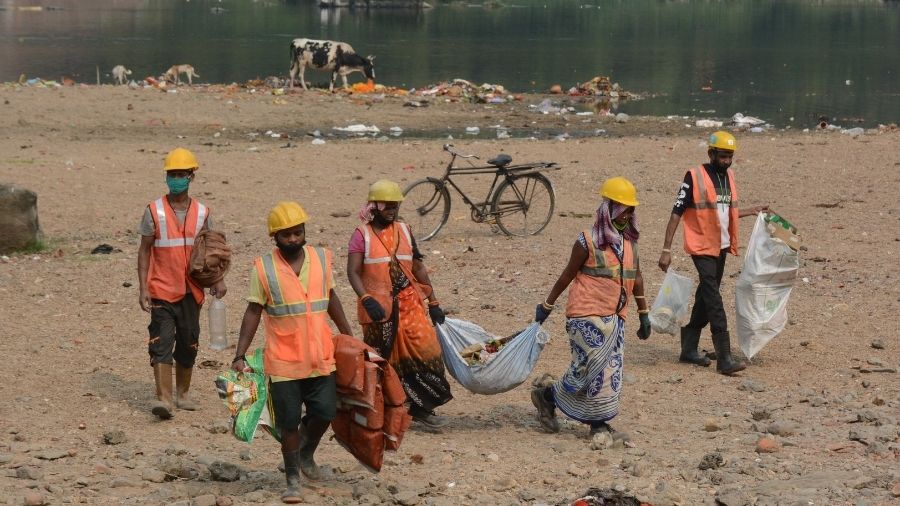 Workers deployed by JNAC cleanse Subernarekha Ghat at Sakchi in Jamshedpur on Wednesday
Picture by Bhola Prasad
---
Jamshedpur
|
Published 18.11.20, 08:32 PM
|
---
Local civic body Jamshedpur Notified Area Committee (JNAC) on Wednesday carried out the cleaning of rivers Subarnarekha and Kharkai with 100 workers for Chhath celebrations.
The state government on Tuesday rolled back its decision to ban Chhath puja at public water bodies in view of the Covid-19 situation, as a result of widespread public protests.
The cleanliness drive for removing puja paraphernalia and other wastes was carried out in all the major ghats including the Subarnarekha ghat at Sakchi, Kapali in Mango, Domuhani in Sonari, Pandey in Bhuiyadih, Bhuiyandih ghat, Sati ghat in Sonari, Substation ghat at Kadma and Bodhanwala ghat in Bistupur.
 Members of several social associations also joined in to clean the Baroda ghat at Bagbera among others. A team led by special officer of JNAC Krishna Kumar supervised the cleanliness operation at the Subernarekha ghat in Sakchi, Domuhani in Sonari and Bodhanwalla ghat at Bistupur. These are the three ghats which attract the maximum number of devotees during the biggest festival of Bihar.
"Besides cleaning, the ghats will also be levelled. We have begun the work to prepare the ghats for Chhath. All ghats would be cleansed and would be ready by tomorrow," Kumar said.
He added that streetlights and halogen lights would be set up at the river banks to make things convenient for the devotees. 
In Jamshedpur, the rituals will also be performed at the sprawling premises of the Surya Mandir at Sidhgora, which has two artificial ponds. 
"We are getting ready for the festival.   An appeal has been issued to the devotees for maintaining social distance and other safety norms while performing puja and offering arghya on both days," said a member of the Surya Mandir committee.
The celebrations will also be observed at the Dimna lake, which is maintained by Jusco.
However, due to the pandemic, many devotees will be celebrating Chhath, which began on Wednesday, at their homes.
On the first day, known as Nahay Khay, women devotees take bath  in the morning and cook a proper meal for themselves. 
Lauki (bottle gourd) bhaat, along with chana daal is a popular meal prepared by the devotees on this day.
Meanwhile, apart from the markets, which witnessed seas of devotees buying last minute Chhath Puja essentials, the long distance Bihar-bound buses also witnessed a huge rush at the Sitaramdera Bus Terminus.