Residents spurn meeting on Ranchi light house project
Slum dwellers want location shifted, corporation working on fresh dates for talks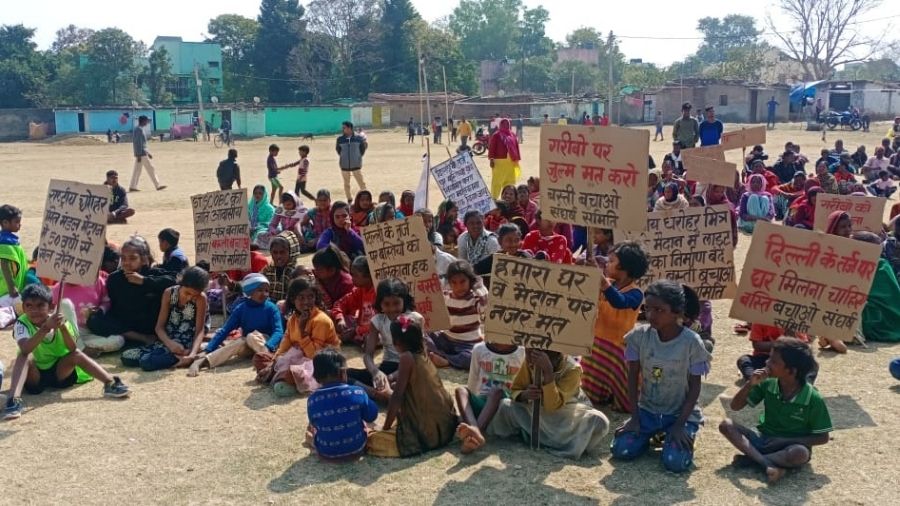 ---
|
Ranchi
|
Published 11.02.21, 08:14 PM
---
Ranchi Municipal Corporation (RMC)'s attempt to hold talks with residents of 26 slums at Jagannathpur in Dhurwa, majority of whom are against the Centre's ambitious light house project coming up in their area, failed to materialise on Thursday as no one turned up.
The civic body, which functions under the state urban development department, is now working out fresh dates for a meeting to convince the residents of the utility of the project that involves construction of low-cost homes out of prefabricated structures.
Even after a month since the foundation stone for the project was laid online by Prime Minister Narendra Modi on January 1, work on the ground is yet to begin. RMC sources said local residents had been staging protests fearing displacement.
"In the past, deputy mayor Sanjeev Vijayvargia tried to resolve the impasse by meeting residents personally at least twice. Now, slum dwellers are gearing up to hit the streets to block the project," said an RMC official.
Ranchi mayor Asha Lakra was, however, hopeful. She said work would begin soon as attempts were on to dispel "certain myths" surrounding the projects. "Talks can solve all their issues. Today's meeting got cancelled because there was a local haat and all had gone there. We are trying to hold meetings at a convenient time soon," she told reporters at RMC office.
Explaining their opposition, Mithun Paswan, the convenor of Basti Bachao Sangharsh Samiti that represents residents of all 26 slums, said they were not against the housing project, but wanted the government to change the site. "The project is planned at a three-acre ground behind Yogada College. This is the only ground we have where children play. If this project comes up there, people won't have any open space at all," he said, suggesting the department to shift the project to an area next to the old Assembly building.
Paswan said many residents fear that once construction starts, the administration would raze their homes to acquire more land for the project. "These slums came up in the 1960s and inhabit around 2 lakh people. For years, we have been demanding that these be regularised. We have been paying all municipal taxes. Hence, we request the government to shift the project," he said.
Under the light house project, a total of 1,008 flats _ built using state-of-the-art prefabricated structures _ are to be constructed with an estimated budget of Rs 133 crore of which the Centre and state will chip in with their shares while a beneficiary will have to shell out a certain percentage after the rates of the dwellings are fixed.
The light house project is a part of Pradhan Mantri Awas Yojana (PMAY) and is meant for beneficiaries of economically weaker sections earning up to Rs 3 lakh per annum. Besides Ranchi, the Centre has rolled out the scheme in Indore, Rajkot, Chennai, Agartala and Lucknow in the first phase setting a target of completing them within 12 months.