Red tape locks in green wheels
RSCCL has also apprised the corporation that spare accessories for all the 600 cycles had now arrived in Ranchi and it had started assembling them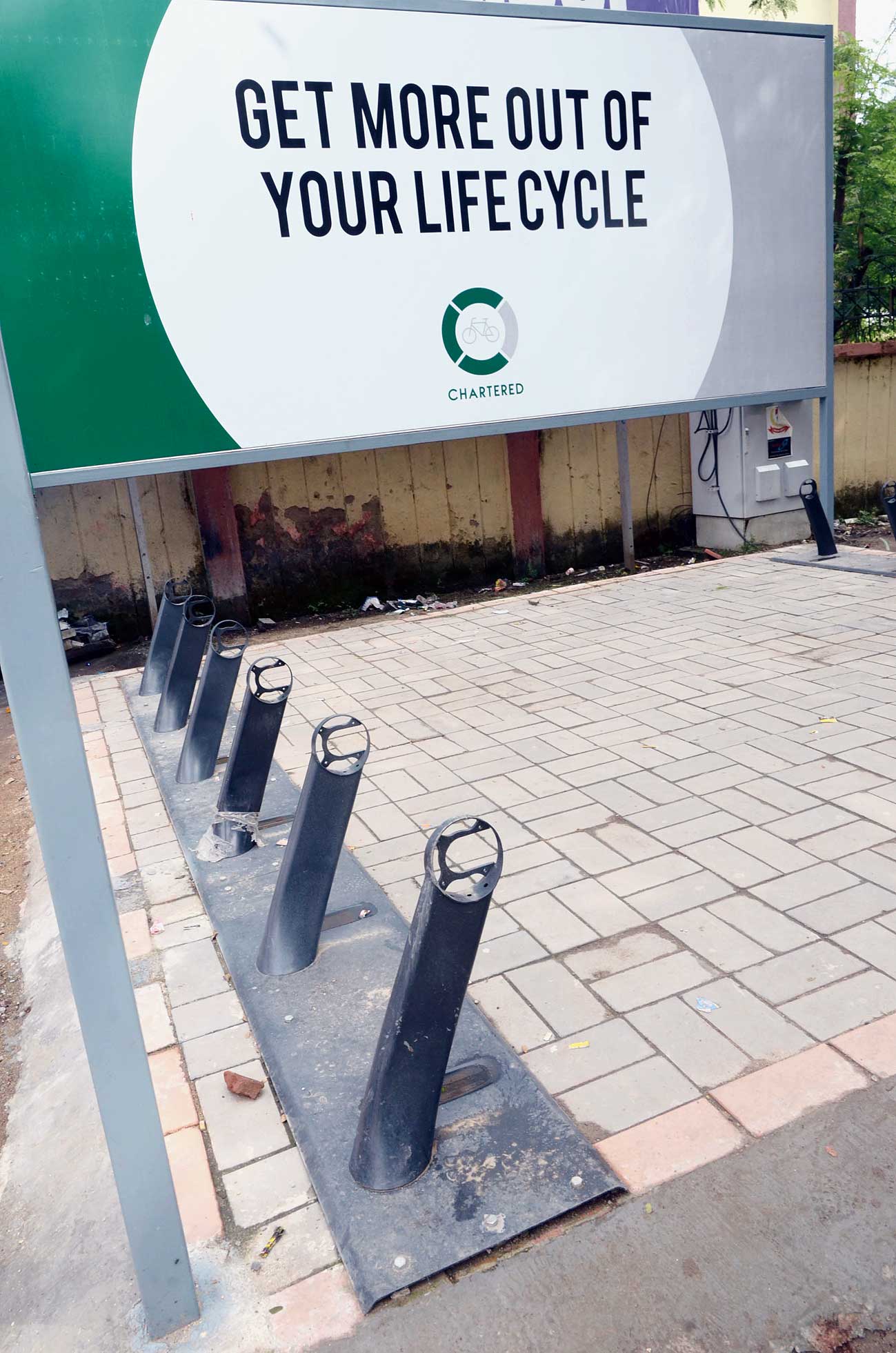 A cycle docking station at Morabadi in Ranchi
Telegraph picture
---
Ranchi/Jamshedpur
|
Published 06.01.19, 08:05 PM
|
---
The capital's wait for a green ride just grew longer.
An app-based bicycle rental scheme, aimed at promoting eco-friendly commuting as a part of the smart city project and tentatively scheduled for launch in November 2018, is staring at inordinate delay owing to tardy assembly of spares and installation of software for the control room.
Sources in the Ranchi Smart City Corporation (RSCCL), a special purpose vehicle incorporated in September 2016 for executing the grand plan, hinted that the delay in shipment of bicycle accessories and installation of software and machinery at the control station had pushed back the launch date till April.
"Ahmedabad-based private agency M/s Chartered Bikes, roped in to operate the scheme for a period of six years, had expressed its inability to start the project by November last year because the consignment of cycles exported from Germany was stuck at Haldia dock in Calcutta. It arrived in December," said an official.
The agency has also apprised the corporation that spare accessories for all the 600 cycles had now arrived in Ranchi and it had started assembling them. "The process can be completed only in a couple of months," the official said.
Also, the RSCCL is yet to establish a control station for the app-based service.
"Software for the app service will have to be installed and other infrastructure put in place. All this will take a month or so. Hence, the agency has promise to roll out the 600 cycles from 60 bike docks by April-end," the official added.
In the first phase, the 60 docking stations will come up along two important routes — Kanke Road-Chandni Chowk-Suchana Bhavan-Main Road (also known as Mahatma Gandhi Road) and Kokar-Lalpur-Circular Road-Kutchery Chowk-Morabadi.
"All the docking stations are ready and we are eager to launch the project. The delays that have been were beyond our control. Things are falling in place now and we are sanguine of an April launch. Commuters need a mode of environment-friendly conveyance, which will also help beat traffic congestion," said RSCCL spokesperson Amit Kumar.
The corporation's general manager (technical), Rakesh Kumar Nand Keolyar, conceded the delays. "There have been delays and legitimate reasons. But, we can assure you that the first phase of the project will start in a few months," he said.
The cabinet had okayed the project in August 2017, the plan being to roll out 1,200 cycles from 120 docking stations in two phases.
The app-based service will only have a control room and no counters. Cycles can be booked online by paying a subscription fee — Rs 30 a day, Rs 200 a month and Rs 1,000 a year — and nominal user charges. The first 30 minutes is free. However, there will be a few counters for those do not have access to smartphones and will need to purchase tickets.
According to the Institute for Transportation and Development Policy, a nonprofit, half of Ranchi's 14 lakh population depends on non-motorised forms of transport.