Ranchi ranked first in east Indian based on passenger feedback
Airport Council International survey places Jharkhand fifth nationally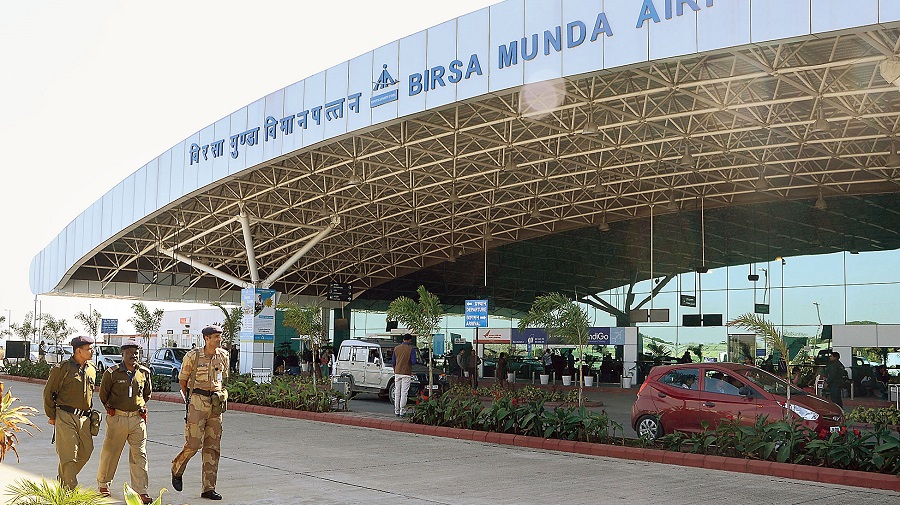 Birsa Munda Airport, Ranchi
File Picture
---
Ranchi
|
Published 01.11.21, 05:52 PM
|
---
The Birsa Munda Airport in Ranchi has bagged the fifth position in the country and the first position in Eastern India in customer satisfaction and basic facilities provided to passengers in an independent survey conducted by Airport Council International (ACI), a global body involved in improving security, safety and sustainability of the aviation industry.
Officials at Ranchi airport said that more than 350 passengers were surveyed by ACI and the rankings were given on the basis of their response. The survey included questions about parking facilities, accessibility to toilets, the experience of security check-in and options for refreshments available for passengers.
"The rankings depend on several factors, but are primarily focused on the experience of passengers. At least 60 airports across India were reviewed by ACI and Ranchi got the fifth rank in the country," said the director of Birsa Munda Airport, Vinod Sharma.
Sharma added that the airport authorities in Ranchi have been continuously striving to provide a hassle-free experience to the passengers by ensuring that they get easy access to all the facilities they would ideally want at an airport.
"Small things make a huge difference. We ensure that passengers get parking facility close to the departure and arrival gates, they are treated well by airlines staff during the check-in process, and are comfortable during the security check," said Sharma.
Birsa Munda Airport, which also bagged the first position among airports in India in Customer Satisfaction Index (CSI) in 2020, currently has more than 20 flights connecting Ranchi to Mumbai, Delhi, Kolkata, Patna, Hyderabad, Chennai, Ahmedabad, Pune, Bangalore and other important cities across India. The Ranchi airport is the only operational airport in the state as of now.
Airport officials said that an expansion plan for the airport has already been approved by the Jharkhand cabinet, which will further improve the facilities. Birsa Munda Airport is also set to get an In-Line Baggage Screening (ILBS) system, which is likely to enhance the experience of passengers by making the baggage screening process quick and hassle-free, officials said.
Birsa Munda Airport will also get two new aerobridges, the airport director said. At present, the airport has two aerobridges. The additional two aerobridges will help in easing flight movement.
This airport has an international bay, which is yet to be operational as airlines have not shown interest in starting international flights from the Jharkhand capital, sources said.