Ranchi: Psychiatrists prescribe music for brain health
Twenty first century touched the pinnacle of technological development but that also made the life of human beings more complex and stressful: Release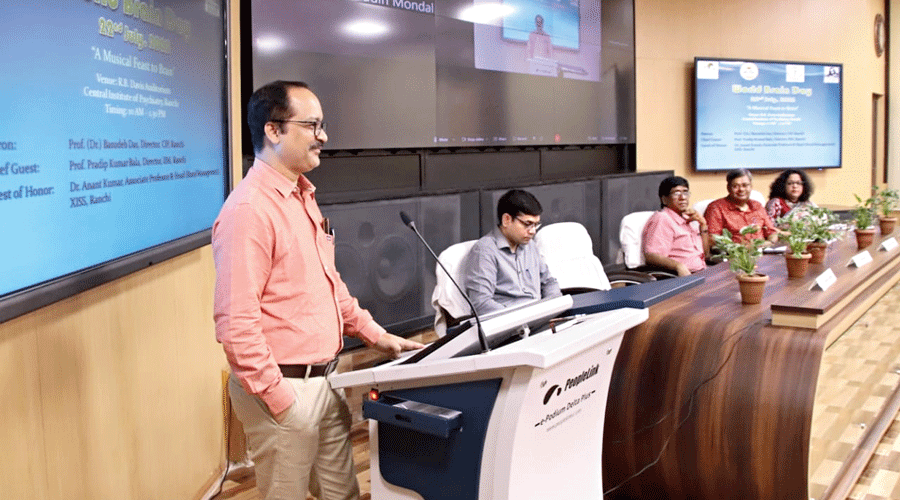 Basudeb Das, director of CIP, at the programme meant for observing World Brain Day on Friday.
The Telegraph
---
Ranchi
|
Published 23.07.22, 03:51 AM
|
---
Music helps keep your brain healthy.
The century-old Central Institute of Psychiatry (CIP) in Ranchi organised a programme on World Brain Day, observed every year on July 22, when psychiatrists, after discussing the medical aspects, said this on Friday.
CIP also involved Chhayanat, a cultural organisation of Calcutta, that presented literary and musical creations of one of its old patients, Kazi Nazrul Islam, who is venerated as the 'rebel poet' of Bengali literature and was also later honoured as the national poet of Bangladesh.
Healthy lifestyle and exercise may help one remain physically sound but indulging in art and music is a good option to keep the brain healthy, said a CIP release meant for creating public awareness about World Brain Day that had "Brain health for all" as the theme this year.
Twenty first century touched the pinnacle of technological development but that also made the life of human beings more complex and stressful, the release further said, adding there are not many things available that can stimulate the brain the way music does.
"If you want to keep your brain positively engaged during ageing process, listening to or pursuing music can be a good option to do that," CIP director Dr Basudeb Das said when contacted.
Music can provide a total brain workout and can also be helpful to keep the brain protected from deleterious effects of daily stress and hassles,  he elaborated. 
Among the psychiatrists who addressed the gathering, Dr Umesh S, associate professor of psychiatry, deliberated on "Creative brain: Nerophysiological evidences" while Dr Ujjwal Roy, a neurologist, spoke on "Music and art therapy: A new opening for keeping brain healthy".
On behalf of Chhayanat, while its chief Somerita Mallik outlined the literary work of Nazrul, as the poet is popularly known, other members recited his poems and also presented his ghazals.
Nazrul was afflicted with a rare neurological disease in 1942 that badly affected his memory and ability to speak.
When his condition did not improve, Nazrul was brought to Ranchi and admitted in CIP for treatment in 1952 but that also didn't help improve his condition. 
His admirers then took him to London and Vienna where a team of doctors diagnosed his ailment as Pick's disease, a neurodegenerative disease that he never recovered from. 
"It still remains an incurable disease," Dr Das replied when asked if any treatment was available even 70 years after Nazrul came to CIP.