Ranchi flags fuel cash-back drive for two-wheeler users from Jan 26
Oraon said there had been deliberations by various govt departments on this issue following a directive by the CM to provide relief to the poor from spiralling fuel prices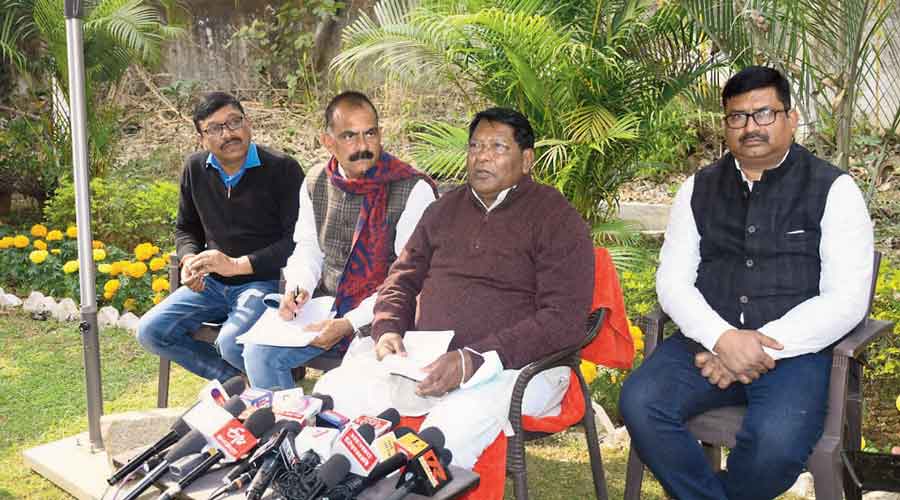 Rameshwar Oraon at the press conference in Ranchi.
Manob Chowdhary
---
Jamshedpur
|
Published 31.12.21, 01:36 AM
|
---
Jharkhand finance minister Rameshwar Oraon has termed as historic the decision to give a cash-back of Rs 25 per litre on petrol for poor and lower-middle-class two-wheeler users from January 26.
"We are the first state in the country to execute such a historic decision for the poor and lower-middle-class residents owning two-wheelers. This despite the indifference on the part of the BJP-led central government to our repeated requests to pay our outstanding dues in terms of royalties and payments accrued on behalf of PSUs," said the former Congress state president and a retired IPS officer.
Oraon said there had been deliberations by various government departments on this issue following a directive by chief minister Hemant Soren to provide relief to the poor from spiralling fuel prices.
"The announcement has been made following days of deliberations between various government departments following a request by the chief minister on giving relief to the poor from rising inflation and fuel prices. We know that it would be a huge cost on the state exchequer and we might have to make a budgetary provision of over Rs 800 crore on this head in the next budget session. But we had to take this burden for the sake of our people," Oraon said.
Soren has announced a fuel price relief for the poor and lower-middle-class sections using two-wheelers at a function to mark the second anniversary of the JMM-led UPA government on Wednesday.
"The prices of petrol and diesel are now sky high and its adverse effect can easily be seen among the poor and middle-class segments of the population. People are not able to ride their two-wheelers due to high fuel prices and are not able to sell their crops or vegetable products in the market. Those who have higher income and drive four-wheelers do not mind spending an extra amount on fuel expenses. Keeping this in mind, the government has decided to give a relief of Rs 25 per litre to two-wheelers users from January 26," Hemant had said on Wednesday.
For ration car holders refilling petrol in their two-wheelers, Rs 25 cashback per litre will be directly transferred to their bank accounts, Kemant had said. The rebate can be availed by those who refill up to 10 litres of petrol each month.
There are nearly 59 lakh ration cardholders who are covered under National Food Security Act in Jharkhand.
Oraon ruled out the apprehension expressed by Jharkhand Petroleum Dealers Association about the reduction of state VAT and cess of nearly Rs 18.41 per litre of petrol and contributing the remaining (nearly Rs 6.50) from its own fund.
"We do not intend to reduce our VAT. We will be simply transferring the amount through DBT (direct benefit transfer) to bank accounts. A person refilling petrol in a two-wheeler will need to show the receipt (given at fuel refill outlet) at the PDS shop.
"The receipt would be verified through the district supply officer and weight and measures inspector after which the amount would be transferred through DBT to the beneficiary's account. We are working to ensure that DBT is done as early as possible," the minister added.