Rain sinks Ranchi
Ranchi received 40.2mm of rain in 24 hours till 5.30pm on Saturday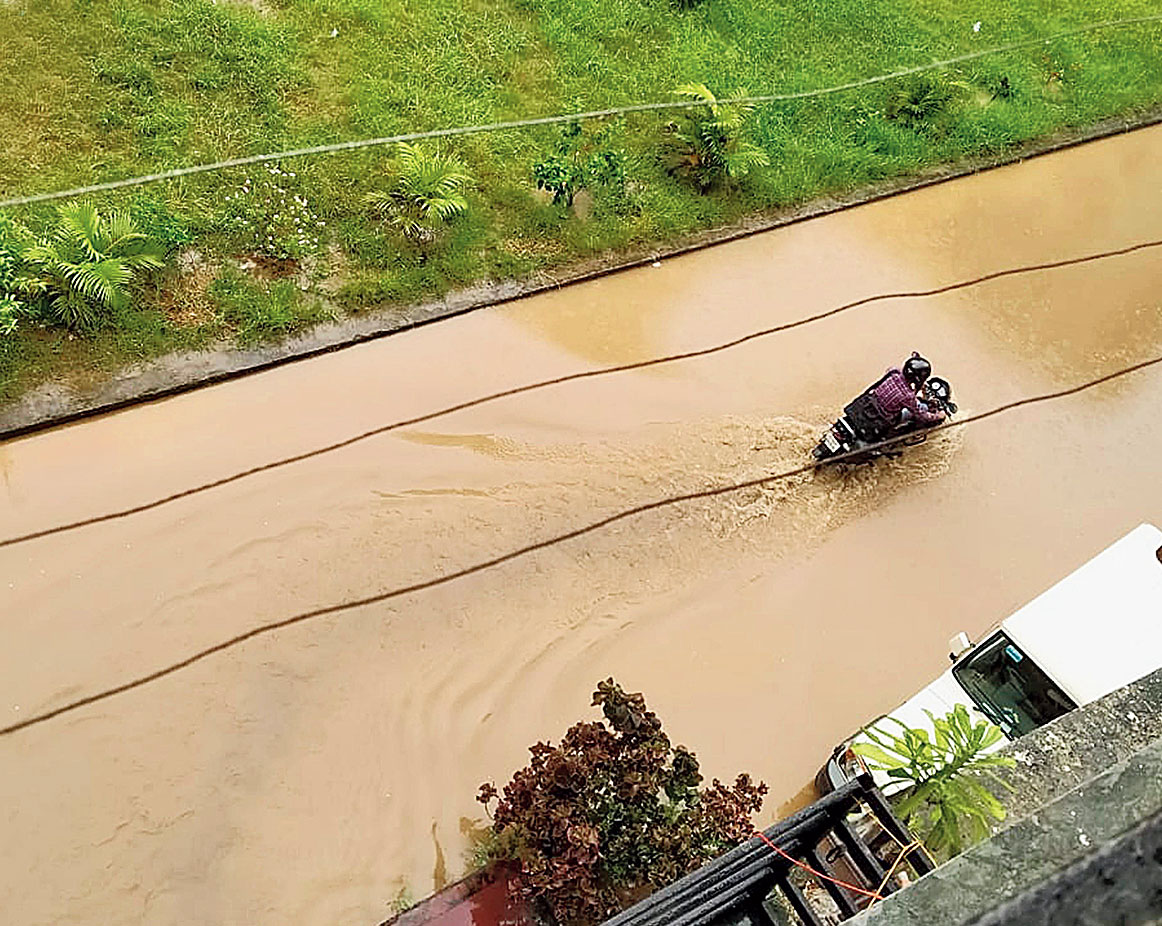 ---
|
Ranchi
|
Published 28.09.19, 06:41 PM
---
Heavy rain for over 24 hours since Friday has thrown life in the capital out of gear, with knee-deep water on many roads and erratic power supply belying smart city claims.
Ranchi received 40.2mm of rain in 24 hours till 5.30pm on Saturday. The Ranchi Met office predicted rain for three more days.
Worst-hit were Shalimar Bagh in Pundag (in picture, right) and Vidyanagar, close to Harmu Housing Colony, one of the most posh areas of the capital. In both Shalimar Bagh and Vidyanagar, roads resembled small rivers and people had to wade through knee-deep water.
Other roads that resembled rivulets were Meur Road, Kanke Road and Dibdih Road.
The Lower Bazar-end of Ranchi Main Road was also waterlogged. Crowded areas such as Bahu Bazar, Hindpiri, Nizamnagar had ankle-deep water. Low-lying areas near Oxford Public School in Chutia were badly waterlogged.
The only saving grace was that most private schools were closed on Saturday.
But those who had to venture out had a rough time. In Shalimar Bagh, a man pulling his motorcycle on the waterlogged road told this reporter: "My bike is now a boat."
In Vidyanagar, a few residents were seen trying to drain the standing water with sticks and trowels. "If the water level rises, our homes will submerge by tonight," said resident Sanjay Yadav.
Another resident of Vidyanagar, Sunil Kumar Yadav, had hoisted his small son on his shoulder as he negotiated knee-deep water. "My son has fever and I'm taking him to a doctor. The only things I'm worried about are snakes and scorpions," he said.
The weekly Saturday haat at Bahu Bazar wore a deserted look. Few vegetable vendors turned up and those who did said business was bad. "On a normal day, I have 200 customers. Today (Saturday) I had five," said vendor Birsi Tirkey.
Kishoreganj homemaker Parvati Tripathi said intermittent power supply had made life hellish. "Power cuts are not for hours, they're between 10 minutes and 15 minutes or so at a stretch, but one can't work like this and costly electrical appliances are at risk."
Ranchi DC Rai Mahimapat Ray said they did not receive information of any untoward incident in the rain.
Municipal commissioner Manoj Kumar conceded waterlogging but said the problem was under control. "We pumped out water from roads at many place on getting WhatsApp alerts," he said. On why a smart city should have waterlogging, he said: "It is due to poor slopes in some drains. Apart from this, drains are not interconnected. At many places, plastic bags clog the flow. Sometimes, unplanned construction is also to blame."