Quota-dilute cry at RIMS
RIMS director Dr D.K. Singh refused to elaborate but rubbished the allegation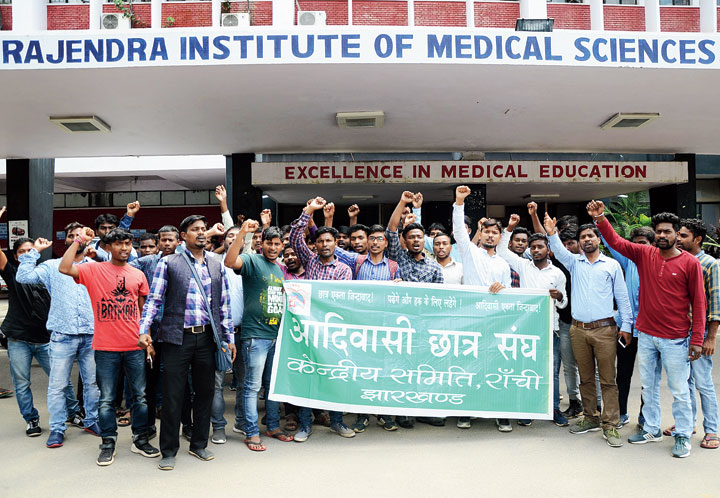 Adivasi Chatra Sangh members protest on the RIMS campus in Ranchi on Thursday
Manob Chowdhary
---
Ranchi
|
Published 10.10.19, 07:39 PM
|
---
Members of the Adivasi Chatra Sangh, an independent outfit of tribal students with no political affiliation, on Thursday staged a demonstration outside the office of the director of Rajendra Institute of Medical Sciences (RIMS) alleging irregularities in implementation of reservation rules.
Led by ACS president Sushil Oraon, the protesters accused the RIMS management of reducing the quota for appointment at the premier government-run healthcare facility.
"In appointment of nurses, EWS (economically weaker section) category quota has been shown from 2014 while the quota was allotted this year," Oraon said. "Tribals have been counted in the general category. In the advertisement published for appointment of Class III and IV employees, ST (Scheduled Tribes) has been given only 13.4 per cent reservation while general and EWS has been made nearly 73 per cent by merging together. Similar irregularities have been made in the appointment of professors."
Contacted for comment, RIMS director Dr D.K. Singh refused to elaborate but rubbished the allegation.
"This is a technical issue. Such matter was also raised before the ST Commission where a proper reply in this regard has been given. The allegation is baseless," is all Singh said.
He claimed that the personnel and administrative reform department of the state government was apprised of the matter.
"The personnel and administrative department is equally responsible for the irregularities," Oraon said when informed of the RIMS director's defence.
"The matter is pending before the ST Commission and the date of the next hearing is on October 18.
"The RIMS director is misleading on the issue," he added. "When I met him for the first time over the issue, he had told me that he was new in the organisation; now he is supporting the irregularities."