Probe into mule accounts fraud in Jharkhand
Move comes after a survey by rights activists found that the accounts are being allegedly used by middlemen to siphon off MGNREGS funds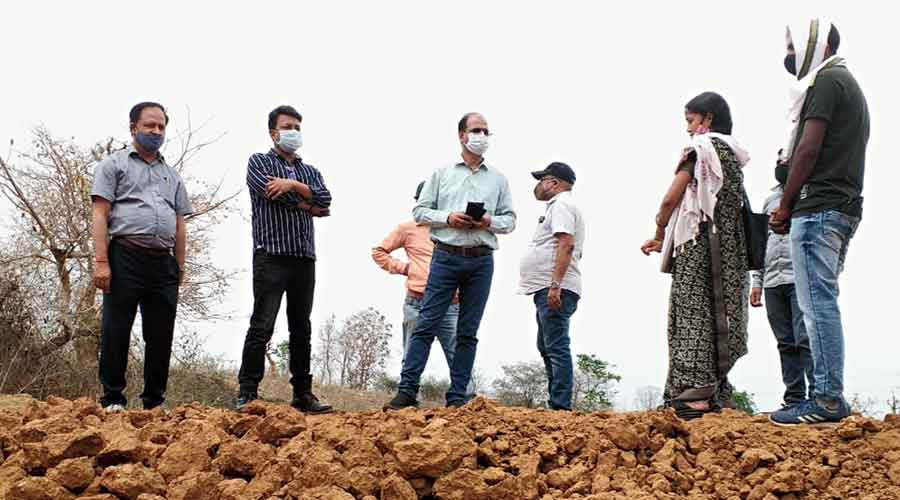 Probe team at the dhoba construction site in Manika block of Latehar on Friday
Shabbir Hussain
---
Jamshedpur
|
Published 17.04.21, 12:31 AM
|
---
A three-member probe team constitutedby the Latehar district administration in Jharkhand visited worksites of the Mahatma Gandhi National Rural Employment Guarantee Scheme in Manika block on Friday after a survey byrights activists found that mule accounts are being allegedly used by middlemen to siphon off MGNREGS funds.
Acting on the directive of Latehar deputy commissioner Abu Imran, the probe teamled by Pankaj Kumar, district rural development agency (DRDA) director, and comprising Latehar Sadar subdivisional magistrate Shekhar Kumar and junior engineer Roushan Kumar inspectedthe doba (small ponds) construction sites in Bhadaibathan panchayat of Manika block.
"The team inspected the doba construction sites of Santu Yadav, Sunil Paswan, Krishna Paswan and Bishunti Kunwar in Bhadaibathan panchayat. They also examined the documents, muster rolls, MIS (information management system) reports, etc, to find out about the payments and the work done by different villagers as well as their documents.
"The team would be submitting its report to the deputy commissioner in a day or two. We found several anomalies indicating the presence of mule accounts," said a senior official associated with the team.
Imran told The Telegraph that the team was constituted as soon as the allegation of siphoning off scheme funds was made to the district administration.
"We had constituted the team soon after receiving the complaint about siphoning off funds through mule accounts from the rights activists. The team will be submitting its report. We will certainly take action on those involved based on the report," he said.
State rural development secretary Aradhana Patnaik admitted that she had received similar complaints earlier as well.
"We had received complaints of such mule accounts being used to siphon off MGREGS funds during the construction of PMAY (Pradhan Mantri Awas Yojana) houses. We verified the complaints in our social audit and took steps to rectify it. We will be asking all deputy commissioners to be alert about such fraudulent practices," said Patnaik.
A survey conducted under the aegis of NREGA Sahayata Kendra, Latehar, by a team comprising Belgian-born economist and Jharkhand-based activist Jean Dreze, James Herenj (NREGA Watch) and other rights activists found that the bank accounts of beneficiaries who have not done any work under the rural job scheme are being allegedly used by middlemen in Latehar district to siphon off MGNREGS funds.
The Telegraph had reported about the survey findings on Friday. The survey was conducted between April 12 and 13 and the team members met the deputy commissioner on April 15.
"We believe that similar practices of siphoning off funds are being carried out in other districts of Jharkhand as well. We would submit our recommendation on checking such malpractices to the rural development department and the chief minister soon," said Dreze.
Sources in the rural development department claimed that funds to the tune of over Rs 270 crore had been siphoned off using mule accounts.