Pray for the release of Elgaar Parishad accused if not proven guilty
The Ranchi-based Father Stan had been held for nine months without bail under the anti-terror law UAPA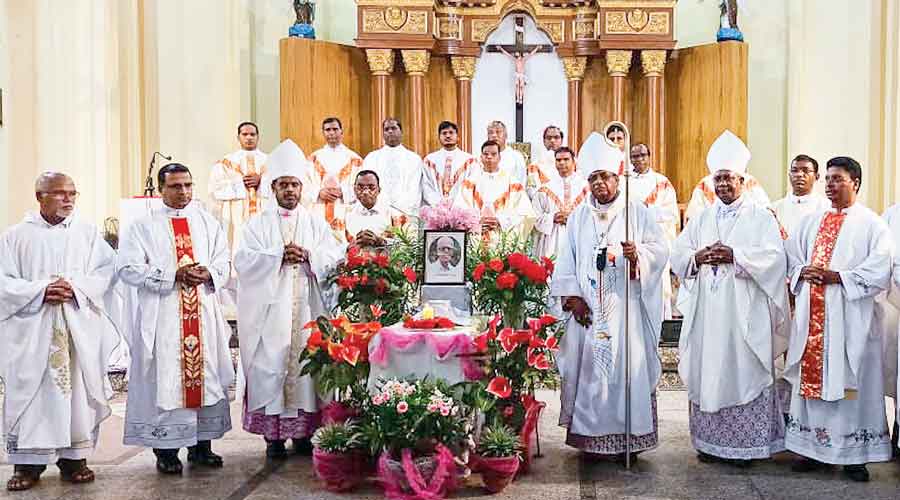 ---
Jamshedpur
|
Published 11.07.21, 02:39 AM
|
---
A call to pray for the release of all the Elgaar Parishad accused was sounded after the Requiem Mass for Father Stan Swamy at St Mary's Cathedral in Ranchi on Saturday.
"We would like to appeal to all to pray that all those accused in the Elgaar Parishad-Bhima Koregaon case be released immediately unless the State is able to prove their guilt conclusively," Ranchi auxiliary Bishop Theodore Mascarenhas said while delivering the homily after the mass, which was broadcast online.
The Ranchi-based Father Stan — an ailing, 84-year-old Jesuit priest and tribal rights activist who died in federal custody on July 5 in Mumbai — had been held for nine months without bail under the anti-terror law UAPA in the Elgaar Parishad case.
He and 15 other rights activists, lawyers, academics and litterateurs were arrested and accused of Maoist links in the case amid suggestions that at least some of the "evidence" against them had been planted.
"We do not mourn Father Stan Swamy but rather celebrate his life, lived for the poor and marginalised. He was loved by many but also hated by a few who tortured him, persecuted him, refused to meet his basic needs," Bishop Mascarenhas said.
Father Stan, a Parkinson's patient, had been for a period denied a sipper and straw in jail that he needed to drink water.
Citing an old article by former Mumbai police commissioner Julio Ribeiro, Bishop Mascarenhas said: "The article states that only 2 per cent of the cases prosecuted under the UAPA have ended in convictions till date."
He added: "The State (Union government) is obviously not concerned about convictions. It is more interested in the process that keeps the accused in jail for years, thus neutralising their abilities to organise a viable opposition to unjust projects that rob the poor of their rights and even their livelihood."
Ranchi Archbishop Felix Toppo presided over the Requiem Mass, which was attended by Bishop Mascarenhas, Simdega Bishop Vincent Barwa and the three Jesuit provincials of Jamshedpur, Ranchi and Hazaribagh who concelebrated the mass.
Father Jerome Cutinha, provincial of the Jamshedpur Jesuit province (to which Father Stan belonged), said: "Father Stan lived for the tribals, fought their battles and died for them. Father Stan and his battles will continue to live on in us."
Father Ajit Xess, provincial of the Ranchi Jesuit province, read the gospel of the day. Father Santosh Minz, provincial of the Hazaribagh Jesuit province, delivered the vote of thanks at the end of the mass.
Bishop Mascarenhas spoke of Father Stan being gathered to his people through his ashes, which have been brought to Ranchi, just like Jacob who wanted to be gathered to his people.
After the Mass, Archbishop Toppo, the other two bishops, the three provincials and young Catholics handed over food packets to over 150 poor people outside the Cathedral gates and the Chunwatoli basti near the Ranchi bus stand.
The Indian People's Theatre Association's Jharkhand unit has decided to stage plays to build awareness among tribal and marginalised communities about Father Stan's custody death at the hands of a "fascist central government".
"We will not let Father Stan's martyrdom go in vain. We shall take help from likeminded organisations, form jathas (small groups) and go to the different blocks and panchayats of Jharkhand, targeting areas whose issues Father Stan had raised," IPTA state secretary Upendra Kumar Mishra said.
"We will stage plays to create awareness against the current fascist government at the Centre which killed an 84-year-old man in its custody without even a trial."
The IPTA, which has over 500 members across the state's 24 districts, paid tributes to Father Stan at an event in Kanta Toli, Ranchi, together with tribal human rights groups and Left parties on Saturday.