At Ranchi requiem for Father Stan Swamy, a prayer for the world
He was not afraid to fight for the rights of the under privileged, tribals, Dalits, says Bishop Theodore Mascarenhas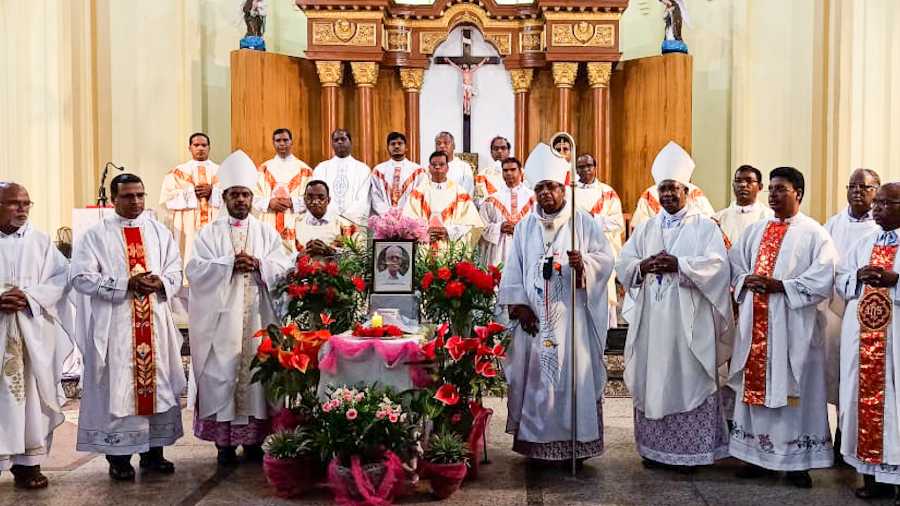 Ranchi archdiocese held a special mass at St Mary's Cathedral on Saturday in memory of Father Stan Swamy
The Telegraph
---
Ranchi
|
Published 10.07.21, 07:32 PM
|
---
Ranchi archdiocese held a special mass at St Mary's Cathedral on Saturday in memory of Father Stan Swamy, the 84-year-old Jesuit priest and tribal rights activist who breathed his last on June 5 at a hospital in Bombay under judicial custody after his arrest under UAPA for alleged links with Maoists.
Father Stan's last rites were held at Mumbai's Shivaji Park crematorium _ because of Maharashtra Covid protocols _ his associates brought his ashes to Ranchi where he spent several decades working for adivasis.
Church leaders said the requiem, held in the presence of archbishop of Ranchi Father Felix Toppo, bishop of Ranchi Father Theodore Mascarenhas and a handful of other priests, was more for the sake of humanity's awakening than mourning for Father Stan's passing. The mass was also streamed online since there were Covid restrictions in place on the number of people who could attend the gathering.
"We pray for the whole world today not just for father Stan," Archbishop Toppo said. 
After the proceedings, church leaders distributed food packets among the poor.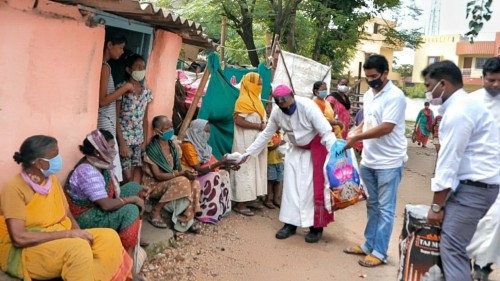 Bishop Mascarenhas said, "More than the mourning, we have gathered here to thank God for sending a holy soul like Father Stan Swamy. We are here to pray that what happened to him does not happen to anyone else. We appeal that all accused under UAPA along with Stan must be released unless proven guilty."
He said that everyone will remember him (Stan) with gratitude and humility for his service and utter courage which he possessed in all the odd situations. "We had a courageous man, not afraid of anything. A man, loved by many, and persecuted and tortured by some, but left for the heavenly abode after fulfilling his time and purpose on the earth. The kind of treatment he faced in prison, for very simple things like a sipper and straw for drinking water due to his health condition, any ordinary human being would have given up. But he kept fighting."
"What was his crime?" the Bishop asked.
Father Stan, Bishop Mascarenhas said, was not afraid of those who would touch his body. "He was not afraid to fight for the rights of under privileged, tribals, Dalits and all those who needed his help. Those who hated him continued till they were sure that he had gone to his grave. When he was in court and very sick, there was so much reluctance to give him medical help. His last wish was - 'Let me go back to my people'," the Bishop added.