Poultry scheme a cock & bull story in Jharkand's Palamau
Government money spent on imaginary MGNREGS murgi sheds, finds probe team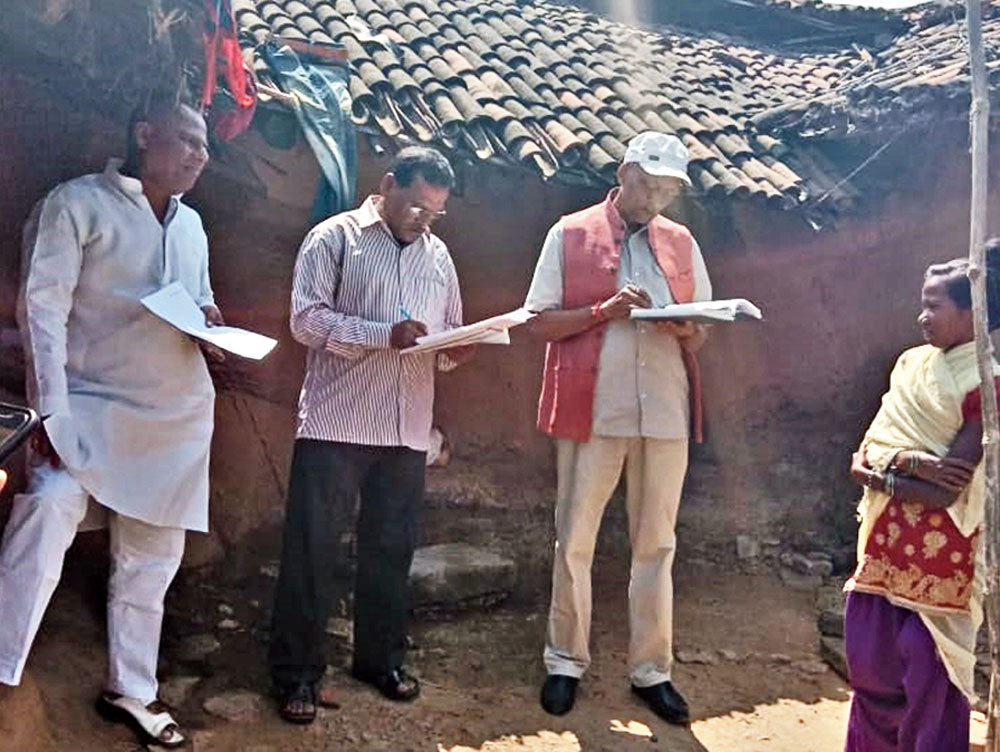 Who hatched this fiction? A three-member team at Mahulya in Palamau probe the non-existent MGNREGS poultry sheds on Sunday
Telegraph picture
---
Daltonganj
|
Published 09.10.18, 08:25 PM
|
---
The murgi shed yojana under the Mahatma Gandhi National Rural Employment Guarantee Scheme or MGNREGS in Palamau's Paton block has revealed glaring anomalies.
None of the seven people belonging to extremely poor families in Mahulya village under Pahley Kalan panchayat of Paton block, selected under the scheme in 2016-17 fiscal year to raise desi or broiler chicken to hike their income under MGNREGS, ever had a murgi shed. But government data said each beneficiary was given Rs 50,000 of the Rs 60,000 or Rs 61,000 meant for each murgi shed and the money was spent too.
Senior BJP leader Durga Johri, also a member of Palamau district 20-point programme implementation committee, raised this issue of fraud in this MGNREGS scheme on October 6 in a meeting chaired by state urban development minister C.P. Singh, who also heads the district committee.
Johri told this newspaper on Monday night around 9pm that Sudama Bhuiyan, Chhotan Bhuiyan, Dinesh Bhuiyan, Bijlee Bhuiyan, Shanti Devi, Manohar Bhuiyan and Sonul Singh of Mahulya village who were selected for the murgi shed yojana did not even have any idea about it.
"When a probe team reached these families on Sunday, October 7, these people said they did not have any murgi shed and did not even know they were supposed to have them. The probe team was formed at my urging at the October 6 meeting. Singhji had cautioned me that if I could not prove my allegations, I would have to quit my panel membership. I told the minister-cum-panel chairman that I was ready to face the music but I stood by my allegation. The minister was kind enough to set up a three-member probe team comprising the panel's vice chairman Bipin Bihari Singh, senior government official Haider Ali and I. The probe proved no trace of murgi sheds," said the BJP leader.
Asked, DC Palamau Shantanu Kumar Agrahari promised to bring culprits to book. "None can escape penalty un-der provisions of law," he said.
Block development officer of Paton Somnath Banerjee put the blame entirely on the mukhiya , panchayat sevak and MGNREGS rozgar sevak. "Neither they nor beneficiaries (villagers) brought this fraud to my notice," he said. "Each murgi shed comes for around Rs 60,000 or Rs 61,000. In each Rs 50,000 is shown as spent. The fund transfer order for labourers and suppliers (to build the sheds) are digitally signed by the mukhiya and panchayat sevak. They need to explain why the sheds never came up."
Johri added that as it was proved that government money meant for the betterment of the poor had been siphoned off in this case he now demand a big probe into all major schemes of the government here in Paton block. "I believe this murgi shed fraud is just the tip of an iceberg," Johri said.