Baked earth can be both strong and beautiful.
About 700 artisans from three districts of Kolhan — the twin Singhbhums and Seraikela-Kharsawan — displayed their terracotta creations and also gave a live demo of their craft at Michael John Auditorium in Bistupur on Tuesday.
Organised by the state government's Jharkhand Mati Kala Board that was formed with 2017, the daylong event had art and culture minister Amar Kumar Bauri as chief guest. Board chairman Srichand Prajapati was also present at the event that hosted a number of informative seminars for the kumhar (potter) community on how they could get marketing support from the state government, hone their craft to meet the demands of urban markets, find new platforms to sell their work and attend fairs in metros.
From water bottles, jugs and washable cups and saucers, to lamps and artefacts, the exhibition gave visitors a chance to explore new items in this craft.
Prajapati said the board, though new, was working on the uplift of potters in Jharkhand to keep their craft alive. He added their aim was to link potters to new markets, including even exports. At present, Jharkhand has over 30,000 potters.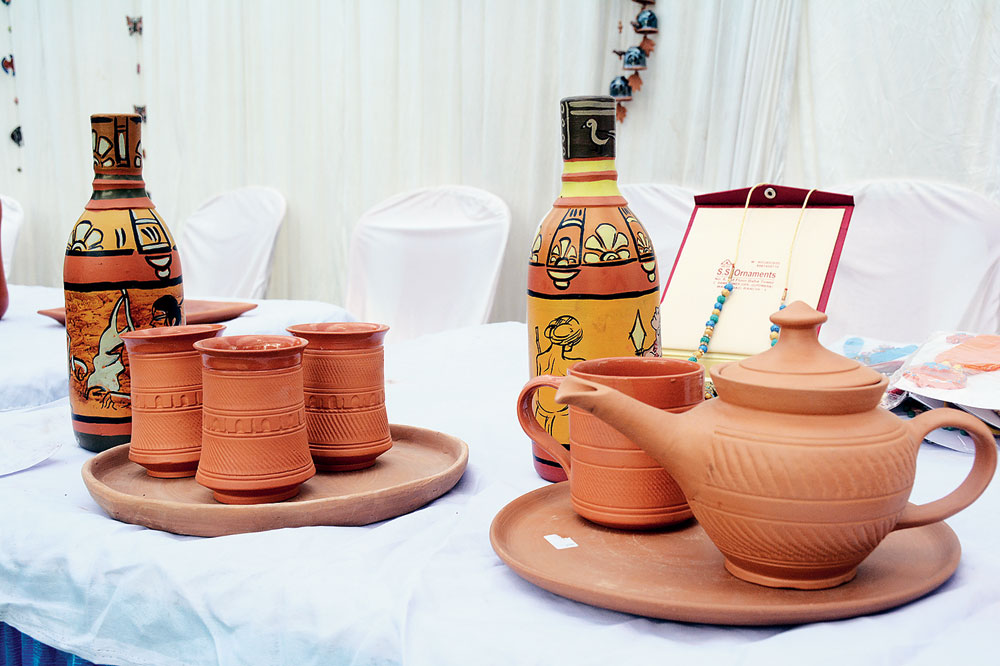 Terracotta products displayed at the fair Picture by Bhola Prasad
He said simple initiatives made a lot of difference. "For example, even recently, you'd find tea stalls flooded with paper and plastic cups. Clay kulhars had gone out of fashion. But now, artisans are making washable kulhars and tea stalls are using them," he said.
The Mati Kala Board is all set to start seven district-level training centres in Ranchi, Bokaro, Palamau, Godda, Hazaribagh, East Singhbhum and Sahebganj where experts would create master trainers to further train potters to polish their craft, learn to make innovative products and pick up marketing tips.
Many artisans, who were present at Tuesday's event, said they did not know much about the board's role but that it seemed beneficial for them.
"There is a need for a board like this," said Suhas Pal, a terracotta artisan from Seraikela. "We are potters since generations but our children do not want to get into pottery, they say it has no money and no future. If getting associated with the board can give us sales and profits, it's a good thing. Board officials are saying we will get scope to display and sell our products in trade fairs across the country."