Police nabs son-in-law and aide for gun attack on jeweller
Ganesh Chandra in his statement had hinted at the possibility of Rajkumar Patro conspiring against him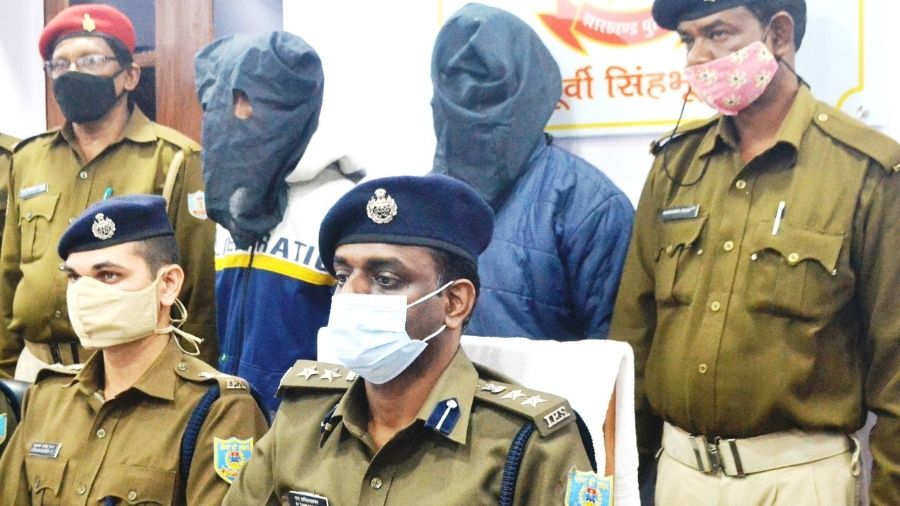 Senior SP, M Tamil Vanan (in blue mask) with the two arrested persons standing behind at the police station on Tuesday in Jamshedpur.
Picture by Animesh Sengupta
---
Jamshdepur
|
Published 16.02.21, 08:33 PM
|
---
Jamshedpur Police arrested two persons on Tuesday involved in the gun attack  on the owner of Chandra Jewellers Ganesh Chandra, one of them being the victim's son-in-law.
Those arrested were identified as Rajkumar Patro (25) and Raghunath Manna (19), both residents of Uliyan in Kadma, where the attack took place on February 13 night. Rajkumar is the son-in-law of Chandra.
Senior SP M Tamil Vanan said Rajkumar and Raghunath were nabbed from near the Tatanagar station area, while they were riding a bike on Tuesday morning.
Revealing details, Vanan said that Rajkumar, who worked as an electrician, married the jeweller's 19-year-old daughter Ayushi Chandra following an affair between them a year ago.
"Within a few months of the marriage, Ayushi came to know about her husband's dubious background. Eventually, there was a marital dispute between the two as she had tried to bring her husband's wrongful activities to an end," Vanan said at a press conference. 
As the dispute deepened further, Ayushi returned to her parents' house at Bipasha Path in Uliyan last November. As Ayushi realised that she had done wrong by marrying Rajkumar, Ganesh Chandra, convinced her to seek a divorce from her husband. She then filed her divorce petition with the Jamshedpur court," the senior SP detailed.
Vanan said on coming to know about the divorce petition filed in the court, Rajkumar thought that Ayushi must have been forced by her father. He contacted Chandra and pressed him to withdraw the divorce petition from the court. 
Rajkumar had also threatened Chandra with dire consequences if the divorce petition was not withdrawn shortly, the police officer said.
Vanan said as Chandra did not pay any heed to his son-in-law's request, the latter had conspired the attack on the former on February 13 night.
Chandra (38) was seriously injured as two bike-borne criminals had opened fire at him near his jewellery shop at about 9.30 pm when the victim was returning home, having closed the shop.  The criminals had fired two shots, one of which had hit the victim's abdomen whereas the other one was a misfire.
The injured jeweller had been rushed to Tata Main Hospital, where he had given a statement to the police on February 14. 
The victim had in his statement made it clear that his son-in-law must have conspired the attack, given the background of his marital life.