Plan deer at Tata zoo
Proposal sent to CZA authorities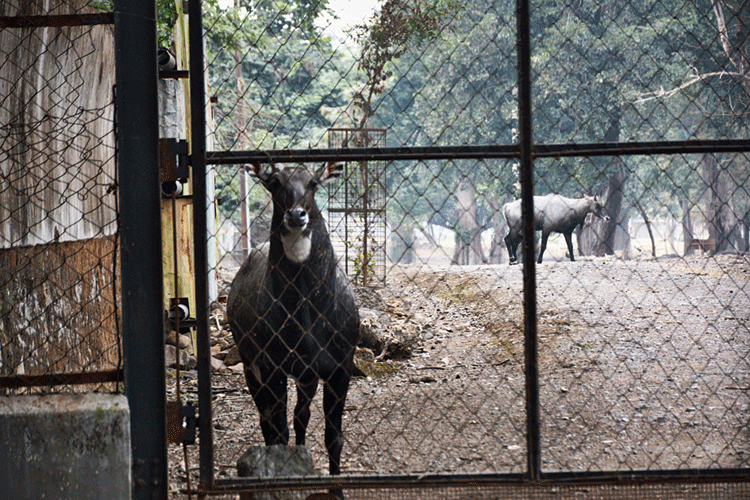 A nilgai at Tata zoo on Wednesday.
Picture by Bhola Prasad
---
Jamshedpur
|
Published 29.01.20, 06:42 PM
|
---
Tata Steel Zoological Park has sent a proposal to the Central Zoo Authority (CZA) to turn its Safari Park inside it into an enclosure for herbivores.
The park, spread over 4.5 hectares against the CZA's guideline of 30 hectares, has been shut for nearly three years because of the space crunch.
"We have sent a proposal to CZA for a composite herbivore enclosure. This way, the safari can be used for the visitors. We are hopeful of a green signal later this year," said zoo director Bipul Chakravarty.
Pathways will be built in the middle of the park where visitors can see nilgai, spotted deer and black buck on either side.
"We want to present a wild feel for people who can watch the herbivores from a viewing gallery in the open," Chakravarty said.
At present, there are 86 herbivores 42 spotted deer, 35 black buck and nine nilgai in the zoo.
Zoo officials are hopeful the CZA will okay the proposal later this year. "The herbivores are inside the safari which is lying defunct for nearly three years now. Now, we want it to reopen it for people," said an official, requesting anonymity.
Footfall at the zoo is likely to increase once the herbivore enclosure is in place.
"The park has been shut for visitors and it is a step in the right direction by Tata zoo to set up a herbivore enclosure. It's a very good initiative," said Ratul Jha, a zoo visitor.