Pathway of pride for Ranchi lake
The Bada Talab is being redesigned on the lines of Mumbai's Marine Drive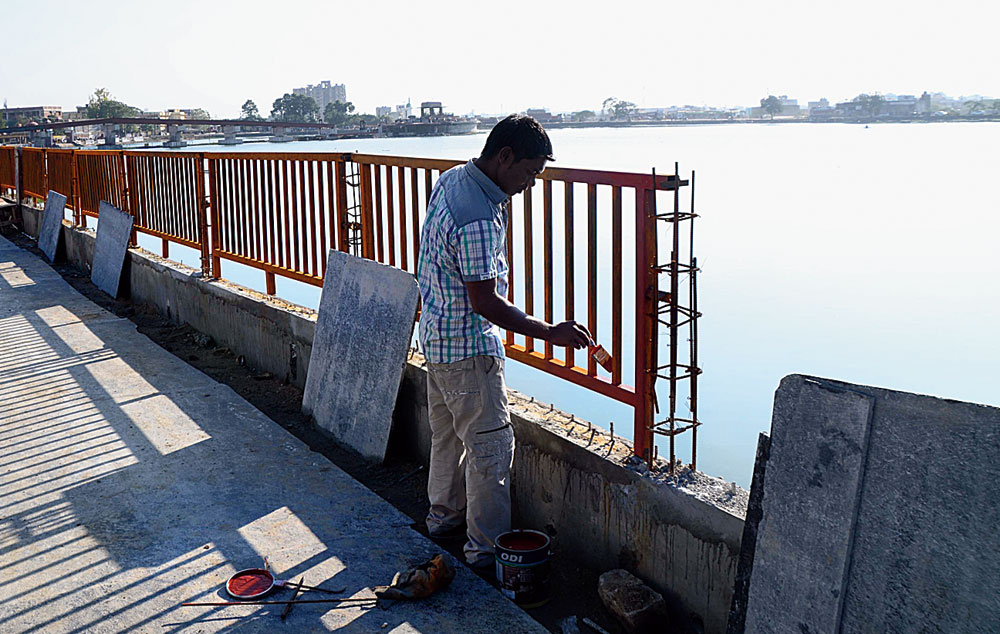 The under-construction pathway at Ranchi Lake on Wednesday.
Picture by Manob Chowdhary
---
Ranchi/Jamshedpur
|
Published 19.12.18, 06:50 PM
|
---
The iconic Bada Talab, which is being beautified with a host of additions including a 33-feet-high statue of Swami Vivekananda, will have a 2km pathway around it on the lines of Marine Drive in Mumbai.
Ranchi Municipal Corporation (RMC) has entrusted a private agency for constructing the concrete pathway that will have 10-feet high decorative lamps.
"We are expecting to complete it by May-June 2019. A Palamau based agency has been entrusted with the task. It is loosely based on the concept of Marine Drive of Mumbai wherein visitors can get a feel of the flowing water as they walk. We are also installing decorative lamps, the kind used in old parks, to give an aesthetic touch to this British era lake," said RMC CEO Manoj Kumar.
Bara Talab, referred to as Ranchi Lake by most, is spread over 52 acre. It was created by a British agent, Colonel Onsely, in 1842 with the help of prisoners in order to maintain the groundwater level of the city, which is located more than 2,100 feet above sea-level.
Today, thousands of residents take a walk along the lake in the morning and evening everyday.
According to the senior RMC official, the construction of the pathway is part of the Rs 13-crore beautification plan for the lake.
"The concrete pathway is about 10 feet wide. It will have railings of nearly 3ft. We would like the structural component of the pathway to be ready when chief minister Raghubar Das inaugurates the statue of Swami Vivekananda on his birth anniversary on January 12 that is observed as National Youth Day," Kumar said.
As many as 40 decorative lamps are expected to be installed on side of the pathway. This apart, RMC also proposes to develop a parking bay, a landscaped area and a recreation spot adjacent to the Nagarmal Modi Seva Sadan Hospital.
"The open space of nearly an acre would be reclaimed with landscaped and greenery along with space for parking and recreational facilities for children," RMC chief engineer Ajit Lakra said.
In the second phase, RMC plans to set up a sewage treatment plant and install floating fountains on the lake.
"Following a directive of the state urban development department secretary Ajoy Kumar Singh, we will soon float tenders for the second phase of the lake beautification plan. We will have a sewage treatment plant (STP) for treatment of dirty water from the four drains that lead to the lake. We will also install floating fountains which would provide the aeration necessary for aquatic species," said the RMC CEO.