Pathalgadi activists meet governor on scheduled areas
Protesters hand over memo, want to install plaque near Vidhan Sabha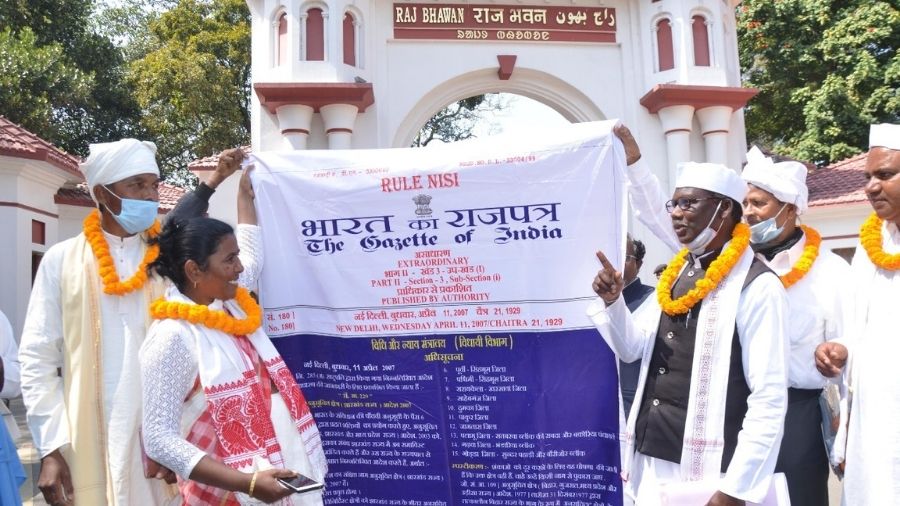 ---
|
Ranchi
|
Published 23.02.21, 08:13 PM
---
A group of activists met Governor Droupadi Murmu at Raj Bhavan and sought her nod for installing Pathalgadi stone plaques near Jharkhand High Court and the Vidhan Sabha building in Ranchi on Tuesday, a day after they attempted a similar protest with a stone plaque with names of 13 districts inscribed on it.
After handing over a memorandum to the governor, the activists said the Fifth Schedule of the Constitution allowed the 13 districts, including Ranchi, to be declared as scheduled areas where the tribal law should come in force. They said that as per the Constitution, tribesmen and tribeswomen living in these areas also enjoyed immunity from legal action and there was a different set of laws for such people.
The activists told the media that the governor told them that it was a constitutional matter and any decision regarding their demands could not be taken in haste. "The governor has also assured that police will not harass us unnecessarily," one of the activists, a bearded man clad in a checkered shirt and a traditional tribal Panchi – a variety of dhoti.
Security was beefed up near the Jharkhand high court and the Vidhan Sabha buildings – the two areas where the Pathalgadi supporters have threatened to practice the custom.
As per the 2011 Census, tribals form at least 26.2 per cent of the state's population of 3.29 crore. While the 32 tribal groups in Jharkhand were spread across the state, their strength was particularly high in the 13 districts which the Pathalgadi supporters cited. These are Ranchi, East Singhbhum, Lohardaga, West Singhbhum, Gumla, Latehar, Saraikela Kharsawan, Sahebganj, Dumka, Pakur, Jamtara, Khunti and Simdega.
Pathalgadi, a tribal custom of installing stone plaques and other writings at the border of villages to demarcate the area and pay respects to ancestors, drew the attention of the state government in 2017 after a few plaques restricted entry of administration and police in villages and declared them as liberated zones. The former BJP-led government had decided to tackle the issue with an iron fist and lodged FIR against several hundred Pathalgadi supporters.
However, soon after coming to power in 2019, Chief Minister Hemant Soren had announced to withdraw all cases against Pathalgadi supporters in Jharkhand during the 2017 movement. Monday's security breach near the high court in Ranchi occurred a day after the chief minister's remark that there had been a few miscreants in the 2017-2018 Pathalgadi movement.