Panchayat polls held peacefully in four blocks in Ghatsila sub-division
Participation of female voters was impressive in comparison to their male counterparts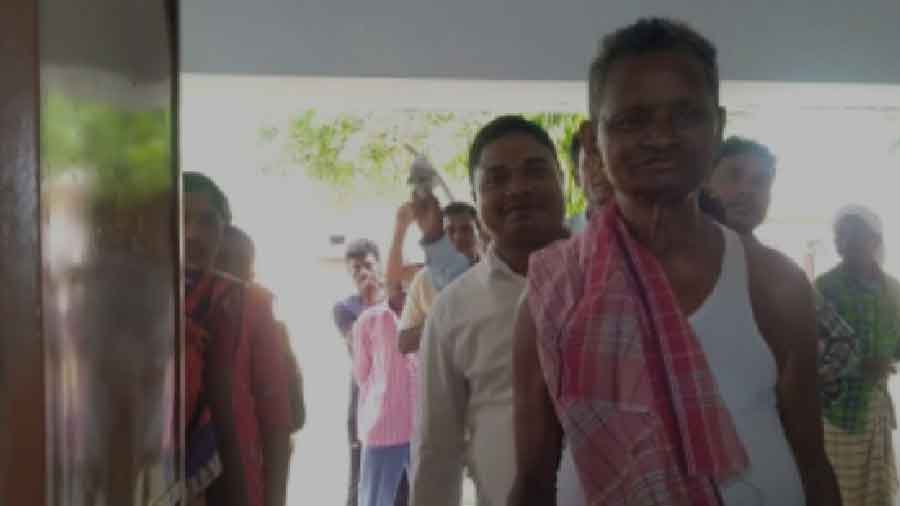 Villagers at a polling station in Mosabani in Ghatsila sub-division
Animesh Sengupta
---
Jamshdepur
|
Published 14.05.22, 07:37 PM
|
---
Amidst tight security, polling was held peacefully for the first phase Panchayat elections at four blocks in Ghatsila sub-division of the East Singhbhum district on Saturday. 
The blocks where the polling was conducted in the three-tire Panchayat elections today were Ghatsila, Dumariya, Mosabani and Ghurabandha, all having a distance ranging from 45 kms to 85 kms from here. 
The polling started at 7 am to continue till 3 pm, but the rural electorates filled with so much enthusiasm that they were seen standing on ques braving the scorching sun till the last hours. 
The participation of female voters was impressive in comparison to their male counterparts. Many of the women were seen standing on long que, clutching their infants in laps as the surpentile que was moving at a comparatively slow pace.
"The ballot paper was a bit small in size. It was difficult to find out the name of candidate of my choice. The ballot paper being comparatively small, I had to devote more time in finding out the candidate's name and casting in the vote like many others voters, " said Ramesh Chandra Majhi who had turned up at one of the polling booths in Mosabani block. 
Significantly, a festival like ambiance prevailed in the rural areas where the Panchayat poll was carried out today. Several voters, especially the women had started queueing up in front and their booths even before the polling began. 
Police parties kept on patrolling the areas, as the polling gathered momentum in the first hours of the day. Security personnel were also seen stationed near each of the polling booth. 
District Panchayat Raj Officer, Rajni Kant Mishra said polling in the first phase was held in 682 polling booths spread over the four blocks today. 
"The polling was completely peaceful. No untoward incident was reported from any part of the four blocks. The security arrangements were upto the mark for the polling, " said Mishra who visited a large number of polling booths for ensuring a fair and peaceful election while talking to The Telegraph Online.