Non-BJP parties in the state protest against Centre's policies
In a show of unity, senior leaders of the Congress, JMM, RJD and Left parties took part in the demonstrations and submitted memorandums to the governor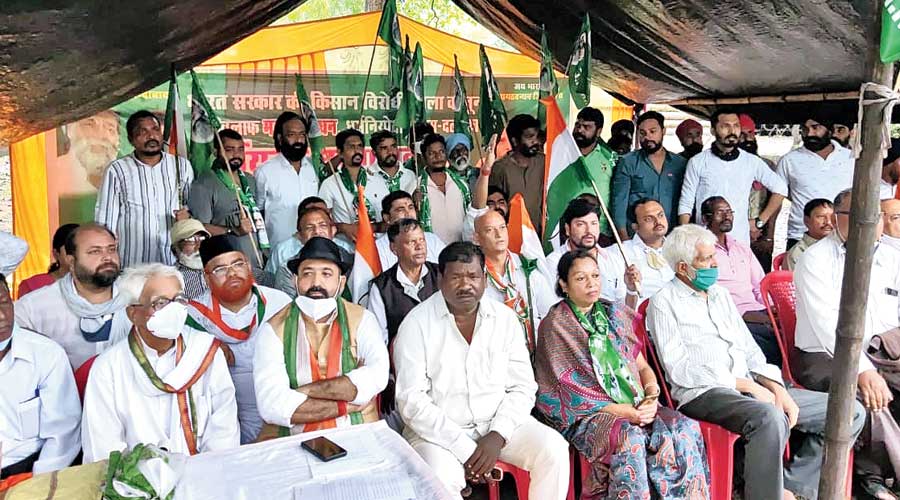 ---
Jamshedpur
|
Published 30.09.21, 01:19 AM
|
---
Non-BJP parties staged protests at all 24 district headquarters of Jharkhand on Wednesday against the Centre's new farm and labour laws, its failure to contain inflation and privatisation of government assets.
In a show of unity, senior leaders of the Congress, JMM, RJD and Left parties took part in the demonstrations and submitted memorandums to the governor through respective deputy commissioners demanding repeal of farm laws, reduction in fuel prices, immediate stoppage of privatisation of government and public sector enterprises, compensation for families who have lost earning members due to Covid-19 and immediate release of political prisoners and human rights activists arrested in the Bhima Koregaon case.
"We will be chalking out the future course of strategy taking into confidence all non-BJP parties. Memorandums were submitted in each of the 24 districts, while in Ranchi a memorandum addressed to President Ram Nath Kovid was submitted to governor Ramesh Bais," said Congress spokesperson Rajiv Ranjan Prasad.
The non-BJP parties in Jharkhand had earlier this month decided to come out on the streets to enforce the Bharat Bandh called by the Samyukta Kisan Morcha, an umbrella outfit of farmer unions spearheading the agitation against the farm laws, and had called for protests across Jharkhand on Wednesday against the BJP-led central government.
"Through the demonstration, we wanted to put up a united face against the wrong policies of the BJP-led central government and also create awareness among the masses about the misdeeds of this government," added Prasad.
"We wanted to show that Opposition parties are not going to be cowed down by the BJP-led central government's misuse of CBI, income tax and Enforcement Directorate against our leaders and continue to raise voices against the wrong policies. At present the central government is functioning to make selected capitalists happy at the cost of masses," said JMM central vice-president and spokesperson Supriyo Bhattacharya, who also attended the protest in Ranchi.