Naxals beat up workers, torch vehicles at construction site
Police launch massive search operation across Giridih on Saturday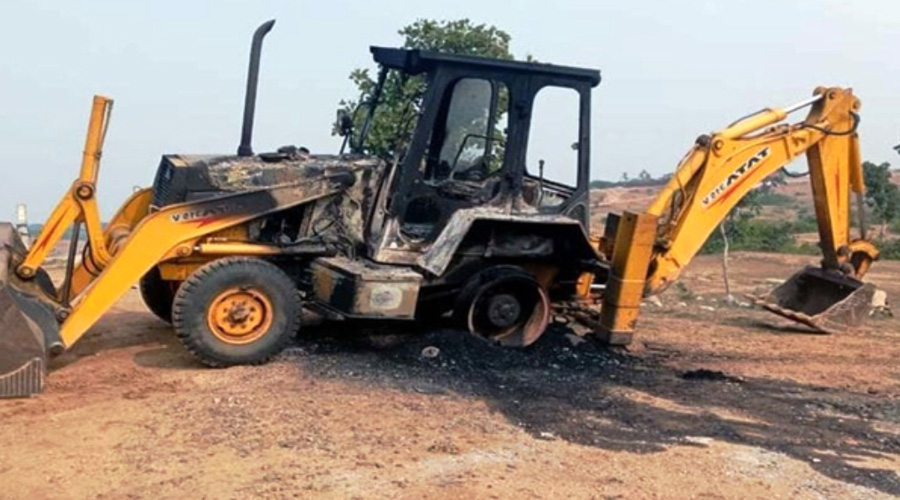 ---
|
Giridih
|
Published 21.11.20, 08:09 PM
---
A naxal squad of 9-10 members thrashed laborers and torched earthmovers (JCB, mixer machines), generator, motorbike and motors at a bridge construction site in Giridih on Friday night. The incident occurred at a bridge construction site on the river Tondoya between Dharampur to Chitakharo of Khedwara Panchayat under Birni police station area.
Amit Renu, superintendent of police (SP), Giridih said, "Following the incident, Giridih police have launched a massive search operation in the area. An FIR based on the complaint of supervisor of the Samridhi Construction, to which bridge construction work was awarded, has been lodged with the Birni police station."
The laborers were assaulted with sticks and punches by the attackers, however, no one was badly injured.
Rohit Kumar, eye-witness and supervisor of Samridhi Construction, said, "We were relaxing after completion of work when the naxals descended there. One was in a naxal uniform holding a gun while others were in normal dress and had sticks in their hands. They first introduced themselves as 'partywala (Maoist)' and then asked for a contractor."
"They came to me asking the contractor, who I said was not here. Then they asked for a supervisor, which I refused saying he is also not present. They asked about me to which I said I am an operator. Then they said to provide them with diesel and thrashed the laborers and snatched their mobile phones. They poured diesel on the JCB, mixer machine vehicle, generator, motorbike parked outside along with water motors and other equipment inside the storeroom and set them ablaze," said Kumar who is a resident of Gomo of Dhanbad.
The SP, however, is skeptical about the triggering of crime by naxals. "While conducting the investigation we noticed that the majority of naxals were not in naxal uniforms and were holding sticks. In such incidents, naxal squads strike in uniform and have weapons. They also returned through the same route, through which they came to the spots. Naxals never do that and there are other notable points. We are taking it as a naxal incident, but will investigate from different angles."