My Saheli to help women passengers feel safe on trains
South Eastern Railway starts pilot on 3 long-distance specials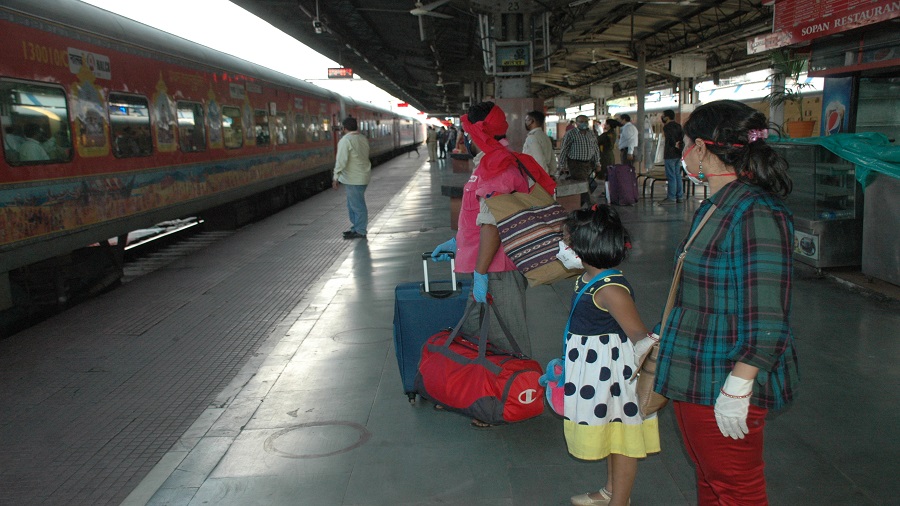 Passengers at Tatanagar railway station in Jamshedpur
Bhola Prasad
---
Jamshedpur
|
Published 01.10.20, 06:31 PM
|
---
South Eastern Railway has introduced a new initiative titled My Saheli to ensure women passengers feel safe while travelling in trains.
SER chief public relations officer Sanjay Ghosh said Operation My Saheli (friend) will ensure security to women passengers during the entire part of their journey once they board a train.
As a pilot project, My Saheli has been introduced on three long-distance trains. They are the Howrah-Ahmedabad Special and Howrah-Mumbai Special that travels via Tatanagar. The third train is the Howrah-Yeshvantpur Duronto Special.
The CPRO said teams of women sub-inspectors belonging to RPF interact with women passengers in the train at the originating station, briefing them about necessary precautions. They are also provided emergency contact numbers.
The women sub-inspectors make a note of their seat numbers and contacts of a specified number of women passengers from all coaches and remain in touch with them throughout their journey.
Information is also passed to all scheduled stops and the destination station so that RPF can attend if any woman faces a problem. During night-time, RPF personnel have been asked to be present outside during train halts at night between 11pm and 6am 
Director of Tatanagar railway station H.K. Balmuchu said the new initiative would provide security in the real sense to women passengers from originating station to the destination.
"In case of any unforeseen event, like dacoity, accident, agitations, hold-up of trains, etc, women passengers can be contacted easily. We can get a real-time picture of the situation and can help all passengers immediately," he said.
The new initiative was being undertaken under the framework of  the Nirbhaya Fund, so it does not involve any additional expenditure.
Balmuchu said that based on feedback on the pilot run, My Saheli may be extended to other long- distance trains.