Murder-accused acts insane at RIMS, flies the coop
His play-acting was a clever ploy which is why constables deputed for his security never thought a "madman" could flee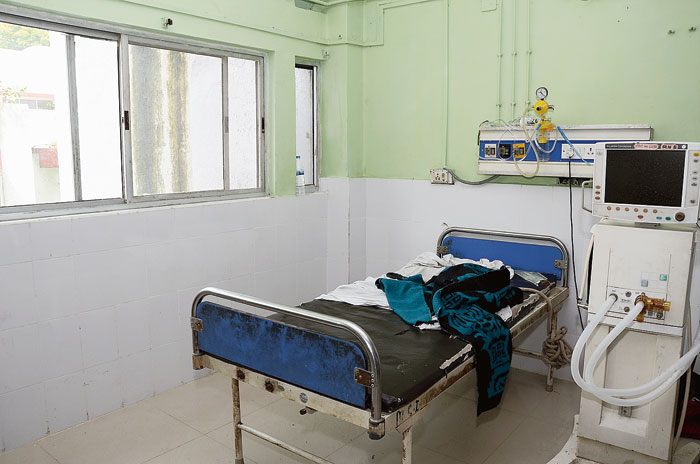 ---
Ranchi
|
Published 18.10.19, 07:19 PM
|
---
A man, arrested on charges of double murder, tricked the police by pretending to be mentally ill to escape from Rajendra Institute of Medical Sciences (RIMS) on Friday, where he had been a patient under custody for the past two days.
The prisoner's escape only four days after the gunshot attack on two city jewellers comes as another black mark on Ranchi police who have not made any headway in tracing the shooters.
Ashish Ghosh had been arrested in August 2018 for allegedly killing a 50-year-old widow Aarti Devi, who ran a school, and her 10-year-old adopted son Ritesh in Bariatu the month before, and had been lodged at Birsa Munda Central Jail, Hotwar.
Around 10.30am on Thursday, Ghosh escaped from the window of the intensive care unit of the medicine ward of RIMS, where he had been treated by Dr Vidyapati since his admission on October 16, a RIMS employee told this paper.
"The prisoner had been admitted to RIMS on October 16 after he fainted in Birsa jail," the hospital employee said. "During his medical examination, he acted abnormally. The doctor decided to send him to the psychiatric ward. But before he could be shifted there, he escaped through the window of medicine ICU on the ground floor," the employee added, asking not to be quoted as he is not authorised to speak to the media.
A police constable, who asked not to be named for the same reason, said Ghosh's play-acting was a clever ploy which is why constables deputed for his security never thought a "madman" could flee.
"On learning about the prisoner's escape, the policemen immediately informed officials of Bariatu police station and the news of the prisoner's escape was spread through wireless. However, he has not been arrested so far," the policeman said.
Deputy superintendent of police (sadar) Deepak Pandey confirmed the escape, saying a massive manhunt was on.
"As Ashish Ghosh jumped leapt out of the window, more than one person on RIMS campus noticed him. But everyone was too startled to do anything or stop him. Before anyone could understand what was happenning or chase him, he dodged the guards and bystanders and running swiftly, disappeared. We are searching for him at all possible locations," DSP Pandey said. "We are hopeful that Ashish Ghosh will be arrested soon."
A source in the police force said it was not for the first time that a prisoner had escaped from RIMS.
On May 16, 2018, murder accused Budhram Oraon had escaped from the state hospital by dodging security guards, but was re-arrested.
On January 24, 2018, Pintu Kumar, accused of stealing, had escaped by breaking a rod of the washroom's window of the prisoner ward. "But Ghosh's escape created more of a stir as he had convinced everyone that he had lost his bearings," the source said.
On Friday, no new clue emerged in the case of jewellers Rohit and Rahul Kheriwal, shot at and injured by a gang on October 14 at their upmarket jewellery store in Lalpur. The brothers, who had been operated upon at RIMS, were air-lifted to Delhi on October 16. Lalpur police station OC Arvind Kumar Singh admitted they had not made any breakthrough but added that they were on the job to crack the case.