Much-needed protest, say Jharkhand doctors
Doctors and interns wearing black badges took part in a nearly 2km protest march from MGM Medical College Hospital to the DC's office in Sakchi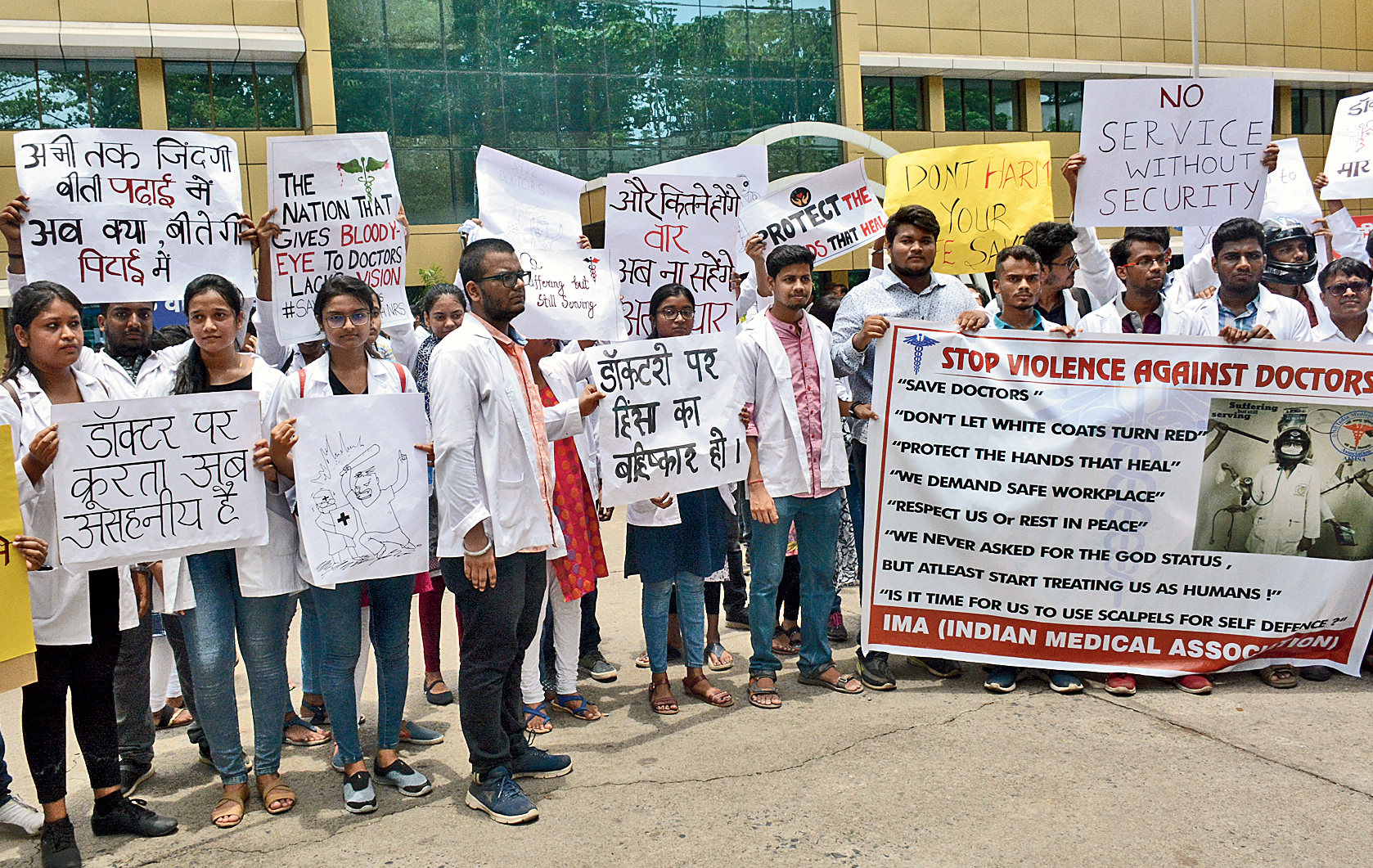 ---
---
As tales of patients' woes due to the strike poured in from across the state on Monday, doctors insisted that the protest was the need of the hour with physicians coming under attack across the country.
"I can realise the problem of patients but we adopted the path of agitation when did not find any way out to give a message to those who expect everything from us but are reluctant to see our limitation at doctors," said Dr G.D. Banerjee, president of the Ranchi branch of the Indian Medical Association (IMA). "When people assault us and the government protects the assaulter, what is way out?"
Emergency and in-patient services were unaffected, he pointed out.
Ranchi district civil surgeon Dr Vijay Bahadur Prasad agreed, saying that despite the agitation the quantum of suffering was not much.
"Those who came to hospital for treatment were taken care of. Those who could avoid returned to come tomorrow," Prasad said.
In Jamshedpur, doctors and interns wearing black badges took part in a nearly 2km protest march from MGM Medical College Hospital to the DC's office in Sakchi. They held banners and placards with slogans such as "No Service Without Security", "Protect the Hands that Heal" and "Stop Violence Against Doctors".
A delegation of doctors led by the IMA's Jamshedpur chapter secretary Dr Mritunjay Singh handed over a memorandum to DC Amit Kumar and addressed to the Prime Minister demanding legislation that provides a minimum of seven years' imprisonment for violence against doctors or healthcare institutions and action to ensure cases are registered, culprits are arrested and convicted.
"Attack on doctors has become common. We feel insecure," said Dr K.P. Dubey, chief of medical indoor services, Tata Main Hospital. "As it is there is a huge crisis of doctors and if such attacks continue on the doctors' fraternity a day will come people will stop taking up the medical profession."
Dr Sushil Kumar, Dhanbad district secretary of the IMA, said they were compelled to take an extreme step. "This was taken in view of the spurt of attacks on doctors across the country. But we had kept emergency services outside the ambit of the strike," he pointed out.
At a meeting in RIMS in the capital of the state unit of the IMA, the Jharkhand State Health Services Association and the state Juniors Doctors' Association, hundred of physicians adopted a resolution with 10 demands. They were:
Declare hospitals as protected zones like airports
Impart self-defence training to those vulnerable, such as women doctors
Ask media to present doctors' side of events
Regulatory authority of the medical fraternity should be from the health-care field and not a civil servant.
Doctors should not work for NGOs for free as charity because they don't come to doctors' support when needed.
Entry of patients' attendants should be restricted.
Resources should be made available to doctors such as necessary manpower and equipment
Security systems at hospitals should be strengthened, including installing more CCTV cameras and checking of ID of all patients admitted.
Implementation of laws aimed to protect doctors as well as patients.
In cases of any legal dispute, Supreme Court directives must be followed