Mine cave-in kills worker in Dhanbad
The accident occured when the men were clearing coal trapped in a chimney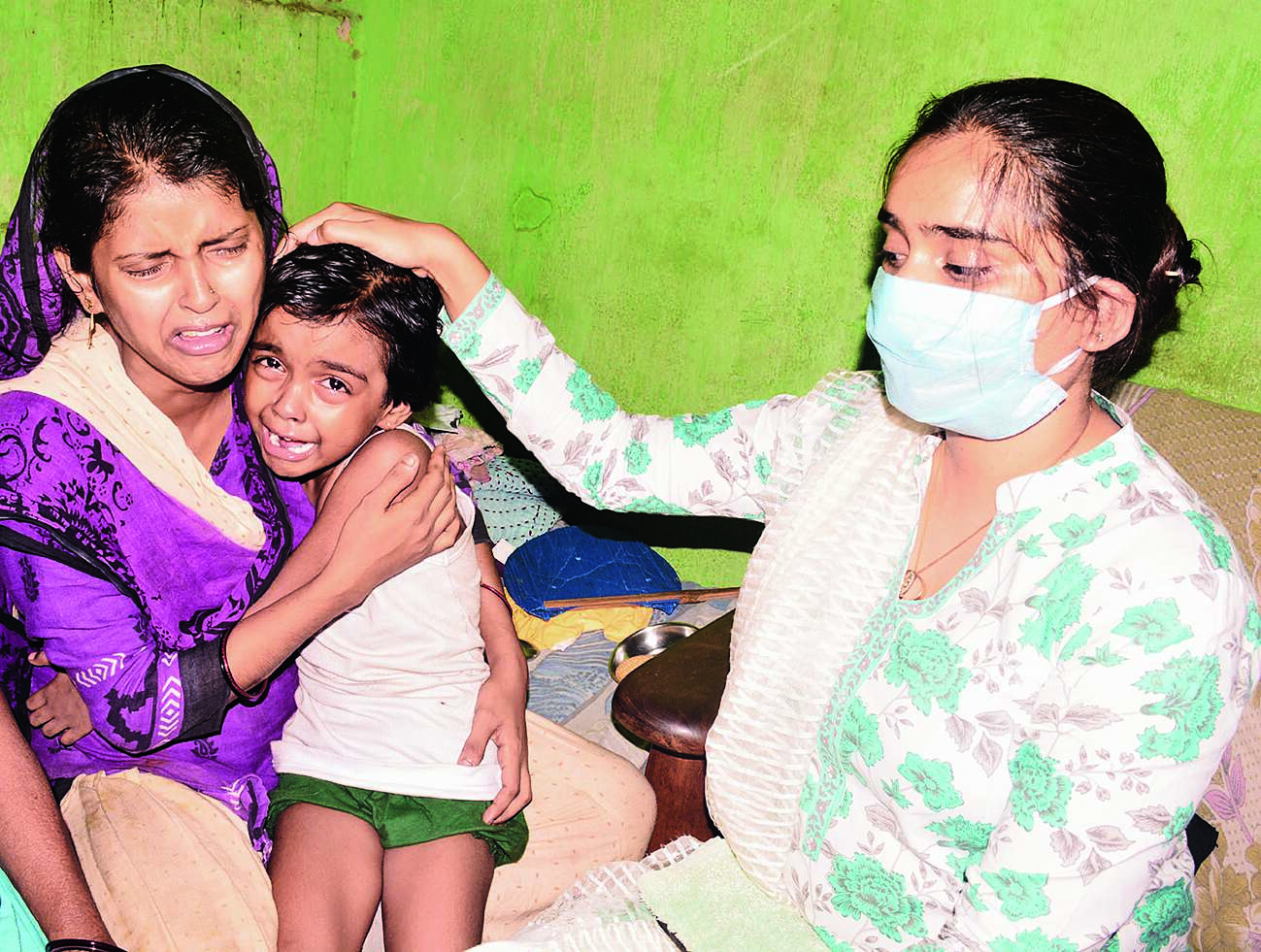 Jharia MLA Purnima Singh consoles Mahtab's wife and child at their Chasnala home in Dhanbad on Saturday.
Picture by Gautam Dey
---
Dhanbad
|
Published 23.05.20, 07:52 PM
|
---
A young mines supervisor, working on contract, was killed late on Friday around 10pm as the coal mines of the Chasnala colliery of the Steel Authority of India Limited (SAIL) caved in.
The body of Mahtab Alam, 25, a resident of Tina Dhaura area of Chasnala was recovered during the small hours of Saturday around 1.30am.
Senior officials of the district administration and the police led by subdivisional officer of Dhanbad Raj Maheshwaram reached the site on Friday around 11.30pm. Senior officials of the SAIL management led by additional general manager Sanjay Kumar immediately started work to clear the debris to bring out the body.
A colleague of Mahtab said around 8pm a huge coal block collapsed when Mahtab and some other workers were clearing coal trapped in one of the chimneys.
Though the other workers had a narrow escape, Mahtab, trapped under the coal block weighing around 20 tonne could not come out.
Mahtab's family members and co-workers started demanding compensation for his next of kin since early Saturday morning.
Talks between agitators and the colliery management led by general manager of SAIL Chasnala unit Anil Kumar Rai were held around 1.30pm mediated by Jharia's Congress MLA Purn­ima Singh. Contractors Messers Coal Mining agreed to provide Rs 4 lakh to the deceased's family and a job to his widow Faizia Taslim.
Talking to the media, Dhanbad deputy commissioner Amit Kumar said: "We have launched an inquiry and a three-member panel will probe into the accident."
2 bikers dead in crash
Giridih: Two youths on their way from home in Chauparan, Hazaribagh, to Dhanbad for work on a motorcycle were killed after a vehicle hit them on NH-2 near Nimiaghat, Giridih district, around 6am on Saturday, SDPO Niraj Kumar said. Tirpuri Singh, 24, and Ranjit Ku­mar Rana, 28, died on the spot. Eyewitnesses said the killer vehicle was a trailer truck.