Marandi accuses Hemant of weakening democracy in state
The former CM and BJP leader says govt trying to keep power in its hands by holding back local polls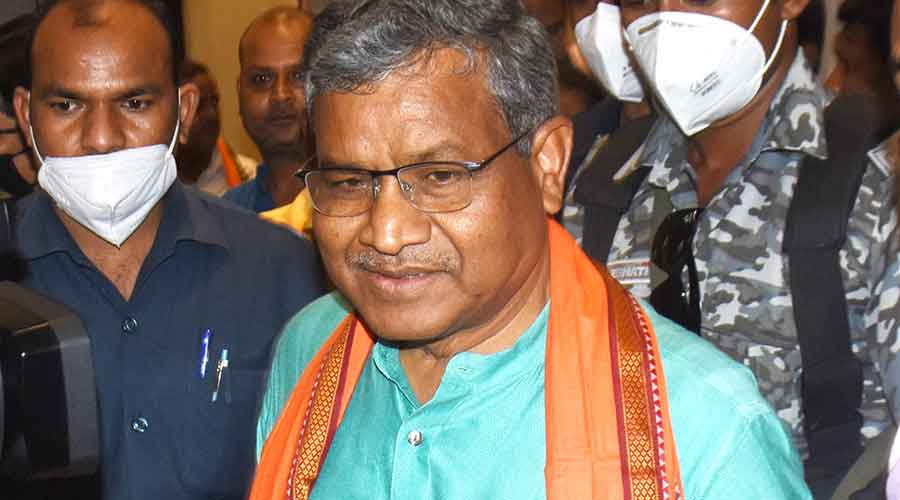 Babulal Marandi at Circuit House in Dhanbad on Thursday.
Gautam Dey
---
Dhanbad
|
Published 23.09.21, 08:36 PM
|
---
Former chief minister Babulal Marandi on Thursday charged the Hemant Soren led government of the state of deliberately trying to weaken democracy by withholding local body elections and trying to concentrate power in its hand.
He expressed his views while talking to the media at circuit house of Dhanbad and also claimed that the government is not willing to hold elections on party basis to favour those having money and muscle power to win elections.
"Several of the urban bodies like Dhanbad and Ranchi are spread over large areas and thus it is not possible for an individual to move around and cover the vast area on his own and thus holding the election on a political party basis could have solved the problem," said Marandi.
"We not only wanted to hold the Municipal Elections on party basis but even favoured holding the Zila Parishad elections having even larger area on party basis but the government is not ready to hold even the municipal elections on party basis preventing good people to contest and win elections and instead favour those having money and muscle power and thereby weakening democracy," further said Marandi.
Over the delay in holding local body elections he said, "I can't understand the reason for the delay in the elections when other states like Bihar have  already announced holding elections and have started preparations for the same."
"Not only Urban Body elections but the government should also initiate simultaneous efforts to hold Panchayat  in order to strengthen the 3-tier system of democracy as panchayats are spread all across the state ," said Marandi.
Marandi also raised the issue of viral audio clipping of Latehar Deputy Commissioner Abu Imran advising Congress leader Bandhu Tirkey of not visiting his area as he himself looks after the well being of a section of his 'own people' and said, "The excerpts of the audio clearly hints that the officer works for a particular section of the people and for the particular political party and thus giving posting to such an officer in the district shows the intentions of the government."
Asked about the Dhoti Sari distribution scheme titled Sona Sarban Yojna launched by the government, he said, "It is to be seen how many people get the benefit of the scheme and who remains deprived of the benefits of the scheme."