Dhoni tests Covid negative: Sources
STATE DIGEST: Bokaro coronavirus cases; Garhwa containment zones; ESL jobs; cracker accident injures two; Sindri hospital revival hope; Dhanbad felicitation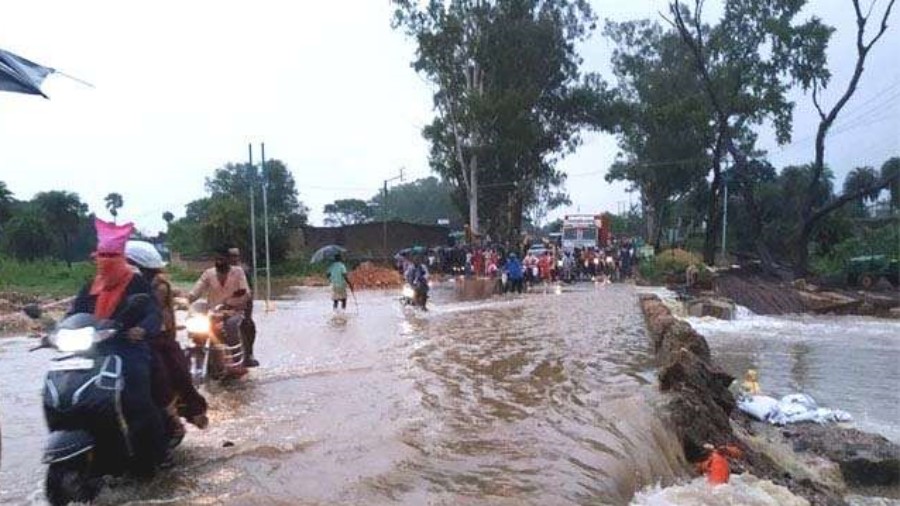 ---
---
Mahendra Singh Dhoni, former Team India skipper and long-standing captain as well as mentor of Chennai Super Kings (CSK), is believed to have cleared his Covid-19 test, sources in the state health department hinted on Thursday.
Dhoni's samples were collected by a private hospital in Ranchi — Gurunanak hospital and research centre -- on Wednesday afternoon. Dr Pooja Sahai, a pathologist associated with the Covid-19 lab of the hospital, last night said the report was submitted to the government as per the norms without elaborating any further.
A source in Ranchi civil surgeon's office on Thursday evening claimed that the 39-year-old cricketer tested negative. "His reports are negative but they haven't been uploaded to the ICMR's Covid-19 portal as per the norms," he said, requesting anonymity. Ranchi civil surgeon V.B. Prasad and state health secretary Nitin Kulkarni declined to comment.
Ahead of this year's Indian Premier League which is scheduled to be held in the UAE from September 19, Dhoni got himself tested before flying to Chennai to join his team. The team is likely to head to Dubai on August 21.
Bokaro looks to flatten the curve
In the past five days, 116 people have been cured of Covid-19 in Bokaro.
Of the 523 persons who tested positive for the coronavirus since March, 352 of have been cured while four died. Those who died included elderly patients with co-morbidity.
Currently, there are 171 active cases in the district. Barring a few symptomatic patients, the majority of them are stable.
Deputy commissioner Rajesh Singh on Thursday appealed to residents not to panic and follow Covid-19 protocols.
There has been a spike in positive cases since June. Delays in the reporting of test results, which have affected contact tracing, are said to be the main reason behind the spurt.
The district health department has said the majority of positive cases are asymptomatic. On Thursday, 35 fresh cases surfaced in the district. Twenty-seven people were released from Bokaro General Hospital, district Covid-19 care centre and Zaika Resort Isolation Centre.
At least 43 patients were released from the Covid-19 centre on August 9. Another 31 patients were released on August 11. On Wednesday, 27 patients were released.
Singh said the situation was under control.
Testing has been ramped up. There were 541 samples collected and sent for examination on Wednesday, of which 357 were sent to Patliputra Medical College and Hospital, Dhanbad.
District epidemiologist Pawan Srivastava said: "Efforts are on to increase the number of tests. The rise in the number of positive cases is a concern, but more people are getting cured. Our teams are visiting containment zones for sample collection. At sadar hospital, many people are coming for tests themselves."
Garhwa containment zones
The Garhwa deputy commissioner, who is also the chairman of the district disaster management authority, has decided to demarcate three communities as containment zones under relevant provisions of the Disaster Management Act and Epidemic Act.
Rajesh Kumar Pathak in his order has prohibited the entry and exit of people at Jatpura, Tikar Ward 11 and Ward 8.
Pathak has instructed the health department to complete the survey of houses in containment zones. Downloading the Arogya Setu app has been made mandatory for residents.
Pathak has appealed to all the people living in the containment zones to stay home. Shops falling under the containment zones and private and public institutions will remain closed with immediate effect. Essential items and medicines will be supplied to the residents.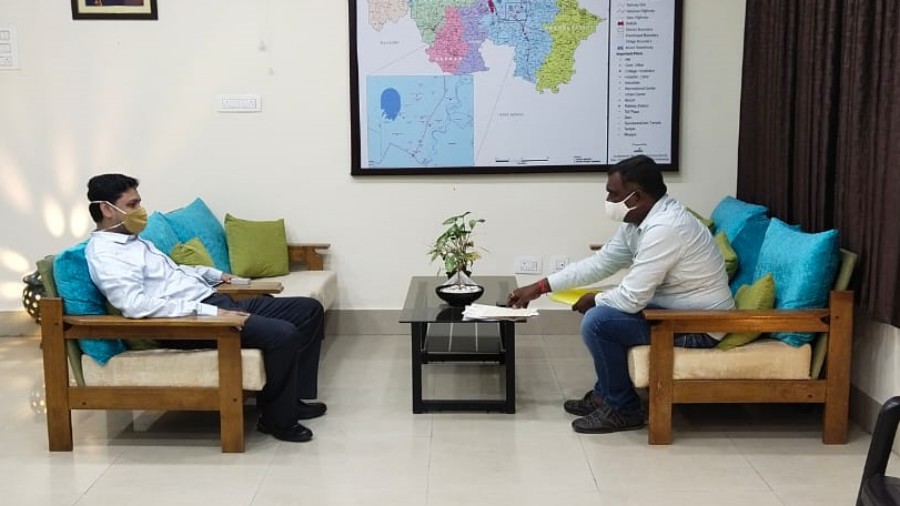 MLA at Bokaro DC door over ESL jobs
The demand to restore the jobs of those who were laid off by Vedanta group's Electrosteel Steels Ltd (ESL) during the Covid-19 lockdown is growing stronger.
Chandankyari MLA and former revenue minister Amar Bauri met deputy commissioner Rajesh Singh on Wednesday and requested him to take necessary steps to restore the jobs. ESL should provide other basic amenities to people residing in peripheral areas of the plant, Bauri said.
Around 700 workers were fired by ESL during the lockdown. After intervention by the district administration, ESL has started reinstating them back, but in phases.
On July 31, many of the retrenched workers had met the deputy commissioner. They had pleaded with Singh for help in getting their jobs back. Based on their complaint, Singh had asked the labour department to conduct an inquiry and submit a report on the issue.
On August 7, labour superintendent, Bokaro, Harender Kumar Singh wrote a letter to chief executive officer, ESL, Pankaj Malhan asking him to clarify the company's stand. On August 8, ESL's chief people officer S. Venkataraman submitted a reply to the labour department, which was sent to the deputy commissioner on Thursday.
An official said: "ESL's letter mentioned that as per company's commitment, of the balance 629 workers, the company had engaged more than 437 contract workers through its contractors between June and July. ESL stated that there were a few Covid-19 cases reported among its employees. So, it is following the necessary protocols. As per its commitment, ESL tried to call back all the balance 192 contract workmen by July.
"The employees have been called in batches starting from July 26 with a plan to make them join by August 1. But due to the Covid-19 cases, we advised them to continue to stay at home by protecting their 15 days' wage," the letter stated.
The head of corporate communication, Vedanta ESL, Shilpi Shukla, has not commented on the issue. Bauri said he had handed a nine-point demand letter to the deputy commissioner requesting him to ensure that ESL restores all jobs.
"I have demanded health and educational facilities for children of local residents, especially those who have given land for construction of companies in Siyaljori of Chandankyari block. A quality hospital and school should be constructed. Local unemployed youths should be given priority in small and big contracts. The ESL management should provide a list of welfare work done under CSR," said Bauri.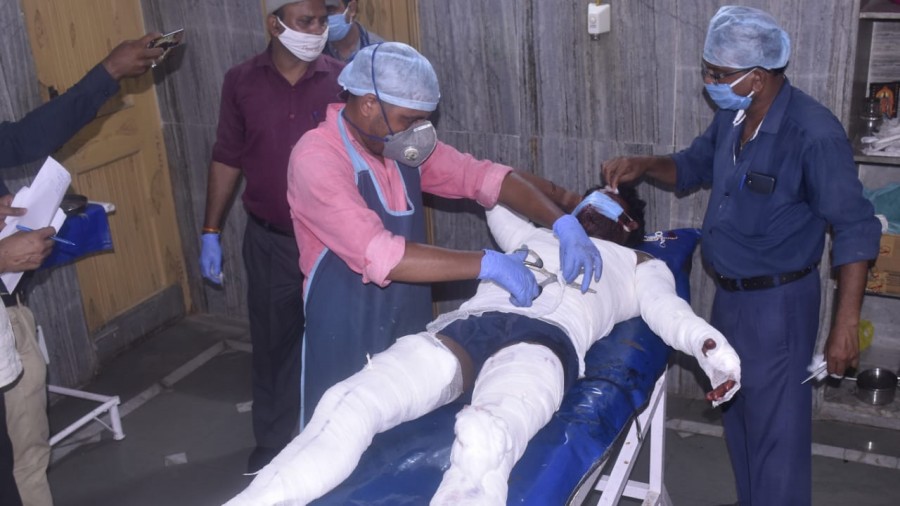 Cracker accident
Two workers were injured when a sack full of crackers slipped from their hands and burst at a warehouse in Bazaar Samiti of Chas on Thursday. SDP, Chas, Bhagwan Das said police visited the spot and inquired into the matter.
The incident occurred when a sack of "potato" crackers slipped from a worker's hands, fell on the ground and burst. Two workers, Sanjay Sharma and Badal Lal Yadav, were hurt. Yadav suffered serious injuries.
After the incident, both the injured were admitted to a private hospital in Chas. Das said an investigation was on to ascertain whether the cracker warehouse had a licence. A large quantity of firecrackers has been seized from the warehouse. Sharma told the police that the incident occurred when the crackers were being loaded onto a truck.
Sindri hospital revival hope
Dhanbad subdivisional officer Raj Maheshwaram on Thursday carried out a site inspection of the shuttered FCI hospital in Sindri at the instance of deputy commissioner Uma Shankar Singh. The visit was to explore the possibility of revival of the hospital as per a proposal of Hindustan Urvarak and Rasayan Limited (HURL) in association with Associated Cement Company (ACC).
Talking to media, he said: "As the condition of the hospital building is poor, there is no scope for the immediate launch of any Covid-19 treatment centre here; however, after repairs it can be used for treatment of non-Covid-19 patients in two-three months."
The 205-bed hospital established in the early 1950s was one of biggest hospitals of the region with all kinds of facilities, including OPD and emergency.
Frontline Covid workers to be felicitated
The Dhanbad district administration will felicitate 22 frontline "coronavirus warriors" -- including nurses, lab technicians, ward boys, ambulance drivers, hospital sweepers -- engaged in the handling of dead Covid-19 patients during the Independence Day parade at Golf Ground.
At the event, three persons who beat Covid-19, including the first person of district to recover, Md Allauddin; the youngest person who defeated the coronavirus, Ritwi Chaurasia (four months old); and cancer-affected 77-year-old Paramjit Kaur will also be felicitated.
Dhanbad deputy commissioner Uma Shankar Singh said that the Intermediate science, arts and commerce toppers will also be felicitated at the event.