Lowest turnout in Jamshedpur West
Polling in Jamshedpur West slow in the morning, picks up pace as the day progresses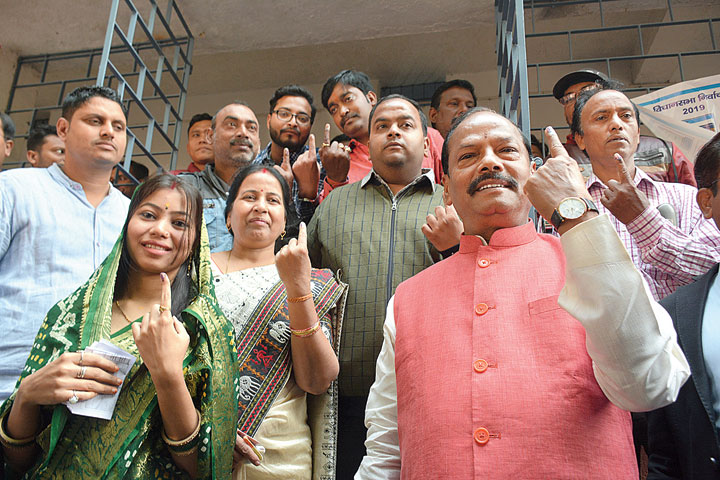 ---
---
Voting day for Jamshedpur West, one of the best-known seats among the 20 in the second phase of state elections, ended on a grim note, as only 47.42 per cent — less than half the 3.2 lakh voters — had inked their fingers — the lowest on Saturday.
Jamshedpur West, including urban areas Bistupur, Sakchi, Sonari and Mango, hit the headlines this time when veteran BJP MLA and minister Saryu Roy was denied a ticket from the party to make way for newbie Devendra Nath Singh. A humiliated Roy went on to challenge CM Raghubar Das, five-time BJP MLA from Jamshedpur East, leaving West a more or less a straight fight between BJP's Singh and Congress's former MLA-minister Banna Gupta.
With Roy out, many in Congressman Gupta's camp hoped hardcore Roy loyalists would shift allegiance to him. The Singh camp, on its part, hoped that party loyalists would not be swayed by the personality cult. The mystery will be unveiled only on December 23, counting day.
Polling in Jamshedpur West was slow from 7am and 9am when 13.3 per cent votes were cast. By 11am, the polling had risen to 20.3 per cent and by 3pm, to 43.22 per cent. At localities like Zakirnagar, Azadnagar and Jawaharnagar in Mango with over one lakh voters from the minority community, the voting per cent stood at 46 by 3pm, with two more hours of voting left. By 5pm, the figure rose marginally to 47.42 per cent.
At Zakirnagar in Mango, octogenarian Amrul Nisha turned up to cast her vote in a wheelchair. Another octogenarian, Sahnawaz Bano, who could barely walk, came to vote at a polling booth in Azadnagar.
"Many of our young voters are working in the Gulf. If the elderly don't vote, how can we ensure the victory of the Congress candidate?" quipped a party worker.
At traditional BJP strongholds such as Bhatia Bustee, Uliyan, Shastrinagar, Khuntadih, Gwala Bustee, Adarshnagar in Sonari, people crowded the polling booths.
At posh Bistupur, with some pockets having a distinct tilt toward the saffron party, very few young voters were seen, most studying or working outside Jamshedpur.
"There are nine voters in my family, but only four of us could vote today (Saturday)," said J. Katina, a Bistupur resident, adding the rest were scattered in Bangalore and other cities.
Jamshedpur West has 3.2 lakh voters, including 1.2 lakh from the minority community.