Koderma district experiences sudden surge in Covid-19 cases
The medical authorities termed it as 'not alarming' and said they had increased surveillance and vaccination drive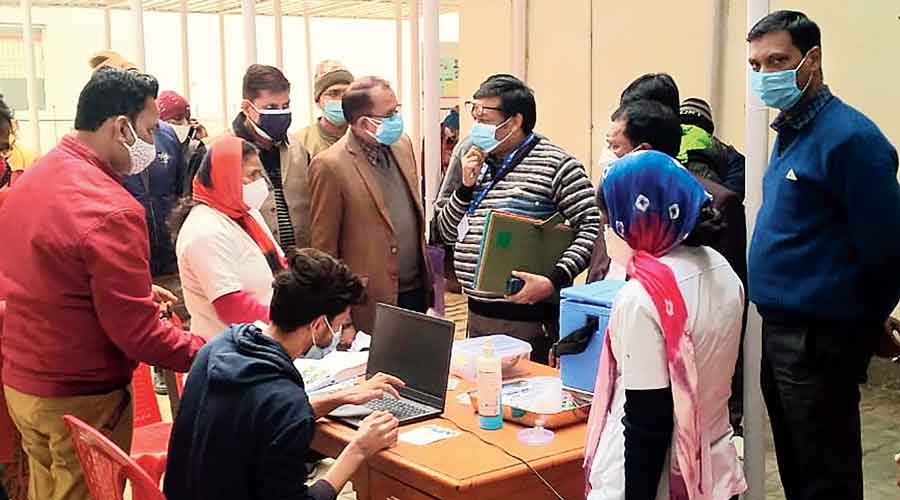 The central health team at the Kodarma Sadar Hospital on Tuesday.
Shabbir Hussain
---
Ranchi
|
Published 29.12.21, 02:24 AM
|
---
Jharkhand's Koderma district experienced a sudden surge in Covid-19 cases during the past fortnight that it surpassed Ranchi to have maximum active Covid patients in the state on Monday.
The medical authorities, however, termed it as "not alarming" and said they had increased surveillance and vaccination drive.
According to data released by the state government at 9pm on Monday, the number of active cases in Jharkhand increased over three and a half times during the past fortnight, from 131 on December 12 to 477 on Monday, also recording an increase in positivity rate from 0.03 per cent to 0.46 per cent during the period.
The number of active Covid cases in Koderma district remarkably went up during the period — from just two to 180 that comprised 37.73 per cent of the total active cases in the state.
Ranchi that always had maximum number of active Covid patients in the state experienced an increase from 71 on December 12 to 174 on Monday that comprised 36.47 per cent of the state's total cases.
East Singhbhum district, on the other hand, showed negligible increase — from 34 to 38 active cases — during the period.
"Though more new cases were detected yesterday, the situation is not at all alarming," Koderma civil surgeon Dr D.K. Saxena informed when contacted, referring to 63 new cases detected in that district on Monday that was 45.65 per cent of the total 138 new cases detected in the state that day.
Koderma had no new cases detected on December 12 but then the number of new cases suddenly started increasing from only 3 cases on December 18 to 26 and 22 on December 23 and 24 respectively and then finally to 63 on Monday.
"Almost all the new patients have travel history," Dr Saxena said while explaining the reason of sudden increase in Covid-19 infection in Koderma, adding movement of passengers from other districts who use Koderma railway station on the Howrah-Delhi main line increased due to recent festive and marriage season.
Besides, there was also an increase in inter-state movement across the Bihar border during marriages when people from both states partied together, he further said.
"However, the situation is not at all alarming and we have increased surveillance and also vaccination drive," the civil surgeon assured.
"It's not alarming and the sudden increase detection of infected persons is most likely due to their travel history," agreed state epidemiologist Dr Praveen Kumar Karn.
"As the winter set in, man suffer from cold and flu-like condition," he further said, adding more Covid-19 patients were detected when many of them approached physicians and turned positive when they were asked to get tested for Covid-19.
Though the state aimed to vaccinate its entire eligible population by January 15, 2022, it looks difficult as only 45 per cent were fully vaccinated till December 27.
While East Singhbum vaccinated 63 per cent and Ranchi 49 per cent of its eligible population, Koderma could achieve 46 per cent only.
Meanwhile, a public health team sent by the Centre to 10 states, including Jharkhand, to assess epidemic and help strengthen Covid-19 surveillance, containment and also vaccination campaign reached Koderma and held talks with the local authorities on Tuesday.
They reportedly suggested measures such as contact tracing, hospitalisation of Covid patients in home isolation and creating containment zones in affected areas.