Jubilee Park of to stay open mornings and evenings
The city's favourite hangout will stay open from 5am to 9am and 4pm to 7pm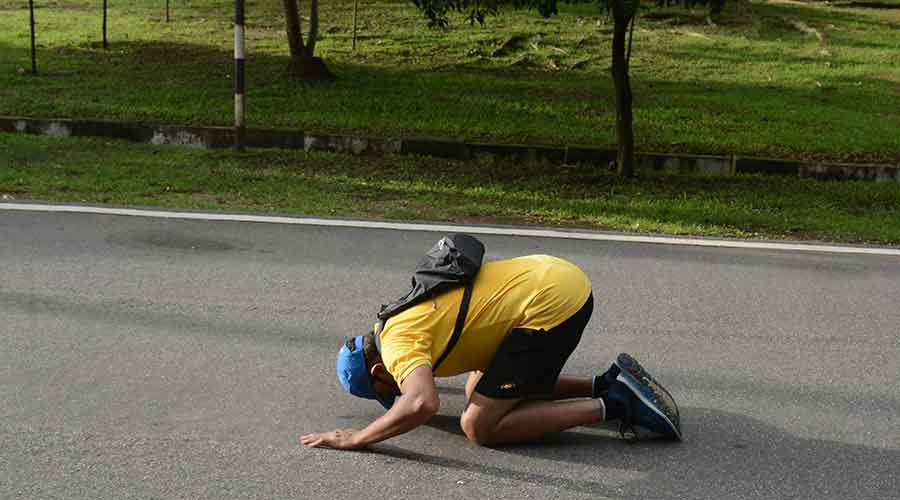 A sports enthusiast kisses the ground while entering Jubilee Park which reopened on Thursday.
Bhola Prasad
---
Jamshedpur
|
Published 15.07.21, 09:08 PM
|
---
The Jubilee Park reopened with certain guidelines on Thursday bringing some good news for morning walkers, joggers and yoga enthusiasts.
State health minister Banna Gupta, deputy commissioner of East Singhbhum Suraj Kumar and Jusco (or Tata Steel Utility and Infrastructure Services Limited) managing director Tarun Daga were present at the occasion.
Daga said the park will open every day for four hours in the morning from 5am to 9am and three hours in the evening from 4 pm to 7 pm for morning and evening walkers and other visitors.
People can enter either from the Sakchi or the Bistupur- end gate. 
"For security reasons and contact tracing as the pandemic is continuing, those entering the park will have to show their Aadhaar Card as identity proof at the entrance gate. The Jubilee Park Road will continue to remain closed for vehicular movement as per the directives of the district administration, "said Daga.
Deputy commissioner Suraj Kumar appealed to people to follow the Covid - 19 standard operating procedures while entering and exiting the park.
"The threat of Covid-19 is not yet over. There is a possibility of a third wave. Hence, the visitors to the park have to follow all the necessary Covid protocols. Those entering the park would have to tell their names and produce Aadhaar Cards so that if required in case of spread of the Covid-19 infection, contact tracing can be done," said the deputy commissioner.
He went on to say that the facility of paid cycling will be available for visitors inside the park. Moreover, battery operated cars would also be made available for elderly visitors.
Health minister Banna Gupta thanked Tata Steel and Jusco, which looks after the upkeep of the park for reopening the picturesque park for the people.
He urged Jusco to start yoga and a meditation centre for the benefit of steel city residents.
Park regulars were happy.
"We were forced to go to Marine Drive for morning walk where some of the stretches are polluted. We welcome the decision of Tata Steel and Jusco for reopening the park where we can now go daily for a walk in fresh air, "said Sangeeta Dubey, a teacher by profession and a resident of Aambagan in Sakchi.
Notably, Tata Steel had closed down the green lung in March last year following the state government's  directive to close public places as a precautionary measure for Covid-19.
Following relaxations in lockdown rules, malls and other parks in steel city had  reopened last week. But, Jubilee Park remained closed. 
Jubilee Park and other parks and stadiums including JRD Tata Sports Complex, Jubilee  Nicco Amusement Park, Children's Corner, Tata Steel Zoological Park, Bhetya Park and Nildih Park, were shut down on March 17 last year because of the pandemic.