JMM's Champai bats for urban poor
Champai Soren is the face of the Opposition mahagathbandhan for the Jamshedpur Lok Sabha poll seat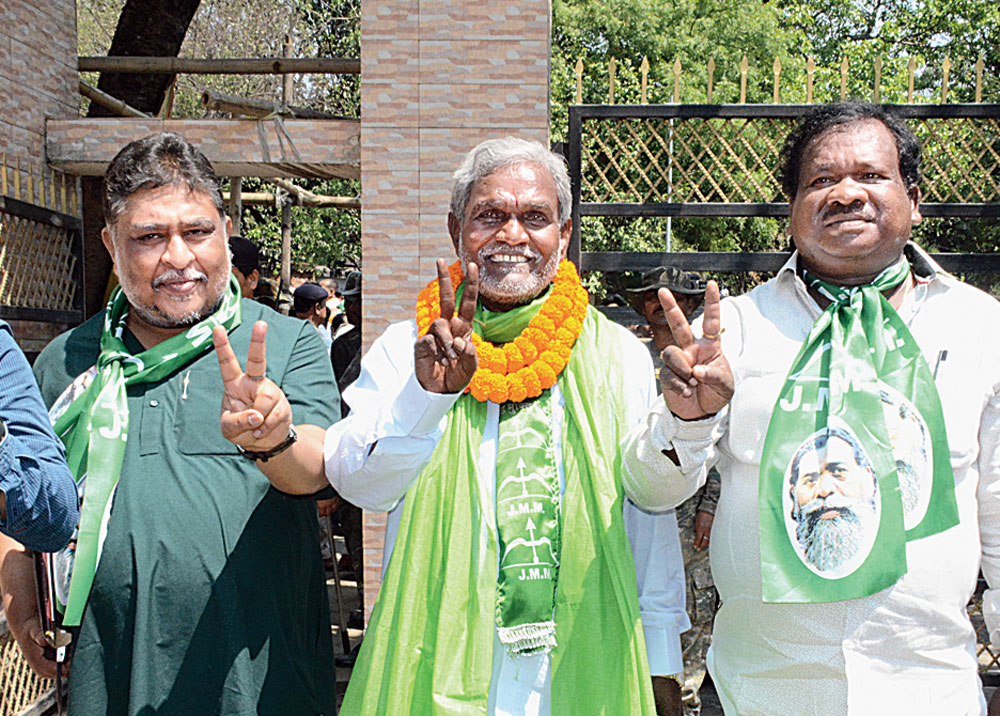 JMM's Serai-kela MLA Champai Soren (centre)
Telegraph picture
---
Jamshedpur
|
Published 22.04.19, 08:32 PM
|
---
JMM's Serai-kela MLA Champai Soren, who happens to be the face of the Opposition mahagathbandhan for the Jamshedpur Lok Sabha poll seat that will vote on May 12, filed his nomination papers on Monday.
In a show of strength, Soren went on a procession to Gandak Road grounds in Sakchi accompanied by Congress state president Ajoy Kumar, Congress MLA and CLP leader Alamgir Alam, Pradeep Balmuchu, RJD state president Gautam Sagar Rana, JVM central committee secretary Abhay Kumar Singh, JMM central secretary Supriyo Bhattacharjee and JMM's Baharagora MLA Kunal Sarangi.
"If I am elected, no houses of the poor will be demolished in city areas and corporate bigwigs will not harass temporary workers. No one will be displaced from their houses. Private schools raising fees arbitrarily will be stopped and state government schools closed by the current BJP government (merged with bigger schools) will be re-opened," promised Champai Soren as he addressed 10,000 people.
Champai seemed to refer to the resentment in non-company areas (read non-Tata areas) in Jamshedpur, especially Bagbera and Birsanagar areas, after recent demolition of "illegal houses" for development projects.
Ajoy Kumar, who had been a Jamshedpur MP in the past, but on a JVM ticket, termed the ruling BJP government as mazdoor virodhi (anti-worker) and adivasi-virodhi (anti-tribal). "The government has become a puppet in the hands of crony capitalists. Houses existing for several decades have been demolished. Industries have been closed. Schools have been closed. The BJP merely relies on propaganda," he said.
Eleven nominations were filed for Jamshedpur seat on Monday at the collectorate. Notables included Jharkhand People's Party Surya Singh Besra. A total of 18 nominations have been filed so far. The last date to file nominations is Wednesday.