Jharkhand workers to return from Himachal Pradesh
The migrants were allegedly assaulted by assailants instigated by supervisors of power projects between October 2 and 3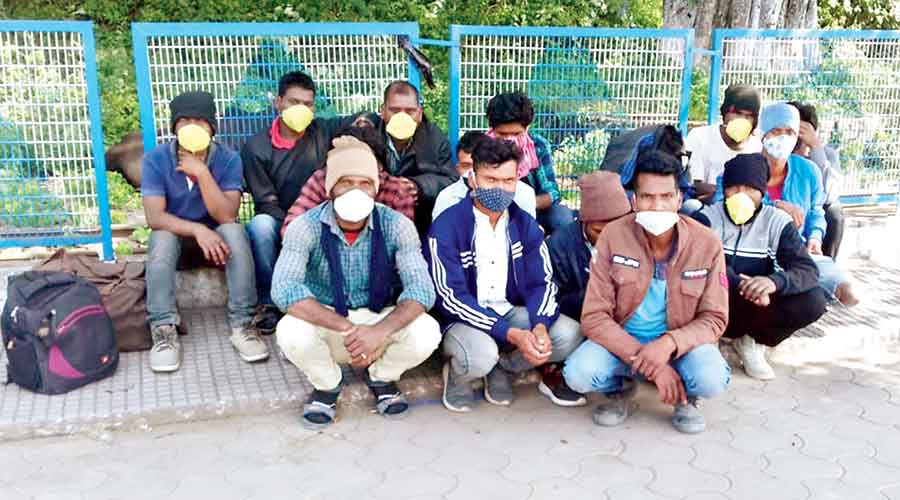 ---
Jamshedpur
|
Published 12.10.21, 12:12 AM
|
---
Jharkhand chief minister Hemant Soren's prod has set the stage for the safe return of 150 migrant workers from the state who had been allegedly assaulted in Himachal Pradesh.
The workers are scheduled to return in batches.
Nearly 150 workers, mostly from West Singhbhum and Khunti districts of Jharkhand, had been working in power projects in Kinnaur district of Himachal Pradesh for nearly four decades. 
However, some of them had indulged in fights with local supervisors over unpaid dues and other issues and had been allegedly assaulted by assailants instigated by the supervisors between October 2 and 3.
The plight of the workers was shared by the villagers with the labour superintendent of Khunti, who tweeted to the Jharkhand chief minister.
"On the instruction of the chief minister, the state migrant control room of the labour department interacted with Dharmendra Rathi, the owner of Norven Company located in Lumber, Kinnaur. Norven had employed the workers. 
"The state migrant control room coordinated with the Himachal Pradesh authorities to ensure that the company provides medical treatment for the injured workers," said an official in the state migrant control room.
Company owner Rathi assured the officials of proper medical treatment for the critically injured workers. Frightened workers who were demanding a return to Jharkhand were allowed to fill up the form.
"We have train tickets for the first batch of 16 migrant workers and also the second batch of 24 workers. Gradually, we would be bringing back all the workers in batches. The workers do not want to stay in Himachal Pradesh after the incident," said the official.
The first batch will reach Koderma in Jharkhand by train by Tuesday and will be brought to their home districts.
"The company has accepted the demand of sending one month's salary and arrears to the workers in their bank accounts. An FIR has been registered at Kinnaur in the matter," said the official.