Jharkhand state digest: Covid management cells reactivated in Bokaro
Elsewhere in the state: Daltonganj football tournament cancelled due to spike in Covid cases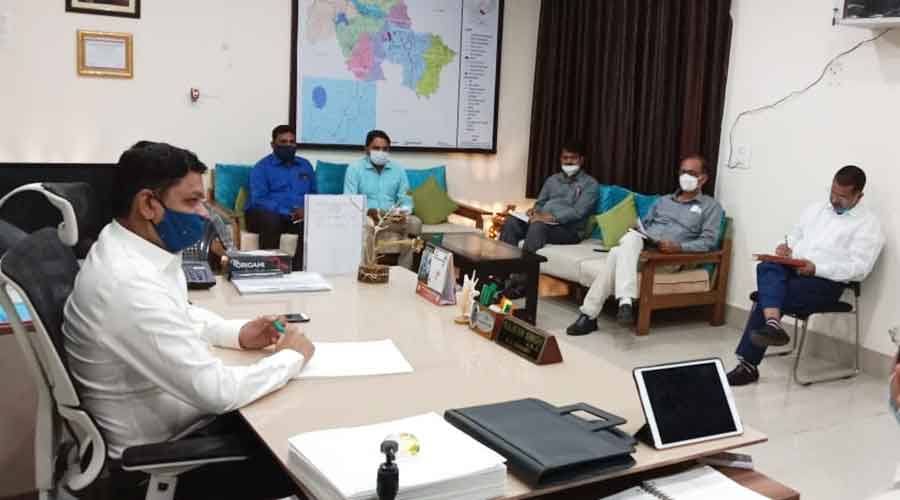 ---
Published 01.04.21, 02:25 AM
|
---
The district administration has decided to reactivate about half a dozen cells, which were formed six months ago to monitor and control the spread of Covid-19.
Deputy commissioner Rajesh Singh on Thursday issued the order to control the spread of the virus.
The cells virtually became non-functional with a decline in cases in December end.
Civil surgeon Dr A.K. Pathak said these cells will have separate jobs and will work with accuracy and efficacy.
"Soon they will Vaccination cell, Testing cell, Monitoring cell, Cell for forming containment zone and strengthen contact tracing, Data Entry cell and others. The administration has decided to reactivate different cells similarly as it was functional six months ago when corona was at its peak in the district," said Dr Pathak.
At present, there are reportedly 74 active cases of Covid-19 in the district with 10-15 positive cases surfacing every day. On Thursday 11 people have been tested positive for Covid-19.
Sub-divisional officer of Chas Shashi Prakash Singh has been directed by DC to constitute cells and prepare a work plan. The DC has also directed the concerned officials to monitor the home-quarantined patients and strengthen contact tracing.
(Our correspondent)
Daltonganj football tournament cancelled due to spike in Covid cases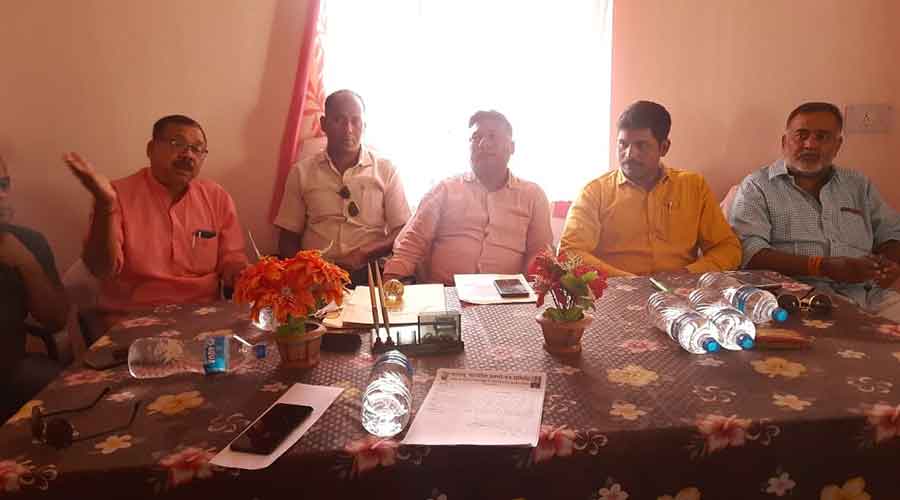 The interstate football tournament in memory of the martyred police in Daltonganj has been cancelled following the increase in Covid-19 cases in the state.
President of the Palamau Football Ayojan Samiti Sanjeev Kumar who is also the SP Palamau said the tournament cannot be held at the police line Daltonganj stadium.
"Our police line Daltonganj stadium is a sensitive location and if any spectator or player is later found to be down with Coronavirus then it would have meant putting our whole of the police line under containment zone which we could not even afford for a day in Palamau where anti naxal operation is always on and its containment would have meant a lot of problems for us," he said.
(Our correspondent)
Dhanbad shopkeepers construct makeshift stalls after Holi fire
Dhanbad: Dhanbad shopkeepers whose shops were burnt to the ground on Monday night's fire were back to work and selling goods from the very same spot.
The district administration has initiated a process for collecting details of losses incurred by the shopkeepers. The authorities have formed a committee led by a DSP to conduct raids against the illegal LPG refilling shops operating in densely populated areas.
Ajit Kumar, a potato retailer, told The Telegraph Online:"I have suffered a loss of around Rs 40,000 during the Monday night blaze and submitted the details to district administration."
"I received information about the fire on Holi night at around 8pm from a neighbourhood shop keeper and rushed immediately at the site to find my shop engulfed in fire but could not save my articles as the busting of LPG cylinders prevented our entry to the site,"said Kumar.
Ravi Vishwakarma, son of a welding shop owner said, "Our's was the oldest shop of the market established more than 45 years by my father, and it was quite popular or all the iron welding related work in the area and we never imagined about the fire."
"The income from the shop somehow helped sustain the life of nine person or our family including four brothers, parents and our three children and since we could not survive with the closure of shops we reconstructed our shop,"said Vishwakarma.
(Praduman Choubey)
Hazaribagh deputy mayor dies of heart attack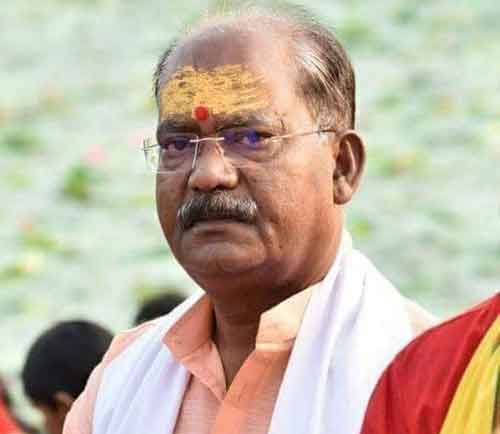 Hazaribagh: Deputy Mayor of Hazaribagh muncipal corporation, Rajkumar Lal died of a heart attack at his Bansi Lal Chowk residence on Tuesday.
Former external affairs minister Yashwant Sinha, his son Jayant Sinha, legislators including Manish Jaiswal(Sadar), Uma Shankar Akela(Barhi), Amba Prasad(Barkagaon), Kishun Das(Tandwa) and Amit Kumar Yadav of Barkatha constituency visited Lal's home to pay their condolences.
Lal was the BJP district president and contested for the post of deputy mayor in 2018, which he won.
Jayant Sinha and Manish Jaiswal said his death was a big loss for Hazaribagh. Former chief ministers Babulal Marandi and Raghubar Das also expressed their condolences on Lal's sudden demise.
Lal was cremated at Khirgaon muktidham crematorium on Wednesday afternoon.
(Vishvendu Jaipuriar)
Lathicharge against family members of deceased mining staff
Dhanbad: A police team led by the officer in charge of Jharia police station on Wednesday carried out a lathicharge against a group of protesters at the mining site of private contractor R.K. Mining in Ena Colliery of BCCL.
The protesters included the family members of a deceased employee of the private mining company.
Mohit Srivastava, a 26-year-old attendance clerk went missing on March 29 night and his dead body was recovered on March 30 at Nimiaghat Police station area of Giridih district. His family suspects foul play behind his death.
The protesters were demanding compensation for the dependents of the deceased by disrupting production work.
(Praduman Choubey)
Twin suicides in Bokaro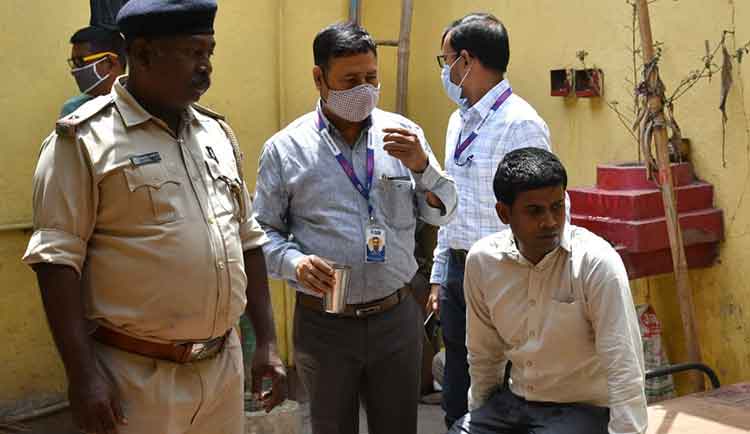 Bokaro: Two suicide incidents were reported at two different places under City police station area on Wednesday.
The first case was reported from Sonatand area where a 33-year-old woman hanged herself from a pipe in bathroom. The deceased was the wife of a bank officer, posted in Dhanbad. According to police, the deceased was under mental stress.
In the second case, the deceased hanged herself in the kitchen of the house. The victim was newly-married.
Officer-in-charge of City police station, Santosh Kumar, said that police is registering a case of unnatural death in both the incidents.
(Our correspondent)
Dhanbad Covid test for students and teachers
Dhanbad: Dhanbad deputy Commissioner Uma Shankar Singh on Wednesday has instructed Covid tests to be arranged for all students besides the teaching and non teaching staff of major technical and academic institutes from Thursday.
Arrangement for Covid test through reverse RTPCH method has been made for the students, teachers and staff of SSLNT Women's College, PK Roy Memorial College and IIT(ISM).
"To ensure proper management of Covid and also to prevent covid spread it is necessary to carry out intensive testing and isolating the affected persons to provide them proper treatment," he said.
(Praduman Choubey)