Jharkhand reports 127 fresh Covid cases, no casualties in a day
Nine out of the 24 districts Covid free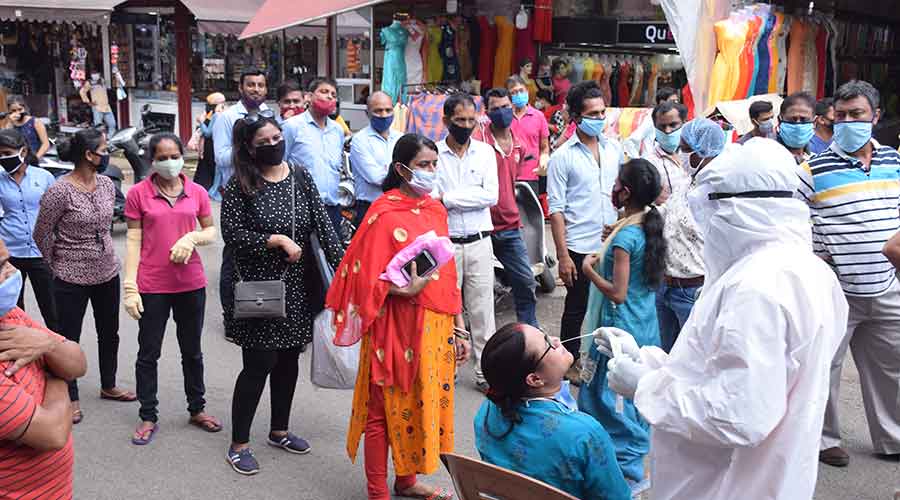 ---
|
Ranchi
|
Published 13.01.21, 11:15 AM
---
At least nine of 24 districts in Jharkhand did not report even a single case of Covid-19 infection on Tuesday, while at least 10 districts reported less than five fresh cases in 24 hours, figures compiled by the health department highlighted. 
Ranchi, East Singhbhum and Dhanbad reported 52, 18 and 23 cases respectively, jointly accounting for more than 73 per cent of the 127 fresh Covid-19 cases that surfaced in Jharkhand on the day, a bulletin released by the National Health Mission (NHM) revealed. 
As many as 153 Covid patients recovered from the viral infection in Jharkhand on Tuesday, bringing the number of active cases down at 1356. As per the NHM bulletin, the number of patients dropped down to 665 in Ranchi as at least 65 patients recovered from the infection here, outnumbering fresh cases in the past 24 hours. 
However, the number of active cases increased in East Singhbhum and Dhanbad, which reported 16 and 21 Covid recoveries respectively.  As per government data, at least 159 people were battling the infection in East Singhbhum, while 82 were infected in Dhanbad. As many as four Jharkhand districts – Giridih, Godda, Jamtara and Pakur – had less than 10 active cases of Covid-19 infection by the end of Tuesday, government data stated. Ranchi and East Singhbhum were the only two districts with more than 100 active cases. 
Jharkhand did not report any Covid casualties on Tuesday, the NHM stated in its bulletin. So far, the virus has claimed 1048 lives in Jharkhand. At least 355 victims were from East Singhbhum and 223 from Ranchi. 
The government on Tuesday tested swab samples of 11492 people and more than 1 per cent of them were found infected. Of the 49.75 lakh people tested for Covid-19 so far in Jharkhand, 117088 were found infected. Almost 98 per cent of the Covid patients have recovered in Jharkhand, states government data. 
As per the NHM bulletin, the growth rate of the virus in Jharkhand was 0.13 per cent against the national average of 0.14 per cent. The doubling rate of cases in Jharkhand was 536.57 days against the national average of 484.46 days.