Dalma: Radio collaring of elephants to be introduced soon
The forest division has recommended names of two foresters who will receive training in this regard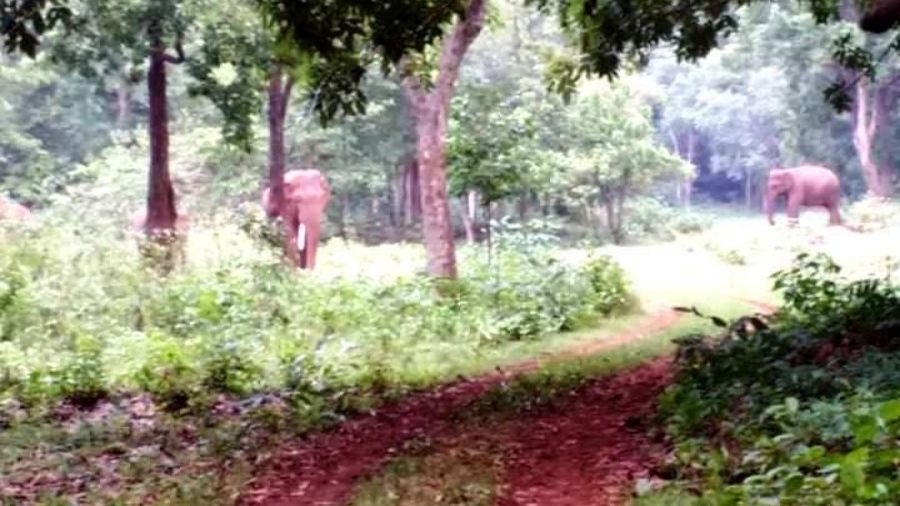 Dalma elephants spotted
Animesh Sengupta
---
Jamshdepur
|
Published 18.02.22, 07:52 PM
|
---
To keep a track on the wild elephants in Dalma hills, the wildlife authority of the state is going to introduce radio collaring of the pachyderms soon. 
At the instruction of the principal chief conservator of forest (PCCF) Wildlife, Jharkhand, the Dalma forest division has taken steps to comply with instruction for the radio collaring of the elephants here in the Dalma hills, 
The Dalma forest division has recommended names of two foresters who will receive training on radio collaring at Dehradun-based Wildlife Institute of India. 
"Following a directive of the PCCF - Wildlife, Jharkhand, we have recommended the names of two foresters for the training on radio coloring. The foresters Raja Ghosh and Hari Agarwal will get the training in the radio collaring beside the process of tranqulising a wild animal, especially the elephant there at the Wildlife Institute of India in Dehradun, " said Abhishek Kumar, divisional forest officer, Dalma while talking to The Telegraph Online. 
Kumar pointed out that the radio collaring is done basically for the wild elephants, tigers and lions so as to keep a track of their movement. 
"The leader of an elephant herd is implanted with the radio collaring gadget after the animal gets tranqulised. After the gadget is implanted successfully, the herd that the elephant in question leads can be tracked easily. By resorting this technology, we can not only stop man-elephants conflict, but also poaching of the pachyderms also can be curbed effectively," said the DFO. 
Over 150 elephants reside in Dalma hill which is spread over 192 square km. Presently, there are 87 elephants in the hill as rest of them are in migration mode to neighbouring forest in Bengal and Odisha. 
Significantly, the radio collaring of elephants has not been a success in India so far. "Forest departments in Odisha and Chhattisgarh had implanted radio collaring gadgets into a number of elephants in the two states recently, but the efforts failed miserably," said a senior forest official while talking to this website.