Jharkhand police issue high alert over Maoist bandh
The banned CPI (Maoist) called upon the masses to support the bandh while expressing solidarity with the farmers' agitation in Lakhimpur Kheri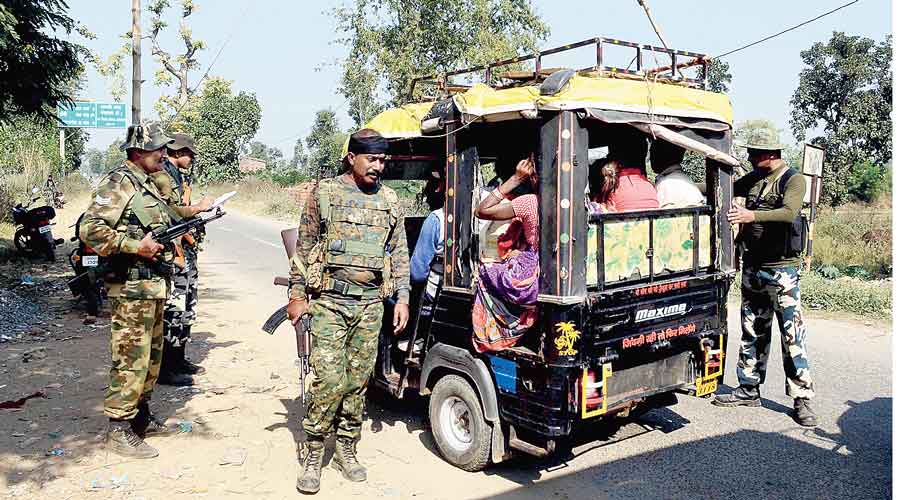 ---
Jamshedpur
|
Published 17.10.21, 12:36 AM
|
---
Jharkhand police have issued high alert in all its 14 rebel-hit districts in view of the bandh call by the proscribed CPI (Maoist) in Bihar, Jharkhand, Chhattisgarh and Uttar Pradesh on Sunday.
The banned CPI (Maoist) in a communiqué issued on October 12 had called a daylong bandh in Bihar, Jharkhand, Chhattisgarh and Uttar Pradesh on October 17 in protest against the killing of peaceful protesting farmers in Lakhimpur Kheri and called upon the masses to support the bandh while expressing solidarity with the farmers' agitation.
In an emergency meeting held on Saturday, all the security wings of Jharkhand police, including district police, Central Armed Police Forces (CAPF), Jharkhand Armed Police (JAP) and special units to combat ultras — Jaguar and CoBRA (Commando Battalion for Resolute Action) battalions — have been issued deployment orders in sensitive areas in view of the bandh call.
"Security forces have been directed to be on high alert in view of the Maoist bandh call. The directive has also been issued to carry out area dominance and special operations in areas having information about Maoist presence. Additional forces have been deployed along national highways, railway projects, railway sidings and other development projects for area dominance," said Amol V. Homkar, inspector-general of police (operations) and state police spokesperson.
Homkar also said that a special vigil will be done in rebel-hit areas to ensure that commercial traffic is not affected by the bandh.
"We are in touch with the police officials of bordering districts of neighbouring states to gather information and to chalk out joint operations," said Homkar.
A statement issued by Manas, spokesperson for the Bihar-Jharkhand-North Chhatisgarh and Uttar Pradesh Simant Regional Committee of the CPI (Maoist), said they are standing in firm support of the farmers and labourers and would continue to support their demand for a rollback of the three contentious farm laws introduced by the Narendra Modi-led BJP government.
The statement, however, exempted emergency services like milk, water, medicines, ambulance and fire brigade from the bandh's purview.
Four farmers and one journalist were allegedly mowed down at Lakhimpur Kheri in Uttar Pradesh on October 3 by an SUV belonging to Union minister of state for home Ajay Mishra Teni, with his son Ashis Mishra alleged to have been present in the vehicle along with other cars in a convoy it was leading. Ashis was arrested on October 9 by Uttar Pradesh police.
Altogether 14 districts of Jharkhand — Bokaro, Chatra, Garhwa, Gumla, Hazaribagh, Khunti, Latehar, Lohardaga, Palamau, Ranchi, Simdega and West Singhbhum — are affected by rebel disturbances.
Several forest areas, especially Bura Pahar, Saranda and border areas in Khunti and West Singhbhum districts have active presence of Maoists who take advantage of the inaccessible terrain, dense foliage and the bordering states of Chhattisgarh, Bihar and Odisha to escape during police action. Security forces have been killed in such action in West Singhbhum and Latehar districts recently.
Long-distance bus operators are opting for a wait and watch strategy.
"We will see the situation on Sunday morning and then take a decision. As of now, we have decided not to cancel any bus services," said Jamshedpur Bus Owners Association patron Upendra Sharma.