Jharkhand news digest: Students in Hazaribagh protest coaching centre closure
Elsewhere in the state: Bokaro officials lodge FIRs, slap fines for violating Covid norms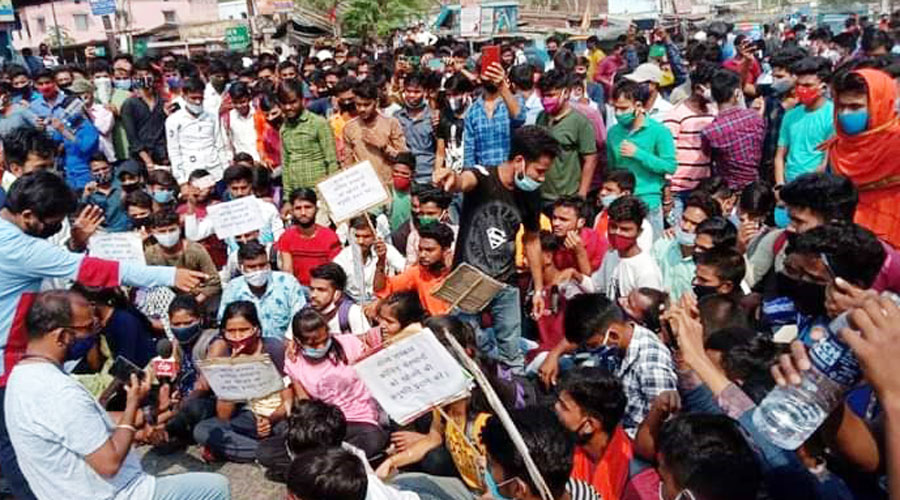 ---
Published 09.04.21, 11:10 PM
|
---
Hazaribagh: Around 1000 to 1500 students belonging to a coaching centre in Korra Chowk area protested its closure following government restrictions due to Covid-19.
The students said the lockdown last year had affected their preparations and they were not willing to go through another such phase.
On April.7, Chief minister Hemant Soren had taken the decision to shut down all educational institutions including coaching centres due to surge in Covid cases.
One of the protesting students said if political rallies and elections can be held then why would they let their education suffer. The students said they require guidance for their board exams and the coaching centre is beneficial for their preparations.
"Keep your politics away from education and if you will try to force your decision on us, we will not sit quietly this time," said one of the students.
The agitators refused a proposal to form a team and meet senior district officials to discuss the matter.
Block development officer of Sadar, Amitabh Bhagat and subdivisional police officer Mahesh Prajapati told them that it was a government order to prevent the spread of Covid.
The students said they will return on Saturday to resume their classes.
"We will move ahead after taking directives from the senior officials," said district officials.
(Vishvendu Jaipuriar)
Bokaro officials lodge FIRs, slap fines for violating Covid norms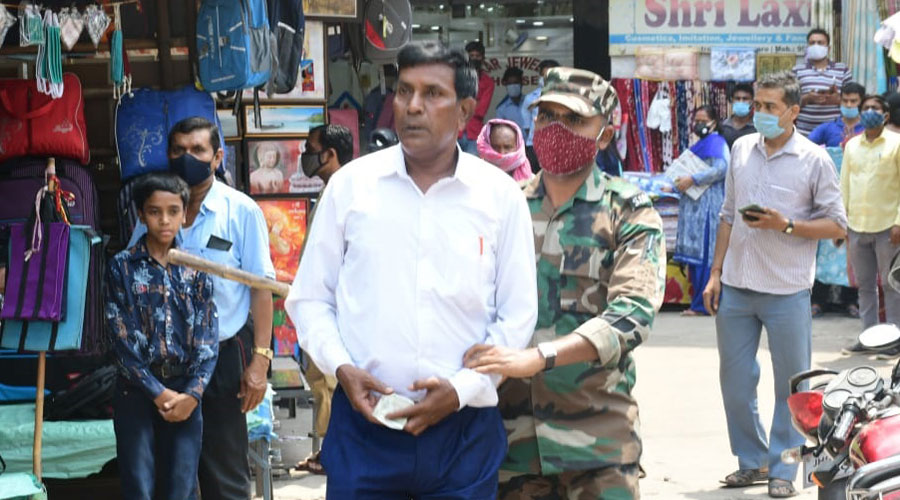 Bokaro: Administrative and police officials on Friday lodged 24 FIRs, seized more than one and a half dozen vehicles and imposed fines of about Rs 40,000 from residents, vehicle riders, shopkeepers, vendors and all those who were caught without masks in public places.
The teams headed by IAS officer, sub-divisional officer of Chas, Shashi Prakash Singh, conducted a massive mask-checking drive in Bokaro Steel Township, Chas Township and Chandankyari areas under Chas sub-division.
The maximum number of FIRs and vehicle seizure was done in main market areas of Bokaro Township under Sector-IV Police Station. Many people wandering in the City Centre market of Bokaro Township without masks managed to escape.
At present, the Bokaro township has about 350 active cases of Covid-19.
On Friday, there were 61 cases detected.
The rising cases have raised concern in administrations. The administration has grown tough to ensure that the Covid-19 guidelines issued by the state government should be implemented without any lapses in the district.
On Thursday, officials were out in public places and had requested vendors, shopkeepers and residents to wear masks and follow the guidelines. But many shopkeepers and residents were found wandering without masks.
SDO said, "We have conducted the mask checking drive massively and this time we lodged FIR under different sections of the IPC and DDMA Act against those who were found without masks. The vehicle riders were also slapped with a fine of Rs 500 apart from an FIR. The drive will continue."
(Our correspondent)