Jharkhand news digest: Oxygen concentrators for Dhanbad Railway hospitals
Elswhere in the state: Duo out on morning walk molested by guards; Husband dies from suicide after spat with wife; Nine-year-old drowns in river in Chatra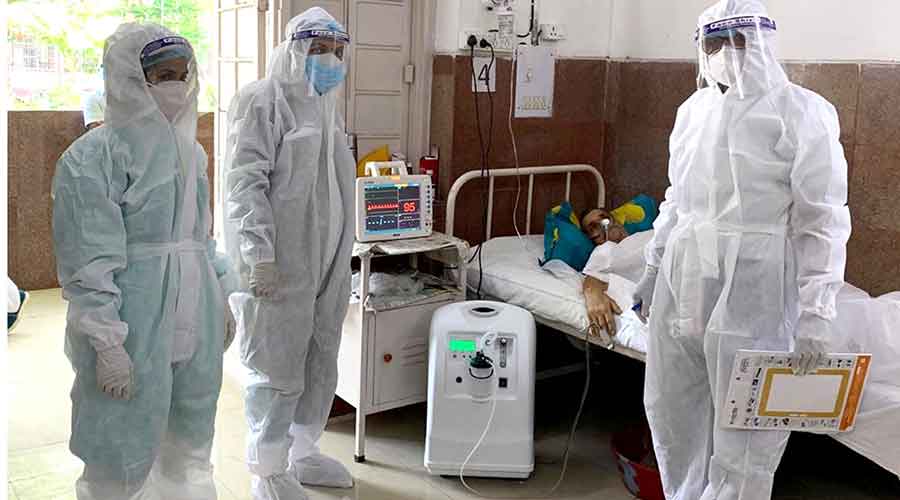 One of the oxygen concentrators installed at Sub Divisional Railway Hospital in Dhanbad on Sunday.
Gautam Dey
---
Published 24.05.21, 12:41 AM
|
---
Dhanbad: East Central Railway on Sunday handed over seven oxygen concentrators to Dhanbad Division for installation at Divisional Railway Hospital and sub divisional railway hospitals of Patratu, Gomoh, Chopan, Barwadih, Barkakana and Barawadih.
The installation work of the oxygen concentrators has already been completed at Divisional Railway Hospital of Dhanbad and the other six sub divisional hospitals.
P.K. Mishra, public relation officer of Dhanbad Division of East Central Railway, said, "During the time of the pandemic, many organisations are extending help for treatment of Covid infected persons and also in preventing the spread of the infection."  
The concentrators have been donated at the initiative of Lalit Chandra Trivedi, General Manager of East Central Railway in alliance with Yug Sanskriti Nyas, an NGO in the National Capital Region working in the field of education, healthcare, disaster management, rural development, women empowerment and child welfare since 2008.
Singh said, "Each oxygen concentrator can produce five litres of oxygen per minute from air by selectively removing nitrogen from air."
A 120 bed Covid treatment centre has also been established at Divisional Railway Hospital of Dhanbad.
Dhanbad division of East Central Railway with its headquarters at Dhanbad has jurisdiction over 140 railway stations and halts spread over Jharkhand, Bihar, Bengal, Madhya Pradesh and Chhattisgarh.
(Praduman Choubey)
Nine-year-old drowns in river in Chatra Hazaribagh: A nine-year-old girl, who came to attend the marriage of her uncle at the ancient religious spot of Chunduru Dham, accidentally drowned in the river on Saturday afternoon.
Her body was recovered by divers on Saturday evening.
Mahi Kumari was the daughter of Rinku Singh, resident of Mayapur village under Nawadiha Bazar police station in Palamau. The family came to popular Chunduru Dham in Tandwa block for marriage of Mahi's uncle Anil Kumar Singh.
Mahi and a few others were a taking a bath in Chunduru river when the incident occurred.
Tandwa police sent the body for postmortem to Chatra Sadar Hospital.
Simaria MLA of BJP, Kishun Das, reached the spot after receiving information about the incident. He termed the incident unfortunate and consoled the grief-stricken family.
Mithilesh Gupta, president of Chunduru Dham managing committee, said they had restricted marriages here till May 27. He said the committee will ensure that no marriages take place here till this deadline.
(Vishvendu Jaipuriar)
Husband dies from suicide after spat with wife
Bokaro: A man died by suicide following which his wife tried to hang herself from the same noose after an argument between them on Sunday at Bhalusa under Chas police station of the district.
The police officer, Chanchal Kumar, who investigated the incident, said that the deceased Lakiram Mahto, 66, first died by suicide seeing which his wife Anita Devi, 57, also attempted but survived. She was later rushed to Sadar Hospital and is said to be out of danger. It was Mahto's son who first saw his body hanging, listening to his scream Devi reached the spot and in shock also attempted suicide.
The villagers who reached the spot, seeing Devi gasping, rushed her to hospital. Villagers said that when the woman went to hang herself, she got stuck on the shoulders of the deceased husband.
(Our correspondent)
Duo out on morning walk molested by guards Hazaribagh: Two women on their morning walk sustained injuries when two security guards of a private company tried to molest them and threatened to open fire at the duo when they tried to escape.
The incident took place in Colony number-42 in Tapin under Charhi police station of the district.
Sources said both women named Lalita Devi and Kavita Devi were on morning at 5:30am on Sunday when two security guards of outsourcing company Ramkripal Construction tried to take advantage of the situation.
Both women tried to run but hearing a firing sound from behind fell down sustaining serious injuries.
The two women have been admitted to Hazaribagh medical college and hospital.
Charhi police station officer-in-charge Anand Azad said he is investigating the case.
"I had visited the place and if incident is found to be true, we will take stern action against the guards," said Azad.
The women have sought immediate justice in the matter.
(Vishvendu Jaipuriar)