Jharkhand news digest: CRPF jawan dies during training
Elsewhere in the state: Police begin de-mining operation in Dalma elephant sanctuary; Child rights panel seeks action report on police lathicharge; Firing at heart of Hazaribagh sparks fear; Monthly feast for street dwellers extended to twice a month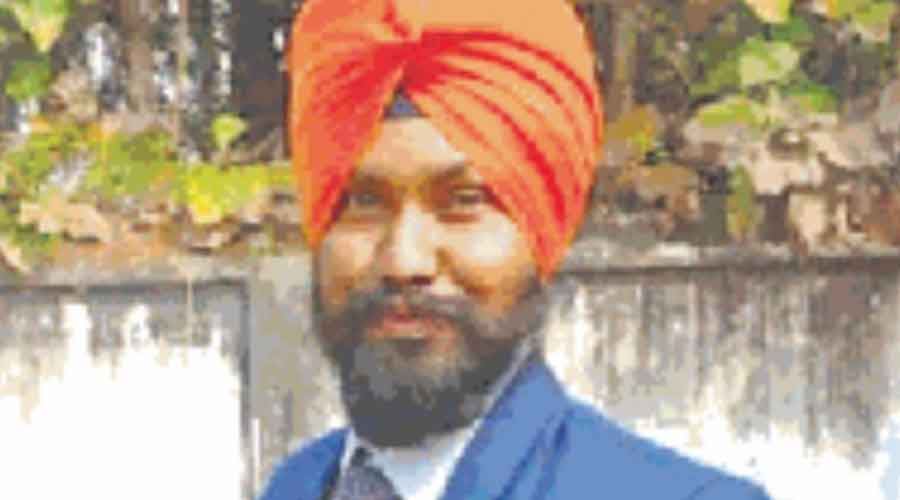 Simranjeet Singh
Vishvendu Jaipuriar
---
Published 08.08.21, 05:31 PM
|
---
Hazaribagh: A 25-year-old CRPF jawan, Simranjeet Singh, who was resident of Kedli Bazar area under Huntergunj block in Chatra died after falling sick during training.
According to sources, four jawans including Singh fell unconscious during training in Jaipur and were immediately shifted to hospital. The three other jawans regained their consciousness but Singh's condition kept deteriorating.
On Saturday evening, his death sparked grief in his hometown.
(Vishvendu Jaipuriar)
Monthly feast for street dwellers extended to twice a month Dhanbad: More than 350 people including rickshaw pullers, beggars, street dwellers and daily earners enjoyed a wide variety of delicacies, including puri, potato and pointed gourd vegetable, etc during a grand feast organised by a group of over 300 social workers, under the banner of Rising Charitable Trust at Rajendra Park of Dhanbad on Sunday.
The occasion was the 100th day of the monthly feast programme being organised by the group for the last nine years for the street dwellers of Dhanbad.
The organisers also decided to extend the monthly feast programme to twice in a month.
(Praduman Choubey)
Firing at heart of Hazaribagh sparks fear Hazaribagh: Two groups engaged in war of words took an ugly turn on Sunday morning when one of the youths fired on another which missed the target hitting the shutter of a closed shop at the heart of the town in Jhanda Chowk, only 50m away from Sadar police station.
Subdivsional police officer Mahesh Prajapati reached the site immediately with a team of police officers and started a raid to nab the youths. 
Later by the evening, five youths were rounded up on suspicion and their interrogation had begun.
Child rights panel seeks action report on police lathicharge Ranchi: Taking cognizance of the lathicharge on JAC examinees in Dhanbad on Friday by a team led by SDM Surendra Kumar, the National Commission for Protection of Child Rights (NCPCR) on Saturday shot a letter to deputy commissioner Sandeep Singh seeking detailed report of the incident and administrative probe within three days.
Upping its ante against the state government and Dhanbad district administration, Opposition BJP on the other hand announced to send a three member delegation to Dhanbad for fact-finding mission and demanded FIR against SDM Kumar.
"Through social media, we have come to know about the lathicharge on minor students during their peaceful and silent protest in Dhanbad yesterday. The SDM has lathicharged many students to stop their protest as per the videos which had gone viral on social media and it was clearly evident that many juveniles sustained injuries. Hence, it is directed to inform the Commission with detailed report of the administrative probe and action taken as per the provisions of the law along with the disposition/submissions of the protesting students and other relevant documents within 3 days," read the letter.
(Our correspondent)
Police begin de-mining operation in Dalma elephant sanctuary Jamshedpur: The police and paramilitary forces have begun de-mining operation in the Dalma hills from Sunday morning after unearthing over a dozen landmines on Saturday.
The police felt the de-mining operation as an urgent need because such subversive act like planting landmines is not only dangerous for the police and paramilitary forces, but also risky for the wild elephants as well as the forest department staff as Dalma is also an elephant sanctuary. 
"It was for the first time that serial landmines were detected in the Dalma hills. We suspect that a CPI-Maoist's squad led by the outfit's Purulia commander Akaash might have planted so many landmines in the hills. We have begun a de-mining operation on Sunday as we assume that the outlawed naxal outfit must have planted more such serial landmines in other spots in the hills," said Subhash Chandra Jat, superintendent of police (City) who is doubling up as SP (Rural) while talking to The Telegraph Online. 
(Kumud Jenamani)