Jharkhand news digest: Bokaro student wins Global Quiz Competition
Elsewhere in the state: Truck overturns in Chatra; Suspected rebels assault labourers at construction site; Extortion demand from property dealer; Round Table India Trust augment Ramgarh health facilities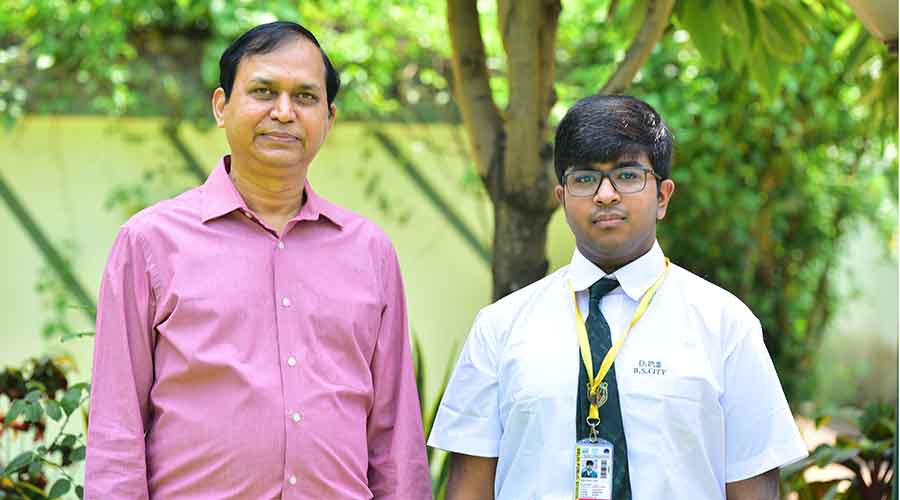 Principal of DPS, A.S. Gangwar with Rishi Divya Kirti
The Telegraph picture
---
Published 07.06.21, 12:41 AM
|
---
Bokaro: A Class XII student of Delhi Public School, Bokaro, Rishi Divya Kirti bagged the first position in the grand finale of Ganga Quest 2021. It was the online global quiz contest in which more than 11 lakh students from across 113 nations participated.
The contest was organized by the Union Jal Ministry and the National Mission for Clean Ganga (NMCG) in association with Tree Craze Foundation on Ganga, rivers and environment on the occasion of World Environment Day 2021.
The quiz was first conceptualized in 2019 as an educational program to sensitise individuals, specially, students towards River Ganga and other rivers of the country.  Kirti stood first in the live quiz Grade III category conducted for Classes XI and XII students and was declared the overall winner of Ganga Quest 2021, said DPS sources.
The competition was held in four rounds. In the last round, Kirti was among 36 others who made it to the final round. 12 students including Rishi were shortlisted after screening for the online live final round. Rishi defeated 11 other competitors to win the coveted trophy.
"On Ganga Dusshera June 20, 2021, Kirti will be awarded a laptop, a knowledge kit and a certificate. Rishi's father U.K.Singh is a teacher while his mother Anju Singh is a homemaker. Rishi's father said, "I was delighted at the wonderful success of his son at the international level".
Sharing his happiness Rishi said, "I owe this award to my school, my teachers and my parents who have constantly guided and motivated me to participate in this quiz competition". Principal of DPS Bokaro A.S. Gangwar appreciated Kirti's performance.
Gangwar said, "Rishi has made our school, our state as well as our Nation proud with his exemplary performance. It is his hard work and perseverance that enabled him to achieve this remarkable feat."
(Our correspondent)
Suspected rebels assault labourers at construction site Ramgarh: Suspected rebels assaulted two labourers at the site of the bridge being built on Binja Nala located at Lambki Tand of Tokisud village under Patratu police station area of Ramgarh district on Saturday night.
They sprayed kerosene oil in the JCB and tractor parked nearby and set it on fire. The criminals also opened fire and then fled to the nearby forest. The construction work was suspended on Sunday.
The labourers said,"All the criminals were wearing masks and Naxalite uniforms. A pamphlet was also left at the spot. It has been seized by the police."
Patratu SDPO Dr. Virendra Chaudhary, Inspector Lileshwar Mahto and Patratu police station in-charge Bharat Paswan reached the spot and began an investigation.
TSPC militants may have a hand in the incident. However, the police have not confirmed any information. Police have recovered a cartridge case from the spot.
SDPO Dr. Virendra Choudhary said, "Tokisud area is the border area of Ranchi district. Under this limit, criminal organisations take advantage of this and enter from one district to another carrying out attacks and secure themselves. This is a big challenge for the police. Investigation is on to ascertain who was involved in the incident."
(Our correspondent)
Extortion demand from property dealer
Dhanbad: Govindpur based property dealer, Manzoor Alam on Sunday lodged a complaint against two youths, allegedly belonging to a notorious gang, demanding extortion worth Rs 1.5 lakh.
Alam in his complaint claimed that the duo came to his house and threatened to kill him if he did not pay them.
He further informed police that the duo claimed to be members of shooter Aman Singh gang, whose name has figured in a number of other extortion cases.
Around six days ago Bhuli based trader Sahabuddin Ansari also lodged an extortion demand complaint in the name of Aman Singh.
Aman Singh's name also figured in the murder case of Ashraful Hasan also known as Lala Khan which took place on May 12 in broad day light at Wasseypur.
(Praduman Choubey)
Round Table India Trust augment Ramgarh health facilities Ramgarh: An MoU has been signed under the "One More Breath" program to provide better healthcare facilities by Deputy Development Commissioner Nagendra Kumar Sinha and representatives of Round Table India Trust on behalf of District Administration Ramgarh in the presence of Deputy Commissioner Sandeep Singh on Saturday.
Around 50 isolation beds and 50 oxygen supported beds will be arranged at CCL Hospital Naisarai Ramgarh and Sadar Hospital Ramgarh.
Representatives of Round Table India Trust have handed over 20 Dual Oxygen Concentrators and 12 Single Oxygen Concentrators to the Deputy Commissioner Sandeep Singh on Saturday.
Deputy Commissioner Sandeep Singh was informed by the representatives of Round Table India Trust that other health care equipment will be made available to the district administration in a short time.
Singh and Deputy Development Commissioner Nagendra Kumar Sinha on behalf of Ramgarh administration expressed gratitude to Round Table India Trust for their excellent work.
(Our correspondent)
Gola villagers save baby deer Ramgarh: A baby deer from a nearby forest of Gola block area reached Patratu village.
Stray dogs attacked the baby deer. Local villagers informed the forest department officials.
Forest guard Yogendra Mahto and Anil Kumar reached Patratu village and took the baby deer in their possession. They left baby deer safely in the same forest. Dozens of people including Sarveshwar Mahato, Pankaj Mahato, Brajkishore Mahato, Dilip Kumar Mahato, Lokeshwar Mahato, Manoj Mahato, Sujit Kumar Mahato, Dhananjay Mahato, Prahlad Nayak rescued the deer.
Truck overturns in Chatra Hazaribagh : A truck carrying cement from Bokaro and going to Huntergunj of Chatra overturned near Nunigadha on Hazaribagh-Chatra road under Giddhore police station of Chatra district.
Sources said the driver lost control over the vehicle which overturned when the road was busy with commuters. However no one was injured and the driver managed to jump out safely from the truck.
Police seized the truck and interrogated the driver who admitted falling asleep at the wheels resulting in accident.
(Vishvendu Jaipuriar)