Jharkhand: Human chain protest against firing range
They demanded cancellation of the pilot project notification of the erstwhile Bihar government on Wednesday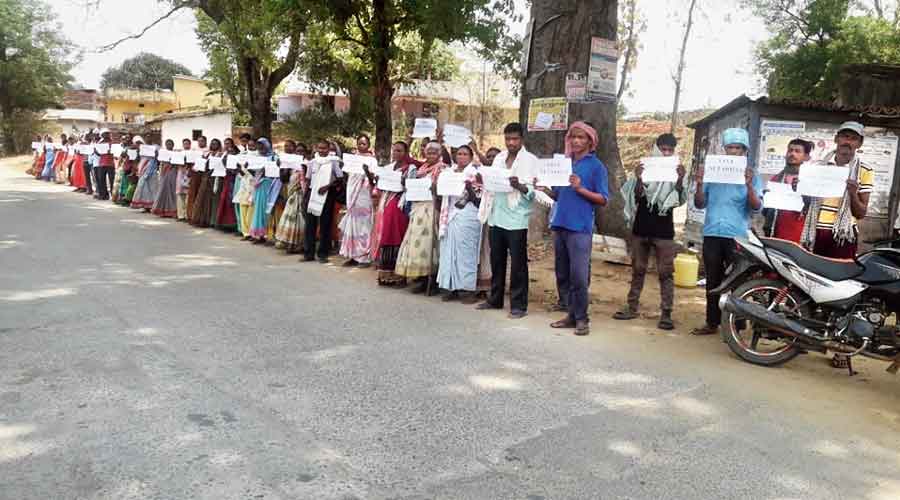 Villagers form the human chain at Latehar in Jharkhand on Wednesday.
Bhola Prasad
---
Jamshedpur
|
Published 12.05.22, 01:25 AM
|
---
Nearly 3,000 tribals from different villages of Gumla and Latehar districts in Jharkhand affected by the Netarhat field firing range pilot project formed a human chain demanding cancellation of the pilot project notification of the erstwhile Bihar government on Wednesday.
The Kendriya Jan Sangharsh Samity, which had been spearheading the agitation for nearly three decades, had decided to undertake the human chain protest on May 11 as it was the last date for the renewal of the notification.
Human chain spanning a length of over 150km began at 9am with villagers carrying placards like Jaan Denge, Jamin Nahi Denge (we will give life, not land) showing resolve against giving their ancestral land for the firing range project.
Human chain was formed at Gumla district on Netarhat-Ghaghra Road, Sisai road Gumla, Jarangi-Manjhatoli Road and Chatakpur-Mahuadand Road, Mahuadand-Axi Road and Mahuadand-Netarhat Road in Latehar.
Significantly, tribals under the aegis of Kendriya Jan Sangarsh Samity, Latehar-Gumla, have been agitating against Netarhat Field Firing Range pilot project since the 1990s, when the erstwhile Bihar government had earmarked about 1,471 sqkm in Netarhat Hills in Gumla and Latehar for field firing practice by the army, prior to the creation of what is now known as Jharkhand.
Two state notifications of November and March 25, 1992, under section 9(1) of the Manoeuvres Field Firing and Artillery Practices Act, 1938, notified this area for periodical field firing and artillery practice for 10 years. Separate notifications in 1992 and again in 1999, extended the field firing and artillery practice till May 11, 2022, as per samity secretary Jerome Gerald Kujur.
Owing to enormous resistance in March 22, 1994, practice in the range by the army and the displacement of over 2 lakh tribals across 245 villages was stopped.
"Wednesday was the last date of notification, so far no notice has been issued to cancel the Netarhat Field Firing Range and extend the notification, nor does the government give a clear answer regarding this. A human chain program was organised to attract the attention of the Jharkhand government on this issue," said Jerome Gerald Kujur.
Kujur informed that between May and June 1994, a survey was conducted by 80 nuns who had stayed in the village among the tribals of the eight villages who were severely affected during artillery firing exercise. 
"In the survey it was revealed that Army jawans molested and raped tribal women. Around 50 women were molested while five women were raped. It also revealed the loss of life and property. Due to the shelling, crops sown on 230 acres of land of about 250 people were ruined and two dozen houses were destroyed. At the same time, about 20 villagers and 30 cattle had died due to shelling," said Kujur.
Similar protests were also held in Jharkhand capital Ranchi with human chain protest held at Paramveer Albert Ekka Chowk, Mahatma Gandhi Statue Sthal Morabadi, and Birsa Munda Samadhi Sthal Kokar. Dr Camil Bulke Road, near St. Xavier's College, Press Chowk, Loyola Hostel, Pathalkuduwa Chowk, Dangratoli Chowk and Kumhar Toli Road.
Ratan Tirkey who had coordinated the protest in Ranchi said that the Governor being the custodian of fifth schedule areas and the Union ministry of tribal affairs should request the Centre to cancel the notification.
Tirkey also requested that chief minister Hemant Soren should immediately pass a resolution in the Assembly and send it to the Centre for cancellation of the notification.
Significantly, tribals had marched from Latehar to Ranchi and staged a dharna in front of Raj Bhavan in Ranchi on April 25 and submitted a memorandum to the governor demanding cancellation of the firing range pilot project.