Health department announces two people-friendly measures
Sources informed that the decision has been taken following reports last year of ambulance operators refusing to reach tribal groups owing to the problem of roads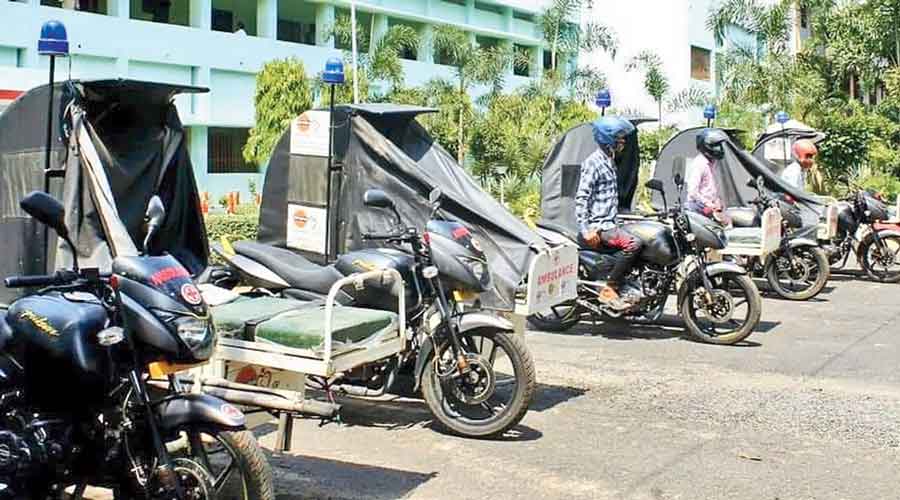 Bike ambulances at Deoghar last year.
Bhola Prasad
---
Jamshedpur
|
Published 21.01.22, 01:56 AM
|
---
The Jharkhand health department announced two people-friendly measures — rolling out of GPS-enabled bike ambulances for tribals in inaccessible terrain and slashing rates of RTPCR test.
"We will be starting the GPS-enabled bike ambulance service from February for the 75,000 families of primitive tribal groups who live in inaccessible terrains where it is difficult for ambulances or other four-wheelers to reach during health emergencies. Fund allocation has been sent to all the 24 districts in this connection. A total budget of Rs 3.50 crore has been allocated for this scheme," said health minister Banna Gupta.
Sources in the health department informed that the decision has been taken following reports last year of ambulance operators refusing to reach tribal groups owing to the problem of roads.
"Reaching out to such tribal groups especially in case of serious diseases or in providing health facilities to pregnant women was a cumbersome task in the traditional four-wheeler ambulances and it is with this objective that the bike ambulance service will bridge the gap. It will be operated on the instructions of the deputy commissioner of respective districts," said an official in the health department. GPS system will be installed in each bike ambulance so that monitoring can be done from the district headquarter level. An additional logbook will also be maintained by the ambulance driver.
"The Jharkhand National Health Mission will soon be developing an app which will be launched soon for effective control of the ambulance service at the state level," added the official.
The estimated price for a bike ambulance with GPS has been fixed at Rs 1,69,000. A total of 175 bike ambulances will be rolled out under the scheme.
"The driver will be given an honorarium of Rs 9,000 per month, Rs 5,000 per month for fuel, consumption material, vehicle repair and Rs 3,000 for driver uniform. These facilities will be applicable for the months of February and March in this financial year. The funds for the remaining months would be allocated during the annual budget to be tabled during the next assembly session," the source informed.
Meanwhile, additional chief secretary (health), Arun Kumar Singh, in a notification issued on Thursday informed that owing to the reduction in rates of RT-PCR testing kits, extraction kits and VTM kits and following decisions taken by other states, the Jharkhand health department has also decided to reduce the RTPCR test rates to Rs 300 (from earlier Rs 400) per test for private laboratories and this would include costs of PPE kits and other taxes with immediate effect.
The state health department also notified that the collection charge for RTPCR samples from home has been capped at Rs 100 for private laboratories for each house visit, irrespective of the number of samples collected from that house.
"Earlier the private lab sample collector used to charge Rs 100 as collection charge for each individual sample from a house causing difficulties for masses," said an official.
The health department has also notified a reduction in rapid antigen test to Rs 50 per test from the earlier Rs 150 (including PPE kits and taxes).