Jharkhand decides against institutional quarantine for air passengers from red zones
We're following aviation ministry guidelines that allow destination states to fix protocol, says health secy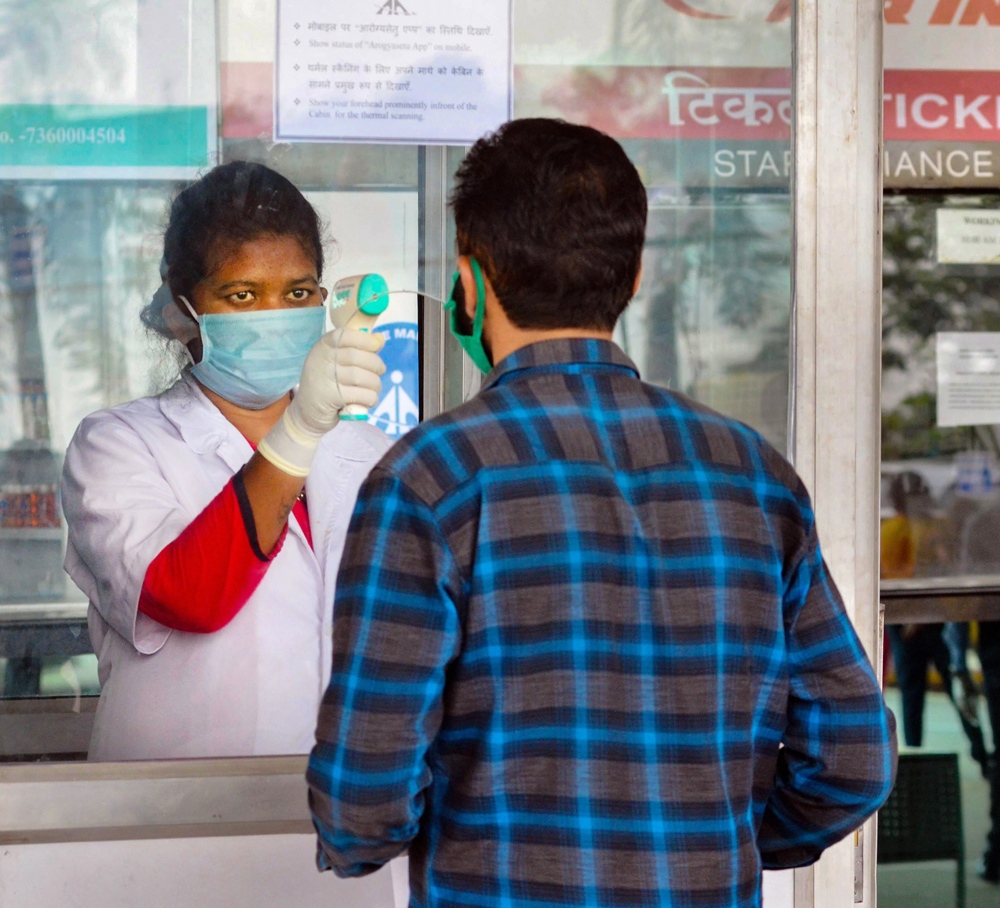 A passenger gets thermal scanned as he arrives at Birsa Munda International Airport, following the resumption of domestic flights, in Ranchi, Monday, May 25, 2020.
(PTI)
---
Ranchi
|
Published 25.05.20, 06:06 PM
|
---
The Jharkhand government on Monday sent 450-odd passengers, who flew down to Ranchi from three cities to 14 days of home quarantine, a decision that seems to be in conflict with a Union home ministry directive mandating a week of institutional quarantine for all travellers coming from high Covid-19 prevalence states.
State health secretary Nitin Madan Kulkarni clarified that Jharkhand was following latest civil aviation ministry guidelines.
'We are now following the fresh guidelines issued by the civil aviation ministry. The ministry has allowed destination states to decide the health protocol for travellers,' he said.
Passengers from Delhi, Bangalore and Hyderabad arrived at Ranchi's Birsa Munda Airport through the day on Monday when passenger flight services resumed in India after a lull of two months, airport officials said.
None of them were sent to institutional quarantine, the officials said.
According to airport officials, a majority of the passengers who landed in Ranchi airport on Monday came from New Delhi – a city that is among the worst-affected COVID-19 regions of the country.
'Two flights from New Delhi landed in Ranchi today (Monday). Besides, one flight each from Bangalore and Hyderabad landed here,' said airport director Vinod Sharma. 'All passengers were screened at the airport,' he added.
Ranchi sub-divisional officer (SDO) Lokesh Mishra said the passengers were asked to stay quarantined at home for 14 days. 'We screened all the passengers, and put them in home quarantine,' Mishra said.
Ranchi dropped it's Covid-19 red zone tag last week. It is now an orange zone with only 13 active cases. However, health department sources admitted that the present transmission rate can increase if passengers defy home quarantine.
Institutional quarantine, on the other hand, may reduce the chances of further transmission by imposing stricter restrictions, they added.
A flight from Mumbai was also supposed to land in Ranchi on Monday. However, it was cancelled after the Maharashtra government decided not to resume domestic air travel because of the pandemic which is particularly serious in the state, airport officials said.
Airports Authority of India (AAI), which takes decisions regarding domestic air connectivity, has issued elaborate and strict guidelines in order to prevent transmission of the coronavirus during air travel.
As per AAI's SOP released on Thursday, all passengers have to wear masks and gloves while traveling. Passengers above 14 years of age should also download the Centre's Aarogya Setu App, and the ones for whom the app does not show a green signal will not be allowed in the airport.
All passenger flights to and from Ranchi have remained suspended since March 24 in the wake of Covid-19 pandemic – a preventive measure that has cost airline companies, airports and even third-party ticket booking apps dearly.
The Birsa Munda Airport, officials said, is still on the path of expansion, and any crisis in such circumstances may show its impact on the airport's long-term development goals.
Ranchi airport is fast growing in terms of connectivity with other cities. The largest airport in Jharkhand, it has 30 flights connecting the state capital to important cities like New Delhi, Mumbai, Calcutta, Bangalore and Hyderabad. The airport also has an international bay but is yet to get any international flights.